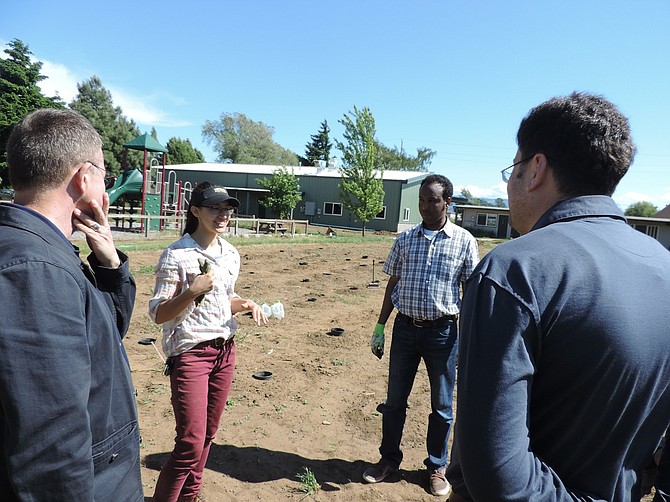 How do the clients qualify?
Do you use pesticides?
How do you grow your volunteers?
These were just a few questions the foreign visitors asked local folks involved in nutrition education and food provision.
FISH volunteer Debby Chenoweth said clients need to show proof of residence in Hood River County or Mosier, giving them a punch card to receive food once a month. Other than that, no demonstration of need is required; food is given in good faith, she explained.
Garden volunteer coordinator Susan Randolph showed the visitors how to plant cucumbers and gave them a tour of the large community garden, which depends on volunteers from throughout the community. She stressed that all vegetables are grown organically, with the use of sustainable soil amendments including compost, and no pesticides.
"This is not a new project as there has been a garden at this location for a number of years, in past maintained by members of the Our Redeemer community," Randolph explained. "This year, with this new (FISH) facility and all this new capacity, we are ramping up our efforts to build not just a singular shared community garden but make it into a region-wide volunteer garden, with all food donated to FISH.
"It initially it started in the faith community, interdenominationally, with a good group of people from a number of churches, and now we have a really strong volunteer group, and we are working to bring in volunteers from organizations and partnering with schools," Randolph said. Hood River Middle School students grew starts of beans, squash and other vegetables in the school greenhouse, and students from the alternative school Klahre House, located nearby at The Next Door Inc., have created a "salsa garden," with all the onions, peppers, tomatoes and other ingredients needed for the popular condiment; come harvest time, Gorge Grown will teach hands-on workshops on how to create salsa from these fresh ingredients.
"It's like the link in the puzzle where we're working to connect people more directly to their food sources, and part of that means growing food on site, so they can literally walk out of the food bank into the garden, see where the vegetables are being grown, and help in the garden if they want to," Randolph said. "In this way we encourage the clients to get involved in the garden and learn about how they can maybe give back."
Randolph was hired half-time to manage volunteers at the FISH garden, whose mission is "to grow healthy, organic produce for the FISH Food Bank this season and connect needy members of our community more directly with their food sources."
"The way I've been functioning is I have a board of advisors and I call them together, and ask things such as 'what should we do in this area?' or 'I have these seeds, where best to use them?' And they give me advice and I try to go out and spread it out to the volunteers and make it happen. I'm pretty reliant on other people who have good advice," Randolph said.
"I spend the rest of my time living and working on Rahane Farm, which is an off-the-grid community of naturalists and agriculturalists cooperatively caring for a tract of land near Kingsley Reservoir."