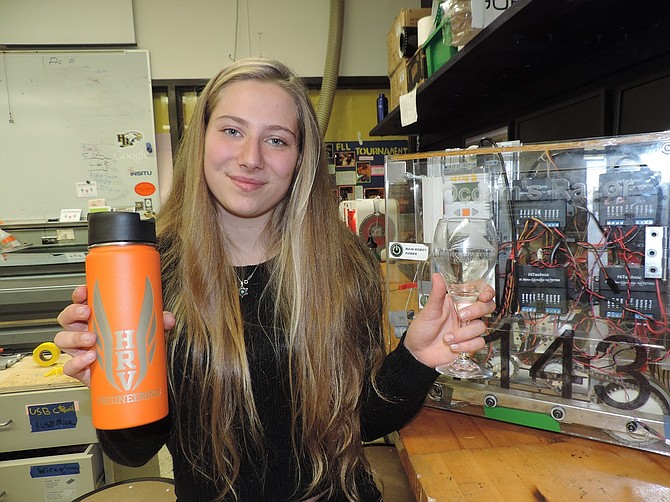 A unique "pizza" party is planned for downtown Hood River on Friday.
High school graduation will not be the only big event in Hood River on June 5, and the entire weekend promises plenty of activity around the community.
First Friday brings a number of anchor events, including the 4:30 p.m. ribbon cutting on State Street to celebrate the official conclusion of the 18-month Urban Renewal Project that transformed State Street from Sixth to Front Street, and Oak from Front to First. Just up State, Riverside Church gets into the First Friday act with drumming on the newly-widened sidewalk.
Part of Oak Street will be closed from 5-8 p.m. for the second annual Hood River Engineering Fair (details below). Oak from First to Second will be the only sections of any street closed for this First Friday.
Quadcopters, a T-shirt shooter, mini wind turbine kits from Columbia Gorge Community College and a new robot challenge called the "Andrew's Pizza Challenge" will also be featured. In the pizza challenge, student-built robots are guided in the process of placing "pizza" ingredients on a wooden "dough" disk, with points for speed and the most ingredients. Condiments include rings, squares, and mini-baskets filled with objects.
First Friday also means the opening of "Best of the Gorge" art show at Columbia Center for the Arts, Third and Cascade streets. In addition to the artists' reception at 6 p.m., musician Kay Floria will perform.
See pages A3 and A12 for details on this and many other First Friday events.
A new attraction for First Friday will be the start of the Emporium pop-up gallery at Butler Bank Building, 301 Oak St. Emporium will happen at Butler Bank each First Friday through summer, for 21 and over. Numerous local artisans will display and sell their creations, and there will be live music and beverages for sale, from 5-8 p.m.
Also on June 5-7:
Tour de Coop returns Saturday — see page A9.
Hood River Saturday Market starts its 25th year, at a new location, the Oak Street Pub (formerly Horse and Hound), 9 a.m. to 2 p.m. — see page A6.
Emporium will be open for all ages from 11 a.m. to 4 p.m. on Saturday.
The Moth Lounge (formerly Pint Shack) hosts a grand opening June 5, with a dunk tank, DJ Elive and more.
June 7: a unique opportunity to learn from one of the Gorge's astronomy experts, Paul Kuiper of Mosier. His class, "Our Solar System and Our Galaxy," happens at 7 p.m. Sunday at Coe Building, with later classes in the series moving to Goldendale observatory. Cost is $50 per person and $60 per family. For details call Community Education at 541-386-2055 or go to hrcommunityed.org (page 5 in the printed catalog).
For the second year in a row, Hood River Valley High School students are bringing an Engineering Fair to the June First Friday. Student organizer Victoria Kohner-Flanahan said, "The Fair an opportunity to let kids engage with STEM Programs in the Gorge." STEM stands for science, technology, engineering and math. "There's so much going on here that the community still doesn't know about, or they're wondering how to get their kids involved," said Flanahan, a junior. "The Fair will share information and get everyone engaged."
The Engineering Fair will take place as part of First Friday in a closed block of Oak Street between First and Second Streets from 5 to 7 p.m. Students will demonstrate projects from the robotics, engineering and electric car classes at the high school. Hexicopters and even a robotic submarine will be on display.
First Technology Challenge robotics teams from around the region have been invited to a scrimmage and spectators are welcome to show their skills driving a robot for a chance to win prizes donated by downtown businesses.
Flanahan and the rest of the HRVHS students credit the City of Hood River, Hood River Hotel, Northwest Graphic Works and downtown businesses for contributing to the event and the Gorge Tech Alliance for helping promote the event. "The science, technology, engineering and math programs in our schools are providing amazing opportunities for students like me," Flanahan said. "We feel so grateful to be growing up here and wanted to give back." For more information, contact the Gorge Tech Alliance at 541-296-2266.
The fair is a way to help give the Engineering program momentum toward the 2015-16 school year.
"Especially for kids planning on advancing to awards in the First Technology Challenge, outreach opportunities like this are really important," said Flanahan.
"It's good practice, and you get to take the elements you learned and incorporate it to your robot next year," she said.
"Our main goal is to inspire kids to continue with STEM throughout high school by showing them how much fun it can be."
Flanahan noted that while seniors might not be able to attend the fair, due to graduation, their presence will be felt.
"Our seniors have been working with underclassmen and their projects will be shown," she said.