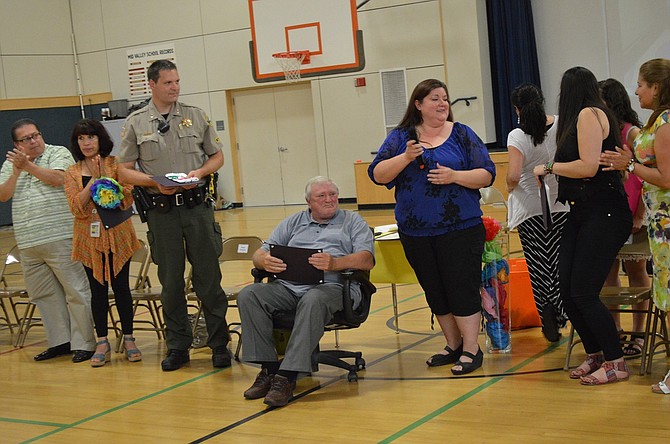 A diverse cast of leaders was honored at Mid Valley Elementary School in Odell Thursday night.
The school teamed up with the Hood River County Prevention Department, the Odell Hispanic Coalition and the Regional Health Equity Coalition to recognize educators and community members who make a positive impact in the local Hispanic community.

"We asked the community to come up with names of people who they wanted to honor and we came up with a list," said Luz Oropeza of the Hood River County Prevention Department, who led the event. "What you see here are people who the whole community wanted to recognize."
The 43 honorees represented a wide array of sectors including education, law enforcement, health and business.
About 30 of the recipients were present at the celebration, including Hood River County Sheriff Matt English, Mayor Paul Blackburn and numerous leaders in education and health throughout the county. Each received a certificate of achievement and a handful of flowers, as well as applause from the packed bleachers at Mid Valley's gym.
"These people made a big difference," said Maija Yasui, Hood River County Prevention specialist.
Specifically, the celebration highlighted leaders who had worked closely with the local Hispanic community, Yasui said. "The prevention department is honoring different programs that have served, and done outreach with the Hispanic community," she said.
Though she sat in the bleachers with the audience, Yasui was called down and recognized for her own efforts in the community. Yasui will be stepping down this year from her integral role, reducing drug use in teens and helping vulnerable youth through the county prevention program, which she spearheaded.
Oropeza, the county's new health and prevention coordinator, will be taking up the torch.
Yasui described her successor as "passionate," fluent in Spanish and deeply connected with the Latino community. "It makes retiring fun," said Yasui.
Oropeza is the oldest child of a migrant farm working family. She arrived at Mid Valley from Mexico and attended Hood River Valley schools, graduating in 2009. Oropeza attended Columbia Gorge Community College and graduated with her Bachelors in 2014 from Eastern Oregon University and earned her community health worker certification the same year. She returned to Hood River to work for the County Prevention Department.
Oropeza said the Odell celebration was the first major public event she had ever hosted.
The event was also co-hosted by the Regional Health Equity Coalition under the Next Door, Inc. Nuestra Comunidad Sana leadership with Yesenia Castro (one of the moderators) as program manager.
Many of the educators who received accolades at the Odell celebration are retiring this year, including Dennis McCauley, principal of Mid Valley Elementary. The longtime principal took up the "chair throne," as Yasui referred to it, in the center of the honorees.
McCauley has served as principal at Mid Valley for the last 11 years. His career in education began in 1971, when he started as an elementary teacher for Reynolds School District in Portland. He went on to become principal of Reynolds' Davis Elementary School in 1998 before moving to Hood River in 2004.
Kim Yasui, HRSCD instructional coach and AVID director, will take McCauley's place next year. Though she was an event organizer, the celebration also made note of her work at Mid Valley.
Other educators on the honoree list were Peggy Dills Kelter, Art teacher at Mid Valley; Socci Galvez, Mid Valley Bilingual Preschool director; Erica Magana, Migrant Program Recruiter for HRCSD; Lorena Manzo, ELL Instructor at HRVHS; Lourdes Elisea, Child Care Instructional Assistant at HRVHS; and Sandy Salazar, Mid Valley's dance instructor, who lead students in a series of Latin dances near the end of the Odell ceremony.