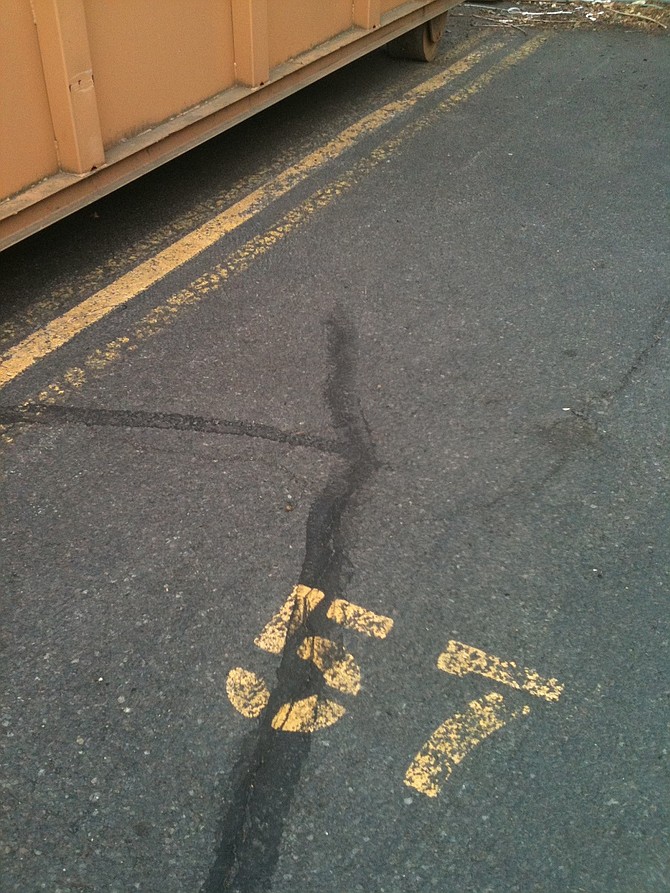 It's been 57 years since the creation of Velcro and I know of a 57-year-old man who defines sticking to it.
Here is this year's edition of the annual "Park Your Age" column, in which I mark the number of years I will turn upon June 5, and hence the parking space I will move to in the Hood River News lot. (This year it is 57, except I won't – can't – park there and this is likely the last such column — hurrah, right?)
For the uninitiated, I've written about this almost yearly since 2001 when the numbers 1-65 were inexplicably painted on Hood River News parking spaces. I had decided the reason was that everyone could Park Your Age (PYA). However many years are young, that is your space. The one for my age then, 43, was well away from the building and I liked giving myself the walk several times a day and leaving spaces nearer the building to our customers and those frail Twenty-Somethings I work with. Most years, PYA worked out, but some years the space was either too close (44-45) or the unavailable. So I would not actually do PYA but something close to it. The years 50-56 have been a kind of exile, as parking there is either impossible or unwise. In fact, 55 and 56 have, for several years, been occupied by our company's massive dumpster. And parking in the labeled 57 is a no-go because the forklift drives there.
Stay out of the way of a forklift — unless you're George Hood. This is a 57-year-old ex-Marine who just set the Guinness record for planking (an endurance exercise involving keeping the body stiff and propped only on toes and forearms). He held it for 5 hours and 15 minutes. I doubt I could last 15 seconds.
Any celebration of 57 has to start with Heinz, the condiment conglomerate that recently merged with Kraft, got its Heinz 57 brand in 1892 when its owner saw a sign for a footwear company with "22 kinds of shoes" and decided they needed something similar, so he chose "Heinz 57" for the sound of it.
And what can you say about '57 Chevy. I am, famously, not a Car Guy, but I'd have to say that other than the Ford Model A or T, the '57 Chevy is the only classic car type that everyone knows and can identify.
Meanwhile, I found the Velcro invention reference on line and I also kept running into references to a "Dude 57," who is apparently a regular in on-line forums surrounding Cummins truck manufacturer.
If parking space 57 was available I'd let Dude 57 take it.
To be clear: there are no assigned spaces for Hood River News or the other businesses in our building. The fun of each elapsing year is to look at other ways that number is meaningful, since I have attached a lifestyle purpose to a couple of foot-high digits painted on the asphalt 14 years ago. Getting older had the appeal of being linked to places of honor, the spaces at the top of the lot, farthest from the building.
But PYA, I am here now to accede, is defunct. I know of one other person who in all these years has adopted PYA, but they no longer work here. At this windmill I will no longer tilt. Since space 57 is unavailable, and 58-60 are spaces we rent out, PYA is retired.as of June 5, 2015. There is no further point in it, especially since we have reached that number which, years ago, I knew would carry the biggest cache. Sure, it was fun to write about 45 with its vinyl-record reference, 49 with all its historical impacts, 50 for its half-century appeal, and 55 for its repetition and highway significance.
Spaces 58 and 59? They are the JV team, but 57 ... I am biased but I think it is the Coolest Number, and a good one to stop on.
The other great cultural "57" emblem is, of course, Bruce Springsteen's song "57 Channels (And Nothin' On)" from his 1992 Human Touch album. ("I can see by your eyes, friend, you're just about gone/57 channels and nothin' on"...)
It's funny to listen to it and even funnier in 2015, when 57 channels would be considered a meager cable package indeed. Heck, I got an E Street channel and 56 others on Sirius alone. The number was probably outdated before the album was released, but that just underscore's the Boss's point about the slippery ease of excess.
As I stand at 57, it tells me that it can be cool to be obsolete.
And who knows, I might return to PYA some day, when I can own one of the furthest spaces (and one that is usually open), and one with the second-coolest number: 64. Talk to me in 2022.
Will it still need me? Will it still feed me?
For now, PYA is done and, to my mind, George "Plank man" Hood is the Real Dude 57.