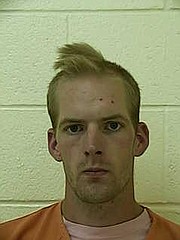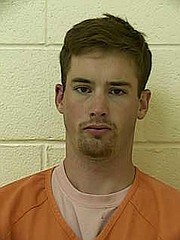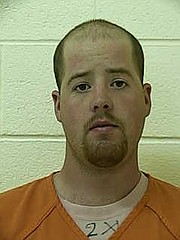 Three brothers are facing felony charges in connection to the May 2014 disappearance of a Parkdale man—two were charged with murder.
Brothers Michael David Schneider, 27, Donald Mathew Schneider, 22 and Peter Damien Schneider, 23, of Parkdale were arraigned in court Thursday in connection with the May 2014 disappearance of their family friend, Jason R. Muschaweck, 24, also of Parkdale.
Michael and Donald Schneider were charged with murder, burglary, theft, unlawful use of weapon and abuse of corpse in the second degree. Peter Schneider was charged with burglary and theft in the first degree.
If found guilty, Michael and Donald Schneider would face 25 years to life for murder, a maximum of 20 years for first degree burglary and five years each for theft first degree, unlawful use of weapon and abuse of corpse second degree—a class C felony. Peter would face a maximum of 25 years in total if pronounced guilty of theft and burglary in the first degree, both felonies.
The motive and cause of Jason Muschaweck's death were not indicated in court Thursday.
Hood River County District Attorney John Sewell said he could not release any information on where or how the body was found, or how the Schneider brothers were linked to the case.
Sewell said the court appearance Thursday was an "arraignment on information of felony," not an arraignment following a formal indictment.
The Schneider brothers appeared separately before Judge John A. Wolf at the Hood River County Courthouse Thursday via video feed from Northern Oregon Regional Corrections Facility (NORCOR). They were arraigned and charged individually, though Donald's and Michael's charges were identical.
When reading out the brothers' charges stacked against them, Wolf noted that the first degree theft and burglary charges referred to the theft of a pistol owned by Jason Muschaweck.
Wolf appointed attorneys for each brother—Kami White for Michael, Jim Mason for Donald and Sheri Thonstad for Peter. However, Mason indicated that Donald Schneider might be appointed a different a lawyer in the future.
Wolf ruled that Donald and Michael Schneider be held in jail without bail, following a recommendation from Sewell. Peter Schneider's bail was set at $5,000.
Jason Muschaweck went missing on May 5 last year. He was last seen on May 4, 2015—his 24th birthday—at the home he shared with his brother at 7390 Clear Creek Road in Parkdale.
Law enforcement was originally called to Muschaweck's home on the evening of May 5 after relatives reported a burglary at the house. Inside, deputies found Muschaweck's 2-year-old pit bull, Sox, had been shot and stabbed, but was still alive. Sox has since recovered and is in good health, said Sharon Muschaweck, Jason's mother.
At the scene last May, police did not find Muschaweck inside. The house was "ransacked," a family member reported, with numerous items missing. Detectives conducted a search for Muschaweck throughout the year, and HRCSO conducted aerial searches last spring to no avail.
More than a year later, the Schneider brothers were arrested Wednesday in connection with Muschaweck's disappearance, according to Hood River County Sheriff Matt English, but the link between the suspects and Muschaweck's death are unclear.
The Hood River Sheriff's Office teamed up with Oregon State Police Special Weapons and Tactics (SWAT) Team and Wasco County Sheriff's Office to make the arrest.
Police carried out search warrants on two homes in Parkdale, one in the 6200 block of Miller Road, the other on the 7400 block of Clear Creek Road—in the same neighborhood where he was last seen on May 4, 2014.
Michael Schneider was arrested at the Miller Road address; Peter and Donald Schneider at the Clear Creek address. All three were taken into custody without incident, said English.
Sharon Muschaweck heard about the Schneider brothers' arrest Wednesday morning when detectives knocked on her front door.
Muschaweck was unable to discuss the circumstances of Jason's death, but she described her son's passing as "a great loss to our family and friends."
"The hardest thing anyone could go through is to lose a child, and to lose a child in these circumstances," said Muschaweck.
Muschaweck said the Schneiders were longtime family friends who lived down the street.
"It's been difficult because I've known the Schneider kids," said Muschaweck. "I feel sorry also for the Schneiders, the family, for what they're having to go through."
The Schneider brothers will appear again in court next Wednesday and Thursday.