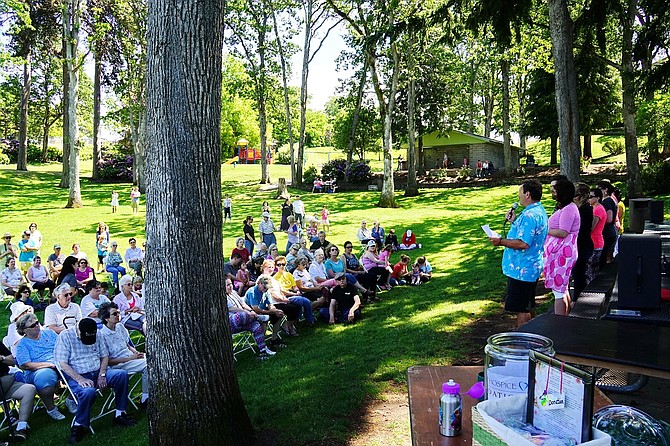 On another beautiful spring day at Jackson Park, the Heart of Hospice Foundation released butterflies for their 7th Annual Community Memorial Butterfly Release. The oohs and aahs from over 150 people in attendance were very moving. This year's May 30 release was one of the best ever.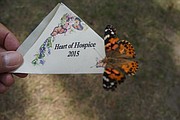 "Warm weather, capacity crowd, and cooperative butterflies made this day very special," said Jodi Goatcher, Heart of Hospice Executive Director. "When we're dealing with weather and butterflies, we never quite know what to expect. But this year, more people than ever commented on how meaningful the entire event was to them. It was a special day, in many ways.
"This year we read the names of 190 patients who have passed in our care in the past year," she said.
We also read three more pages of names that were submitted by the local community, including a young girl's pet lizard. That's a lot of loss for such a small area. One of our Hospice aides read the name of her own grandfather, who was on HOH service.
"One of my favorite parts," said Goatcher, "is when the attendees call out the names of loved ones who have passed that weren't read by us. You can actually hear the love and sadness in their voices. But the best part is still the release itself," she said. "From the moment our YoHOHs (Youth Heart of Hospice teens from Hood River Valley High School) start passing out the butterflies, you can feel the energy. Everyone holds their butterfly package so carefully, like it's a part of their loved one.
"Then, as we start the countdown, you feel the anticipation. On 'go,' 150 butterflies are simultaneously released, and that's when you hear the oohs and aahs. Some butterflies flutter away, but some land on the person's finger or arm or head. That's when almost everyone is smiling and laughing, followed by tears of joy and happiness. And that's when the healing begins."
"My favorite part is seeing the families of our patients," said RN Leigh Stratton. "We are so busy that we often lose contact with our families after their loved one passes. I always get there early and stay late just so I can visit my families. It's like a family reunion for me. And I believe it's good for them also. I have families I've seen almost every year at the butterfly release. But it's always good to reconnect with them again."
We at Heart of Hospice would like to thank the Hood River community for their continued and enthusiastic support of this wonderful and meaningful event. Judging from the kind and heartfelt comments we received, our community definitely needs an event like this to honor their loved ones and to grieve collectively, as a family and as a community. It's amazing what a little butterfly can do.
Clyde Sanda serves as Heart of Hospice Chaplain.