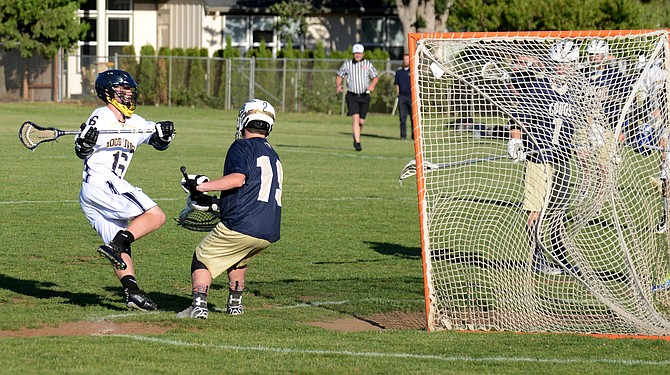 The HRV boys lacrosse team is heading to its first-ever Cascade Cup finals, thanks to a high-octane third and fourth quarters that more than made up for the team's sluggish start against the Canby Cougars Wednesday evening in Hood River.
The No. 3 Eagles defeated No. 7 Canby, 19-10, to set up a Cascade Cup showdown in Hillsboro, Saturday at 3 p.m., against No. 8 LaSalle, who defeated No. 4 Glencoe, 9-7, Thursday night.
In addition to a Cascade Cup finals berth, the victory was even more satisfying considering that HRV was booted out of the cup in the same round by the same school last year, with the Cougars beating HRV, 17-10.
"I think these guys wanted to go back and prove themselves," HRV coach Matt Luchsinger said of his team, "and not let Canby take them out again."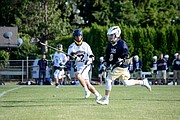 It took a while for that motivation to shine through, though, as HRV spent the majority of the first quarter trying in vain to put some distance between itself and Canby. The Eagles got down early, with the Cougars scoring a goal within about the first 15 seconds of the game. Jackson Lebsack scored one to get HRV on the board. The two teams traded goals for the remainder of the quarter, with HRV finally getting out in front to go up 4-3 at the end of the quarter.
Canby continued to hound HRV throughout the second quarter, keeping within a goal of HRV for the majority of the quarter, but goals by attack Torsenn Brown and midfielder Elliot Cramer helped push HRV's lead out to 8-5 at the end of the half.
Not to be outdone, Canby came out firing in the start of third quarter, and scored three goals without an answer from HRV to put the score at 11-10, HRV. Luchsinger saw his team needed a change.
"Our defense was playing a really mellow relaxed style of zone defense, which was not typical. Probably for the first time in the history of HRV lacrosse, we did not have a penalty; we played a really clean game. However, we were letting them to control the ball probably more than we should have," he explained, adding that Canby was "doing a good job scrapping for ground balls in front of their cage."
Luchsinger said the defense started to put more pressure on Canby's players, forcing turnovers. HRV's attack took control of the game, with two quick goals from Levi Glass and two more Bruce Ostler to give HRV a 14-10 lead. The Cougars continued to get some shots, but HRV net-minder Mikey Hall wouldn't let any go through, making 12 saves on 30 shots.
"It went back and forth there for a while," Luchsinger said. "In reality, that game could've gone either way. I think guys did a great job not letting it get to their heads."
Additionally, the boys had some added motivation playing at their practice site at Westside Elementary, which was transformed into a well-groomed lacrosse field since the high school facilities were unavailable due to graduation preparations.
"Once the game started I didn't even notice the difference. I think guys went out and played hard," Luchsinger said. "I think guys were excited to play at Westside. That's where we practice, that's where the blood sweat tears are and I think guys were like, 'There's no way they're going to beat us on that field.'"
The game ball once again went to Brown, who racked up six goals. Luchsinger said Glass also had a huge impact on the game, leading the team with an impressive six assists, as well as three goals. Other scorers for HRV included Cramer (4), Ostler (4), Lebsack (1), and defenseman Alex Buschaver (1).
Heading into the Cascade Cup finals, HRV will play a team that Luchsinger said the Eagles have never faced in his four years on the team's coaching staff. He said Thursday morning there wasn't much he could do to prepare specifically for LaSalle, so the HRV quad will just have to be ready for whatever its opponents bring.
"We're playing the best ball of the season now. We're going to just do what we need to do. We're going to go out and have some fun practices and go out and play HRV ball," he said.