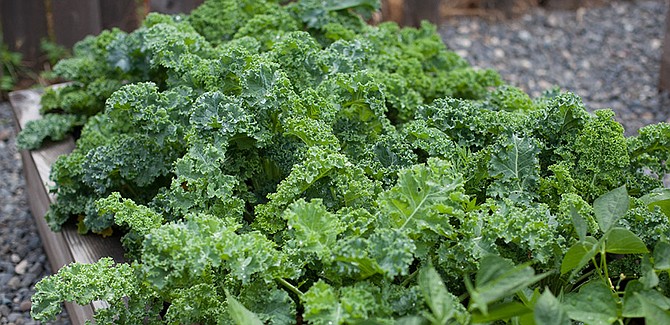 Plant a cabbage in your front yard. Go ahead. No one's going to arrest you.
At least not in Hood River.
But around the country, from Los Angeles to Orlando and even in the midst of Iowa corn country in Des Moines, front yard vegetable gardeners are facing fines, and in some cases, city officials bulldoze their gardens.
The One-Sentence Almanac: Advice from local farmers
"When you're selecting starts, don't get the tallest ones. Look for the fattest stems. They are the healthiest. And good sale prices on starts can be found in June."
Jeff Jerome, Grow Organic
Hood River
"In my 20-to-30-foot garden last year, I ate in the garden every day. Daily observation is good. You can see when the weeds are popping up and when the zucchini needs to be harvested. I like to watch things grow, that's part of the magic."
Rachel Suits, OSU Extension Service
Hood River
"When I plant out my brassicas (broccoli, kale, cauliflower, mustard greens) as starts, I direct seed some on poor soil nearby, and don't water them much. They're called "trap plants" and because they're weaker, the flea beetles will go for them and leave the stronger plants alone."
Kristina Nance, Pomona's Branch
Mosier
"If you are growing veggies with children, I have never seen kids more excited than when they were pulling carrots out of the ground. It just all connected for them, all those cartoons with the bunnies, it connected the food to the ground."
Sally Sauter, Raisin Hill Farm
Lyle, WA
"In addition to what you grow, take advantage of the local fruit and forage for mushrooms to create a veritable feast."
Rich McBride, yard farmer
Hood River
"Maintain your sense of humor. Gardening is an ongoing experiment."
Paul Brown and Laurel Bouret, Wildwood Farm
Hood River
"Get yourself a subscription to Organic Gardening magazine."
Blayney Myers, Quercus Farm
Underwood, WA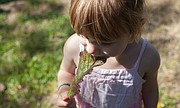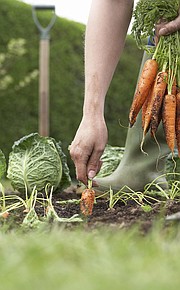 It wasn't always this way. The front yard victory gardens of World Wars I and II were a patriotic way to support the war effort. Afterwards, along with the post-war boom, we got Safeway. And we got busy. Suddenly, growing our own food, front or back yard, was just so old-fashioned.
Here in the Gorge, we're lucky that Hood River city ordinances don't prohibit edible yards. If you live in other Gorge communities, or in a planned unit development with covenants and restrictions, check those out. And we're also lucky we can plant vegetables anywhere because your front yard might have something your back yard has never seen: Sun.
"Your front and back yard could be in different climate zones," says Rachel Suits, educational program assistant for the OSU Extension Service in Hood River County. Yes, if you've ever basked in the warmth of your front yard, and then walked 30 feet to your back yard and found damp, wet, dark conditions, you know what we're talking about. Or perhaps your property is just the reverse.
Rich and Kate McBride's ranch house along the Indian Creek bluffs in the Hood River heights is just such a house. The back yard faces south, toward Mount Hood, and gets ample sun. The front yard faces north, and is in shade much of the year.
"I plant 150 square feet of vegetables in the front yard, mostly spinach and salad greens, and 400 square feet in the back, mostly nightshade plants such as tomatoes, and we have a ten-foot row of raspberries," Rich says.
McBride's front yard edibles are hardly the things that get neighbors' dander up. He's integrated them into non-edible plantings, and included herbs such as oregano and thyme, lovely in any garden, edible or not. In fact, the garden has introduced him to his neighbors, who "peer over the fence to see what we've planted," he says. "We've never had anyone react negatively to it."
Well, it could also be that McBride grows enough vegetables to support four families. Neighbors may just be hoping for a nibble.
If you've wondered about creating your own edible yard, you've got more than city ordinances in your favor. There is a wealth of support, information, equipment, and every little seed your heart could desire, right here.
SUN
Let's start at the very beginning. Why is sun so important?
Veteran professional farmer and landscape architect Blayney Myers, owner of Quercus Farm, explains it all for you (including sex).
"What we eat is the product of solar energy converted to food by plants," she says. "Food plants take the most sun, as much as possible. Leafy greens take less because you eat the leaves, not the flower or fruit. We eat the fruit (flesh and seeds), and the flowers of plants. Those are the sexual, reproductive parts of the plant. To produce them takes a lot of solar energy. To make a tomato or eggplant or pepper takes time and sun. Home gardeners are often challenged to find a spot with enough sun. There's never too much, as a rule."
How much? Well, for those sexy plants, figure six hours a day. For those salad greens, less. McBride's front yard gets summer sun beginning at about 10 a.m.
To figure out where your sun is best, Suits recommends spending a day outside and paying attention to where the sun is. Sounds like kind of a "duh!" suggestion, but ask yourself if you really know when and where the sun is in your yard every hour of the day. You may know where your yard is hottest straight up at noon in August, but that's only one bit of knowledge.
DIRT
After you've got the sun thing figured out, time to dig into your dirt. That means amending your existing soil until it has the right acid-alkaline balance, or pH, to support growing vegetables.
"We do recommend a soil test if a new gardener is not familiar with their soil, unless they are building raised beds and filling with compost," Suits says. Soil tests can be done at Grow Organic in Hood River. Once the results come back, owner Jeff Jerome can recommend appropriate amendments. The soil test costs $45.For the second year of your garden, keeping your garden soil in perfect balance will take some doing.
"Peppers, tomatoes, potatoes are heavy nitrogen feeders, so next year, you won't want to plant those in the same place," says Suits. "You should plant green beans or snap peas in the same place because they put nitrogen back."
WATER
Now for the final critical piece: water. At the price of water, and with our drought conditions, wasting water is not in your plan, right? Best way to save water is to be intentional when using it. No big sprinklers waving water every which way. Jerome of Grow Organic suggests drip tape, which you can find in abundance at Bryant Pipe and Supply.
Sun? Check. Dirt? Check. Water? Check. And now for the fun stuff.
PLANTS
Choose what and how much to plant. All the experts we talked to suggest that you start small.
"Small could just be a container garden in your first year," says Suits, which means, plant things in pots.
If you've never gardened before, leave some of it to the experts, says Jerome. "If it's your first time, starts are easier, with the exception of those things you have to direct-sow such as carrots, beans and peas," he says.
Plant things you really want to eat as soon as you harvest them, suggests Rich McBride. No use wasting water on eggplant if you have to walk it around the neighborhood looking for takers.
Jerome says it's good to pick things that will grow especially well here. He lists kale, onions from sets, winter squash, lettuces, cucumbers and tomatoes as just a short list.
And when should you plant? Now would be good. You're looking to put things in the ground when the dirt has warmed up a bit, says Jerome. According to the OSU Extension Service, "The average last frost in the lower valley is the first week of May. Toward Mount Hood, the frost date will be later in May or early June. A rule of thumb is not to plant your garden until all of the snow melts off Mount Defiance." Did Mount Defiance even GET any snow this year? And first frost, that frost on the pumpkin, usually comes toward the end of October. That's your window, about 150 days if you start in early June.
Remember, you aren't planting alone. The Hood River Valley and the surrounding Gorge communities are full of experts who just love to share their garden expertise. Take Jeff and Ketrina Jerome, happily ensconced at the counter at Grow Organic, the sounds of baby chicks and the smell of organic fertilizer in the air. Stop in. Ask them anything. "Be patient," says Jerome as he passes out advice. "Not everything works all the time. It takes knowledge and skill."
Rich McBride puts all his advice in one neat shovel-full: "Choose your site, enrich your soil, put a lot of compost in it, turn the soil, let it rest a while, start planting, be consistent with water, automate it if you can. Pay attention to the time of year, read the seed packets. And then weed, weed, weed."
Oh my, we didn't mention the weeding part, did we?
Gardening Resources:
Central Gorge Master Gardener Gardening Encyclopedia
This dynamic 12-page booklet compiled by Rachel Suits (and just updated) is a list of every gardening resource you could need in one neat little package. It covers local classes, suppliers of tools and materials, compost and mulch, seeds, starts and plants, local garden clubs and where to get advice. The booklet will be available at all Extension Service plant clinics.
Growing your own: A practical guide to gardening in Oregon
Features vegetable varieties, planting dates, insect control, soil preparation and more. Available online for free at www.extension.oregonstate.edu/gardening
Maritime Northwest Garden Guide, New 2014 Edition
Published by Seattle Tilth, this book is recommended by Jeff Jerome of Grow Organic and is available at his shop for $16.95. The 128-page guide outlines tasks month by month, with details on hundreds of vegetables and flowers to plant.
Hood River County Extension Service plant clinics schedule:
Extension Office: 2990 Experiment Station Dr. Hood River; Monday 9am-noon, Thursday 9am-noon and 1-4pm
The Extension Service is a fixture at these farmers markets, and available for your questions: Thursday Hood River Farmer's Market, every Thursday from May 21 until the end of October; Mosier Market: June 28, July 5, July 26, August 9, August 30, September 20; Mercado: June 20, July 18, August 1, August 22, September 5, September 25; Saturday Market: June 6, July 11, August 15.