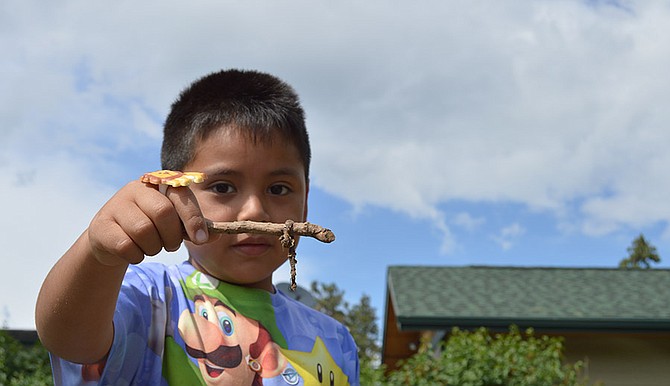 Walk the path leading to Mid Valley Elementary School's playground on a Friday afternoon, and you just might be greeted by the sounds of children in the garden.
Mid Valley has one of a number of school gardens located on Hood River County School District sites; others are located at Hood River Middle, Hood River Valley High, and Wy'east Middle School—the latter a school and community garden in partnership with Gorge Grown Food Network.
The Mid Valley garden was started in 2014 by Sarah Christensen, who was then a Jesuit Volunteer Corps member working at the school. Mid Valley has a high rate of students who receive free or reduced lunches, and, after witnessing the types of foods the students were eating and had access to, she wanted to "see what kind of nutritious foods we could bring into our lifestyles."
"I wanted to make a space where kids and the Mid Valley community could use to learn about gardening, and get a food source going here," she said.
The garden idea bloomed quickly. Dennis Carlson, an OSU Extension Service Master Gardener, helped plot out and till the garden area near the walkway leading to the playground, procured tomato cages, and donated plant starts and seeds.
"It all happened so fast," Christensen said. "It was really awesome, really miraculous."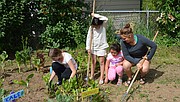 Once the ground was ready, Christensen had plenty of help planting, weeding, watering and harvesting. Mid Valley's Excel after-school enrichment program began a gardening class and Christensen had as many as 100 students—20 to 30 at a time—working in the garden.
During the summer months, Christensen's preschool summer school class took over, gardening each day. Any produce collected would be used in the classroom or sent home.
During this school year, Hannah Ladwig, JVC volunteer with Gorge Grown Food Network, took over the program, a necessity after Christensen moved from volunteer to Mid Valley third grade teacher.
That's not to say Christensen still doesn't have a hand in the garden: her students planted radishes in February for the OSU Extension Service's Food Hero program, where students are encouraged to try a new fruit or vegetable each month and get a hand stamp for participation.
Though the radishes weren't ready in time to be used at the March tasting tables—it proved too cold for them to grow—they still found their way into the cafeteria, to be served as part of the lunch program.
That's where a lot of the garden's bounty ends up, said Ladwig, and the reception it receives is a favorable one. "They're a lot more prone to eat stuff if they know their classmates grew it," she said.
As the garden's new coordinator, Ladwig came to Mid Valley on Wednesdays this year to work with students in the Excel program.
The students tend lettuce, kale, peas, carrots, zucchini, cucumbers, tomatillos and tomatoes. There's talk of adding a salad mix and rhubarb to the garden next year, and maybe even chickens for this year's summer school.
For now, the greens—kale and lettuce—are ready for picking, with the other vegetables just beginning to sprout.
During the school year, "I come, the kids pick and I leave it for snack the next day," Ladwig said. In the summer, she recruits students at St. Francis House, the onsite youth center, and summer school to help. Again, produce gets used for snack or lunch, and when there's too much for the school to use, it goes home with students to share with their families. The school garden has proven to be a big hit with students, both the work and the produce.
"There's a lot of excitement about the insects," Ladwig joked as kids showed her the worms, beetles and rolly pollies found in the dirt during a mid-May gardening day. "Kids love being in a garden, doing something different for a while."
When asked what his favorite part of the garden is, Jose Rueda, 6, said, "I found some rolly pollies, slugs, and worms— and a dead worm." The dead worm is a topic hard to get past, what with the excitement it's caused for everyone assembled, but eventually he offers that he likes carrots and lettuce "because they're so yummy."
Anahi Martinez, 10, enjoys working in the tomato cages the best. "We get to take out weeds and sometimes we get to go in there and pick tomatoes," she said. Tomatoes are her favorite. "I cut them up and put a little salt on them," she said. "I also put a little lemon on them." When it comes to kids and gardening, Ladwig said she's learned to "always have a plan and a backup plan. You can't really dictate what's going on in that garden that day. You've just got to go with the flow."
While everyone gets something out of the experience, she finds that by fifth grade, students are able to have conversations about growing food, about what the word "organic" means, and about pesticides used in fields. Ladwig, who also coordinates Mercado del Valle, the Odell Farmers' Market started last year, hopes that students will be able to sell some of the produce when El Mercado opens in late June—maybe even on an "order and pick" basis, with kids running from table to garden to fulfill orders.
"It's a super fun way to get kids outside," Ladwig said. "It would be fun to expand, make it bigger, make it year round." Christensen agreed. "I'm super excited to see the potential it has, to see it in use," she said. "I'm very thankful for Hannah to carry it on."
Trisha Walker is a writer who lives in Odell.