When Activities Director Christine Shannon began her free "Gentle Yoga for Beginning Seniors 50 and Over" at the Hood River Care Center mid-February, she started with three students.
Soon, the class soon grew to five, then seven. Now, she has anywhere from 12 to 18 men and women regularly attending, with ages ranging from 49 to 85.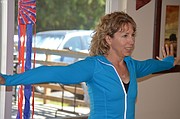 "The hardest part of yoga is actually coming to class; the second hardest part of yoga is actually leaving class, because it feels so amazing," Shannon said.
While she teaches yoga to Care Center residents three days a week, the Gentle Yoga series is for community members. She started the classes with three objectives in mind.
"One, to get the community affiliated with our facility," she said. "Two, to promote health within our community, and three, our class is free — no charge for students to come. I do know how expensive yoga classes can be, so I do not want money to be an issue for someone not to participate."
The Care Center has some mats, blocks and bands, but Shannon encourages students to bring their own equipment if possible. The class meets in the cafeteria, so space is a factor, although Shannon said there's room for 30 participants — but probably not more than that.
At a recent class, she began with two questions: "Got any owies today? Anything we need to work on?" She leads the class through a series of moves, offering modifications and encouraging students to sit if needed.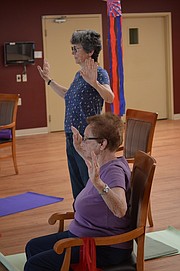 "I modify the class so everyone can participate," Shannon said. "It is beautiful to watch."
She's been practicing yoga for 20 years, and has been certified to teach for eight. She has a bachelor's degree in physical education and health from Linfield College, is a member of National Academy of Sports Medicine (NASM) with a CPT certified personal trainer certificate, has had restorative yoga training, and has 200 hours of training in both Hot yoga and Vinyasa through Corepower. She continuously takes training courses to expand her knowledge and skills.
Her experience with senior yoga comes from "working with older populations in retirement facilities, my Alzheimer training, and last but not least, my own practice. I just turned 50 this year myself," she said.
Shannon gets a lot of positive feedback from her students, who say they are more flexible and have better balance, sleep better, and are more apt to think about what they eat and drink. Some have never practiced yoga before taking her classes; others are seasoned athletes and yogis. All feel comfortable in her class.
Peter Zurcher, 68, was an endurance athlete who started yoga in 2008 on the recommendations of friends when he noticed his body becoming less flexible. Shannon's classes are "the right level for me," he said. "I should have started 10 years earlier, but running, mountaineering, hiking and climbing were a higher priority."
Liz Heacock is a newcomer who "always wanted to do it" and has found the class to be a good fit.
"I think (yoga) is good to feel calmer. I think it's good exercise," she said. She was initially worried about participating because of back issues, but her physical therapist told her "it's good to go; just do all you can do," she said.
"We do not take life too serious in class," said Shannon. "There is no right or wrong answers or postures. There are always modifications."
For those who wish to "give back" in exchange for the free classes, there are a number of volunteer opportunities at the Care Center, ranging from yardwork to visiting one-on-one with residents, and many of her students do.
But mostly, Shannon is grateful to be able to offer the free classes to the community.
"Yoga has been my lifeline during some challenging events in my life," Shannon said. "I feel I am very fortunate to have this gift to teach yoga, to help and inspire others. It is my gift I can give freely and expect nothing in return but love and gratitude."
The classes run each Wednesday from 10-11 a.m. in the Care Center cafeteria. For more information, call Shannon at 541-386-2688, extension 4621.