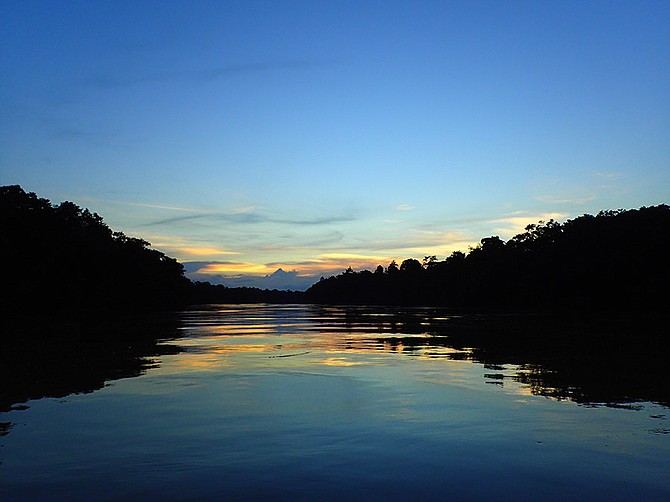 I heard crashing to my right. My heart jumped. I imagined the biggest and most dangerous of creatures just beyond my view.
Branches were snapping and water was splashing. We were deep in the jungle at that point; we had been hiking for about an hour through swampy rainforest with a machete guiding our path. I did not know if Taing, one of my guides, did not stir at the sound because he was mostly deaf or because he was unconcerned. Mr. Arbu was a much older man, so maybe his hearing was bad. As the sound filled me with vibration, Mr. Arbu finally put out his arm to indicate we should stop and listen.
Suddenly, the forest began to rain leaves. Branches snapped from above and splashed into the submerged forest. Taing grabbed my hand and dragged me to the left, "speaking' with hand motions and moans. He pointed up and I was left awestruck. Proboscis monkeys were flying from limb to limb above us. They took death defying leaps from branch to branch, and went as loudly as they had arrived. We continued sloughing through the forest. I wiped sweat from my forehead, smearing mud across my face. We had work to do.
It was only my second day volunteering for KOPEL as a part of the MESCOT initiative, but I was completely in love with the work. Even though the work was physically hard, it was mentally refreshing. It was like a dream had been realized. I, me, Lacy, was helping to save the rainforest. KOPEL has worked on reforestation projects on the lower Kinabatangan River in Borneo since 1997 and had already planted over 500,000 trees on reclaimed palm oil land, illegally logged forest and burnt sections of the forest reserve.
Sabah is located on the peninsula forming the northwest portion of the island of Borneo, along the South China Sea. Indonesia owns the southern two-thirds of Borneo, Malaysia fills the northern third, along with tiny Brunei. Borneo is the third-largest island in the world (287,300 square miles), a close second to neighboring New Guinea (309,000). Greenland, at 839,000 is the largest.
I've always had a "crush" on rainforests. I'm fascinated with their diversity, color and just the amount of life that is around every corner. Who wouldn't want to protect these gems? When I learned about the amazing work KOPEL does, I knew I had to go. I knew that I could put that botany degree and horticultural background to work. I was ecstatic at the chance to live with locals, learn about their culture and make a direct contribution to rainforest conservation. I worked hard and got some generous donations by friends and family to help make my mission a reality. And then I headed out on a solo journey to the middle of Sabah in Malaysian Borneo. I did not have an organization to guide me, just some travel experience and a strong desire to help. When I arrived in the village, I would be the only white person for at least three weeks; most had never met an American before. With a partially shaved head, pasty skin and bright blue hair; I stood out, but I was taken into the village like a part of the family.
KOPEL not only worked on restoring the rainforest for wildlife habitat, but they also provided revenue to a community who had once relied on illegal logging for income. In addition to replanting, they also have a comprehensive management plan to make sure the trees they plant continue to thrive. They work to clean out invasive Salvinia molesta, an invasive aquatic plant from South America, from the ox-bow lakes in the reserve, build orangutan bridges over tributaries, and monitor swift bird nests from overharvest. They have a homestay program, which I was participating in, where anyone can come and stay with a local family and see how life truly is in Mengaris village.
Life in Mengaris Village is slow. Any sort of schedule is a rough one; being late is an expectation. The crumbling paved road that starts on the bustling highway finds its end somewhere below the waterline in the Kinabatangan River. The road may be the only one in town, but it is alive, flowing faster than the river at times. Brightly painted houses, floating on stilts, line each side of the unnamed road, with hues of blue, yellow, orange and red. The homes are simple; tin roofed with the occasional missing wall. Dark, happy faces peer out of the half-finished homes. Quaint patios are decorated with flower pots pouring bright colors and greenery out of them. Colorful patterns decorate the clothing lines, weaving around the homes and between yards. At any one time you can look down the street and see children chasing soccer balls, chickens strutting with baby chicks in tow, goats grazing, cats stretching up their backs into the sunshine and dogs lurking beneath the homes. There are no fences around the homes, for no one needs to contain anything. No one needs to keep anything out. The people, even the children and the animals, are free to move as they please. The community is one large extended family. Walking a few hundred meters from one end to the other, one hears jolly "hello's" coming from all angles. Little girls with muddy hands and faces persist if your response is slow, and they follow you until the greeting is returned.
The lady who runs the fruit stand can be found sleeping among the miniature bunches of bananas and fresh mangos on her humble wooden stand. Five times a day, a beautifully haunting song fills the air from the mosque sitting near the river; the Muslim call to prayer. Inside, the homes are simple. Uneven wood floors are covered with brightly patterned linoleum, which exposes holes and cracks where you can see the wet ground far below. There is no hot water here; you can see the large blue tubs perched beside the homes, collecting fresh rainwater with each storm. Electricity came to the village in 1997, and now electrical outlets are placed haphazardly with exposed wires running along the walls. Handcrafted, brightly colored fabrics are molded around doorways and windows. Fake flowers are pinned to the walls. Some of the homes have furniture, others do not.
Most of my days volunteering sent me down the Kinatabangan River and deep into the jungle with Taing and Mr. Arbu for seed collection. We bushwhacked through the leech-laden jungle until one of my guides would excitedly notice a big tree, and we would scour the ground around it for various seeds, or seedlings if we were lucky. Each day took us to a new location. Travelling down tributaries off the main Kinabatangan River made for excellent wildlife viewing. Mr. Arbu sat on the bow of the boat and used his machete to clear brush so our boat could make it through the narrow canals.
One afternoon, I was having a post-lunch nap near the lake on the deck of the eco camp and I awoke to a strange sound. As I rubbed my eyes open I noticed a 3 foot long monitor lizard grazing its tongue towards me, just steps away. Jumping up with a squeal, the men working at the camp all got a hearty laugh out of the ordeal. The lizard slowly sauntered back to the water, and as I calmed, I laughed at myself with the men.
In the evenings after work, we cruised down the river back to the village; sunset provided the best wildlife photo opportunities. The monkeys head towards river to rest at night, as do the birds and reptiles. I saw several species of monkey, orangutan, kingfishers with bright colors, storks, crocodiles, monitor lizards, hawks, hornbills, and so much more. It was truly a magical place.
During my stay, I also worked in the local plant nursery, planting and nurturing the seeds and seedlings we had collected. I spent time maintaining trails, which basically meant swinging a machete until my arms went numb, in between stints of peeling leeches off of my skin and pulling barbed plant stragglers out of my hair. One weekend, I took a group of teenagers out in the forest for a camp over and environmental education course. We examined the importance of water quality, wildlife monitoring and tree preservation. We hiked through the jungle at night, a terrifying and amazing experience. The nocturnal insects and birds were something out of a fantasy. At one point we all turned off our flashlights and just listened to the forest in pitch darkness. I was surprised at their forest knowledge; they could identify many species and they even showed me a few plants which we were able to harvest for dinner that night.
There were other days spent out in the hot, equatorial sun planting trees in lands that had previously been palm oil plantations. These days made me appreciated the humidity and shade during our swampy forest hikes. I spent time weaving away invasive vines from freshly planted trees to give them some space to grow. Some days, I just spent cleaning up the village and offering English lessons to anyone who wanted to practice.
Three weeks of volunteering went by too fast. As a reward for my work, I got to spend my last day in the rainforest just playing. Taing took me off on an adventure about an hour upstream to visit some swift bird caves and sacred burial grounds. We spent the entire day scrambling up and down slopes, exploring caves, shouting off the top of mountains and resisting the urge to jump into the crocodile-filled river to cool off. At one point we lost our way and spent about three hours marking trees and searching for a high point to find our direction again. It was an adventure I never wanted to end.
On my final day, I walked through the village and said my goodbyes. I had found such warmth and friendship on that little street. Children chased me for the last time, and my host families came out from their homes to give me a hug and bid me farewell. Mr. Arbu and Taing presented me with some handmade bracelets to thank me for my work. As I boarded the bus to head back to Kota Kinabalu, I cried just a little looking back. I know that forever a piece of my heart will rest in Mengaris Village.