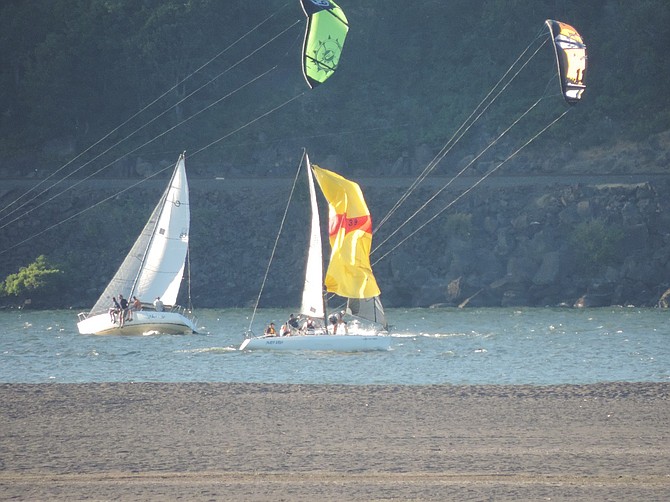 Lightening alert
Dry lightning is predicted in the Gorge this weekend, to go with the high temperatures. Oregon Department of Forestry has raised the Industrial Fire Precaution Level to 3, meaning motorized trail use on all Hood River County trails is now prohibited until there is significant rainfall.
Dangerously hot weather is predicted for Oregon and Southwest Washington through Sunday.
"High temperatures, humidity and hot, indoor environments can quickly cause heat-related emergencies," said Troy Jenkins, Red Cross Health and Safety training manager. "Excessive heat can lead to sunburn, heat cramps, heat exhaustion and heat stroke."
The National Weather Service in Portland and others have issued an excessive heat watch for the inland areas of southwest Washington and northwest Oregon from the coast range to the Cascades. The NWS Portland watch is in affect from Friday afternoon through Sunday, June 26-28.
Oregon State Forestry Department on June 19 issued a Regulated Closure, which bars entry to forestland (other than an owner's legal right of entry upon their land) to all forestland unless entrants comply with the following restrictions:
Smoking is prohibited while traveling, except in vehicles on improved roads.
Open fires are prohibited, including campfires, charcoal fires, cooking fires and warming fires, except in designated areas. Portable cooking stoves using liquefied or bottled fuels are allowed. Open fires are allowed if conducted in compliance with a valid Burning Permit issued pursuant to ORS 477.515.
As the summer season progresses with continuing warm dry weather, the public is encouraged to be careful with camp fires. Anyone tending a campfire is required to have a shovel and plenty of water on hand. Before leaving a campfire unattended, the fire should be drowned with water, stirred, and be cold to the touch.
Chainsaw use is prohibited between the hours of 1 p.m. and 8 p.m. Chainsaw use is permitted at all other hours, if the following firefighting equipment is present with each operating saw: one axe, one shovel, and one operational 8 ounce or larger fire extinguisher. In addition, a fire watch is required at least one hour following the use of each saw.
Cutting, grinding and welding of metal is prohibited between the hours of 1 p.m. and 8 p.m. At all other times, the area is to be cleared of flammable vegetation and the following fire equipment is required: one axe, one shovel, and one operational 2 and a half pound or larger fire extinguisher in good working order.

Use of motor vehicles, including motorcycles and all-terrain vehicles, is prohibited, except on improved roads and except for vehicle use by a landowner and employees of the landowner upon their own land while conducting activities associated with their livelihood.
n Possession of the following firefighting equipment is required while traveling in a motorized vehicle, except on federal and state highways, county roads and driveways: one shovel and one gallon of water or one operational 2 and a half pound or larger fire extinguisher, except all-terrain vehicles and motorcycles which must be equipped with an approved spark arrestor in good working condition.
Mowing of dried grass with power driven equipment is prohibited between the hours of 10 a.m. and 8 p.m., except for the commercial culture and harvest of agricultural crops.
Use of fireworks is prohibited.
West Side Fire District has been patrolling from Mitchell Point to Reed Road, updating information for its Wildfire Response Plan, noting conditions such as access, water supply, fire breaks, hazards, and fuel loading, according to fire marshal Jim Trammell.
"Fire season is upon us and we want to have the most up to date information, he said.
With temperatures likely to reach 100 degrees and potential for muggy conditions, it is important to be cautious during this abnormally early heat wave, according to authorities.
"While enjoying the weekend, we need to make sure we take heat warnings seriously," said Oregon Office of Emergency Management Director Andrew Phelps. "It is important to keep an eye on those who are most vulnerable to the effects of extreme heat, like infants and young children, our elderly family members and neighbors, and those with chronic medical conditions."

Pacific Power wants to remind customers to stay safe and use these tips to beat the heat, use less energy and save money.
Be air conditioner smart
Set your thermostat at 78 degrees. This will keep you comfortable and cooling your house below that temperature can increase your air conditioning bill as much as 8 percent.
Don't turn off the air conditioner when you're gone; instead set it higher, at 85 degrees. That setting allows your air conditioner to use less electricity to cool the house than if the air conditioning has been off all day, but doesn't shut down altogether.
Use an air conditioner timer or programmable thermostat; set it to start bringing your home's temperature from 85 degrees down to 78 degrees no more than 30 minutes before you get home.
Lamps, televisions or any other appliance that creates heat needs to be kept away from the thermostat; they will impact its accuracy.
Your air conditioner will operate most efficiently if you trim nearby foliage to allow adequate air flow around the unit.
Don't block inside distribution vents with furniture or other objects.
Don't let the sun shine in
On warm days, close blinds and drapes, especially in south-facing windows which allow in the most heat.
Open windows in the evening and circulate cool air.
Open windows in evening and early morning to let in cool air. Be aware, however, of any safety or security issues.
Use fans to bring in and circulate cool air. Ceiling and window fans use less electricity than an air conditioner when the compressor is engaged. Running an air conditioner in fan-only mode can also be effective as outside temperatures drop.
Reduce the heat inside
Use heat-producing appliances like ovens, dishwashers and dryers in the early morning or late evening when temperatures are cooler.
Grill outside or use a microwave or toaster oven. A toaster oven uses one-third to one-half as much energy as a regular oven and releases less heat into the home.
Turn off heat-generating devices when not in use, including lamps, televisions and computers.
Think for the long term
Plant deciduous trees to shade the south side of your house. Well-placed trees can reduce cooling needs as much as 20 percent, and an air conditioner operating in the shade can use as much as 10 percent less electricity.
Insulate floors, walls and attics to keep cooler in summer and warmer in winter. Seal and insulate air conditioning ducts that run through unconditioned spaces.
Get your air conditioner tuned up annually.
Consider a new air conditioner, heat pump and other appliances — new models are more efficient and may lower your electric bill