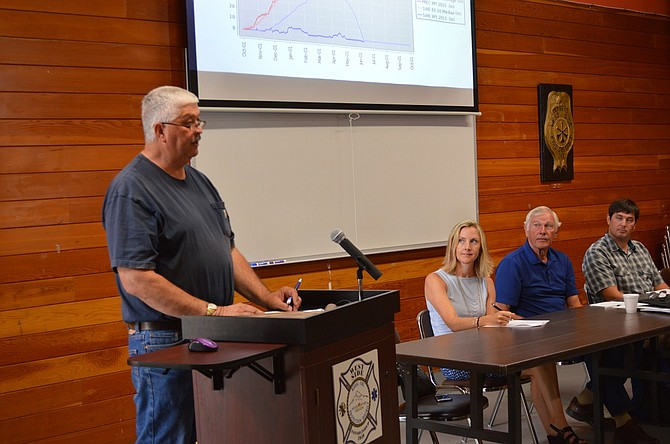 The Hood River County Board of Commissioners voted unanimously to pass a countywide drought declaration at a special meeting Wednesday. The resolution will go to Gov. Kate Brown's desk for executive action.
Hood River joins 20 other Oregon counties that have issued a drought declaration this year, including neighboring Wasco, Sherman and Gilliam counties.
The County hopes their formal declaration to the state will allow for smoother local water management, and will qualify Hood River County for state and federal grants in the coming years.
The meeting, held at Westside Fire District's Rockford Station at 4250 Barrett Drive, summoned city and county leaders, as well as experts in water management, forestry and fire. The audience numbered roughly 40.
Barb Ayers, Hood River County Emergency Programs Manager, opened the morning's discussion by describing the magnitude of the countywide drought.
"Every single forecast at the state and federal level shows this is a long-term drought," said Ayers. "They're our lowest levels since the early '80s and unless some miracle comes along, it's not gonna go away soon."
Ayers said the record low snowpack and stream levels affect agriculture and fire danger most profoundly. "What's called 'potable' or drinking water is in good shape. But our irrigation districts are deeply concerned," Ayers said.
John Buckley, East Fork Irrigation District Manager, said local irrigation districts depend on snowmelt and stream levels. His district covers 9,494 irrigated acres, and is forecasted to have mandatory reductions by next month.
"Water is survival. It's a major aspect of surviving financially … we all have to do our share," said Buckley.
Snowpack on Mt. Hood is virtually non-existent — roughly 5 percent of its usual level, as measured at the Red Hill SNOTEL site in April. The Hood River is running at 40 percent of the average level, according to the U.S. Geological Survey gauge at Tucker Bridge.
All three major irrigation districts of the Hood River Valley — East Fork, Middle Fork and Farmers' Irrigation District — have requested a 25 percent reduction of rates for their users.
"The (benefit) with the drought declaration is to give us some tools for our department that can help ease the drought for landowners," said Bob Wood, Oregon Water District 3 Manager.
Wood leads state water operations in a 3,000 square-mile district that includes Hood River and Wasco counties.
Wood explained that temporary emergency water use permits are faster and cheaper than typical applications. What usually takes months to get through a state application process can now be conducted before the end of summer, he said.
"Basically, it's giving a better access to water supplies to support our irrigation districts," said Ayers.
"The money wagon isn't gonna come driving into Hood River. But (a drought declaration) can help way speed up, expedite, the process and lower the fees on transferring water rights or moving things around."