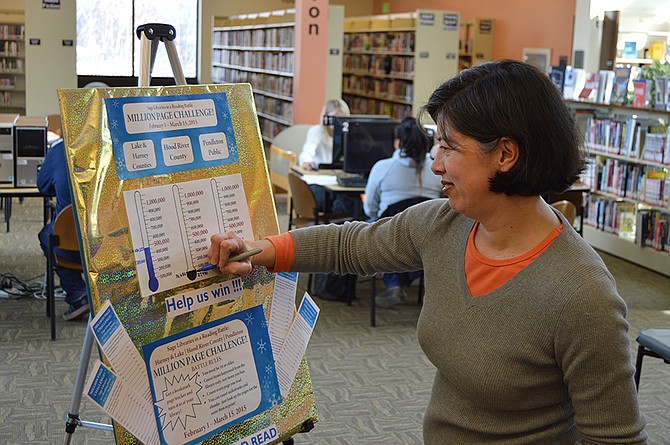 Michele Dearing, Collection Development Specialist for the Hood River County Library District, updated the Million Page Challenge board at the Hood River Library Thursday afternoon. And we've got sad news, Hood River County — we're in last place.
The Hood River Library District was challenged by the Pendleton Public Library and a combined team of the Harney and Lake County libraries to a three-way race to see which library's patrons can reach one million pages first. The contest started Feb. 1.
As of Thursday, Hood River County has read 76,486 pages, putting us in last. Pendleton is in second with 171,296 and Harney/Lake in first with 484,223.
Books, audiobooks, newspapers and magazines all count in the contest. The catch: They must be read or checked out from the library, and participants must be 16 years or older to qualify.
Assistant Library Director Rachel Fox said patrons are encouraged to fill out their Million Page Challenge bookmarks (or write the number of pages read on any sheet of paper) and regularly turn them in for tabulation to any county library branch. The contest ends March 15.