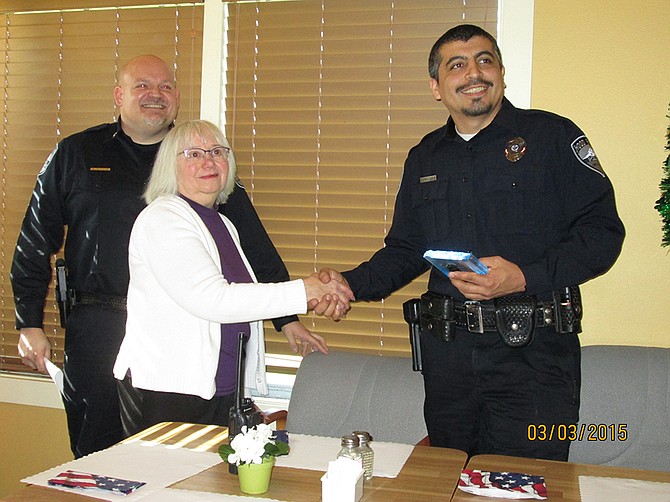 Juan Pulido gives himself labels that, on the surface, seem unflattering.
Grunt.
Busybody.
The guy that gets complaints.
But the Hood River Police officer wears the labels as proudly as the badge itself, and they contributed to his award last week as Officer of the Year, from the Hood River American Legion Auxiliary.
Pulido gratefully, but modestly, accepted.
"I don't think I deserve it any more than anyone else," Pulido said. "We have a great department of guys and we all have our roles.
"I just love my job and the enjoyable experiences," said Pulido, an eight-year veteran of the department whose roles go beyond his prolific record as patrol officer.
In 2014 Pulido led the department in criminal citations, calls for service, and officer productivity, according to Chief Neal Holste.
"It's been my job description to be the busybody," Pulido said, "to get involved in peoples' business when they don't want us there, you know, to question the questionable. If someone is jogging down the street at 2 a.m. are they actual jogging, or what are they up to?"
Pulido accepted the award last week at the Legion Post on Tucker Road, after a lunch hosted by the members of the Post and Auxiliary. The organization revived the award after a few years' hiatus; Gerry Tiffany, then of Hood River Sheriff's Office, was the previous winner. The Legion's Jim Tomson said the Post plans similar awards this year to the Sheriff's office and to fire and EMS.
Pulido, a 1995 Columbia High School graduate, worked at NORCOR and as a Hood River County Sheriff Reserve before joining Hood River in 2007.
"It feels okay," Pulido said of the award. "I didn't go into the job for public recognition of my achievements. I believe law enforcement is an important aspect of the community, and that's plenty enough for me."
He said he focuses on traffic violations, including DUII, "but I don't have as many drug interdictions as Officer (Emy) Delancy," and said he has less of the "public relations" role as guys such as long-time officer Erin Mason.
"It's a challenging job. Many people take our jobs for granted, maybe they don't understand what we do," Pulido said. "Someone may mean to cause you harm. You never know."
It comes down to prevention, he said.
"It's hard to measure what you prevent, because a bad guy isn't going to say, 'I got stopped from robbing a house because a policeman drove by,'" he said. "It's a matter of getting out there, in the neighborhoods. I've never been concerned about what the bad guy says about me. I've had complaints on me. It doesn't really bother me. As long as they are investigated, and unfounded, I'm not concerned about it."
Asked if he has aspirations to move up in the ranks, he said, "No, I like being the grunt. I enjoy being the guy at the bottom of the line, pushing forward."
On hand for Pulido's award were Holste, Code Enforcement Officer Marty Morgan, Officers Isaac Miller and Kyle Zuercher, Sgt. Stan Baker, and office administrator Maria Rivera.
Pulido started his public service in 2000, working as corrections officer for the Northern Oregon Regional Correctional Facility. In May 2007, he joined Hood River Police.
"Officer Pulido has proudly served this department and the citizens of Hood River. Pulido has taken on other roles outside of his normal duties and is the department's range instructor and a field training officer," wrote Holste in a letter to American Legion nominating Pulido.
"Officer Pulido is looked up to as a highly skilled trainer and trusted mentor of new hires and reserve officers. Serving as the department range master, Officer Pulido created and implemented new and creative range techniques which further advanced our officers in the safe and accurate handling of all firearms at our disposal," continued Holste.
"Officer Pulido has not only led the department in these areas but led the department in self-initiated activity, which illustrates his zeal to work hard for our department and community.
"Officer Pulido is a very driven, extremely active, and professional officer who represent and emulates the Hood River Police Department's values of honor, integrity and excellence," Holste wrote.