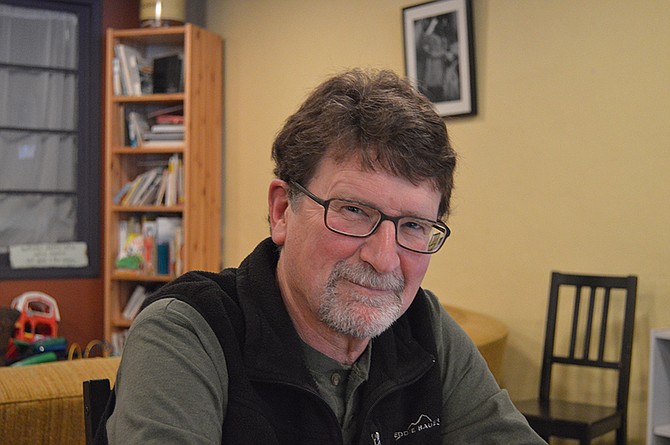 David McClure, of the Dave McClure, Co., and its subsidiary Hood River Woodworking, has made a name for himself over the past two decades he's lived and worked in Hood River.
McClure is a builder and craftsman, and these days, the bulk of his company's work is in cabinets. He does a little bit of everything, though, because the Gorge is a hard place to have a specialty.
"There's no shortage of specialized subcontractors, so you have to do it all," he explained. "I've been here for 22 years — most of that time, I've worked as the David McClure Company, doing remodeling. But we built our cabinet shop (Hood River Woodworking) in 1998 and since then, an increased amount of our work has become cabinets and other woodworking things."
He hasn't built a house since 2012, though it's something he would consider depending on the design — if it's energy efficient — and the customer.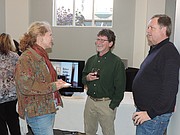 "I've done a lot of luxury homes, which can get pretty decadent," he said. "I have the background to do that sort of stuff. But what I really like is being involved with projects that are sensible, and energy efficient, and make elegant, efficient use out of storage."
Current projects run the gamut of size and scope. He's just finishing up an 800-square-foot custom kitchen … and starting on built-ins for a 540-square-foot house.
"It's a cute little design," he said of the house, "but the cabinets were poorly planned and inadequate, so were doing some alterations to existing cabinetry and building in a bunch of closets, window seats, and built-in dressers and bed headboards."
He didn't go to college to learn his trade — just the "school of hard knocks." His first-ever job was a pole barn when he was 22 "because it was a job I could get," he said. "I was trying to cultivate basic practical skills."
In the 1980s, he worked in Portland, where he spent seven years going from "one McMansion to the next, doing interior staircases, closets, not the main kitchens and baths, but some of the built-ins and all the doors and trim and mantels and paneled libraries. We did some pretty fancy stuff back then."
He had a knack for finish work, and "bluffed my way into a series of three jobs that were slightly over my head..." he said. "It was an accelerated learning curve."
During those three jobs, he built circular staircases, paneled libraries and large mantels, and worked "alongside people that were better than me," he said. "That's an ideal situation for learning."
But this extensive background proves to be both a blessing and a curse.
"…There seems to be a feeling among people that once you do really difficult work you can't go back and do easy work anymore, and it's simply not true. We find easy work to be easy," he laughed. "Experience is experience, whether it's creating a really masterful fine home or hanging a door and trimming it quickly."
He describes Hood River Woodworking as a one-stop interior constriction shop. "We design and build interiors of homes. And we do some specialty work on exteriors, too, timbered trusses on porches and deck rails and things," he said.
While the bulk of his work is in custom cabinets, he also does a lot of stairs and window seats, both of which he enjoys building.
"I think stairs are very important things," he said. "They're on of the biggest things towards building an impression of a house when you walk in."
While manufactured cabinets are popular in Hood River, there are advantages to custom built cabinets.
"I think a lot of people don't realize that we can create something that is very specifically tailored to their house for a price that's competitive, at least of quality manufactured cabinets, and we do it with materials that are free of formaldehyde, and low-VOC finishes, with a quicker turnaround than buying something from the factory and made in six weeks."
When it's all said and done, his favorite part of the job when it's completed.
"I think people being really delighted with the end product and seeing that it inspires them in their daily life, that's the reward …" he said. "I like to design something that goes beyond nice craftsmanship and maybe, hopefully, it kind of inspires the people that live with it. We hope that our enthusiasm for what we do is kind of contagious, and will, at least to some small degree, inspire excellence in people that see it and touch it and live with it."
His woodworking business isn't just about building — there is a lot of behind the scenes work that goes into each day, such as creating plans, measuring the proposed space and meeting with electricians.
"A lot is tied in with the design of things, too," he said. "I do drafting and 3D rendering, and I'm kind of liking that a lot lately. I build it (on the computer) first. There's no way by floor plans and elevations the owners can get a sense of what it's going to look like, like they do with this kind of rendering. So this has become a significant part of how I spend my time.
"The design is such an important element. Especially in a small house, the accumulated inches you gain in custom cabinets rather than putting in cabinets that come in three inch modules, it can really add up … where you're trying to center a sink and gain maximum space. The smaller the kitchen the more the custom cabinets can add to the efficiency of the space used."