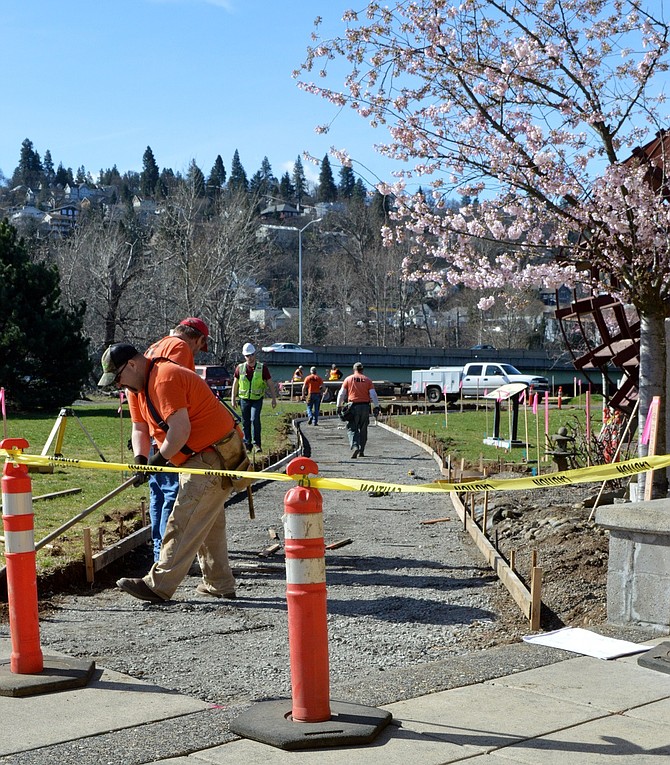 Port of Hood River started extensive trail work last week between the Hood River footbridge and Button Bridge Road.
The Shoreline Trail that runs the length of the waterfront is an excellent way to get your exercise and enjoy the river, but crews are present and some trail portions, including the bridge, may be briefly inaccessible, so check with portofhoodriver.com for work schedules.
Work is about to begin on the Nichols Basin West Edge Trail project located along the entire western shore of Nichols Basin, from the ordinary high water line to N. 1st Street. (Access is prohibited, though it will not impede pedestrians walking between Event Site and The Spit.) Construction will continue through June 2015, with all access to the site prohibited for the duration of construction. Funding for the Nichols Basin West Edge project was provided by grants from Oregon Parks and Recreation Department, Hood River Valley Parks and Rec District, and the Port of Hood River.
The Pedestrian Bridge Trail project is located on both sides of the Hood River Pedestrian Bridge, including areas near the Hood River County History Museum and the Marina Boat Launch. Two brief periods of closure for pedestrian/bicycle access over the Pedestrian Bridge will occur, date and times of those closures will be posted on the Port's website.