Columbia Gorge Community College board member Stu Watson called for CGCC president Dr. Frank Toda to step down on Tuesday.
Watson's motion to ask Toda for his resignation died for lack of a second.
The board had the unusual situation of two executive sessions in one evening – a grievance against a college employee to start the meeting a t 4:30 p.m. and an emergency executive session requested by Watson, held as soon as the board reconvened at 6 p.m. (Media are allowed to sit in on executive sessions, but not to report on the proceedings.)
Watson prefaced his motion by referring to discussions in the executive session, which had been attended by chair M.D. Van Valkenburgh, and board members Charleen Cobb, Ernie Keller, Dave Fenwick, Charlotte Arnold, and Watson, and Chief Financial Officer Will Norris, the only administrator present.
"I just feel a series of decisions in the last couple of years have caused the financial situation we are dealing with," Watson said after the meeting. "There's been leakage in our spending, and the budget crisis would have benefited from the money that was spent."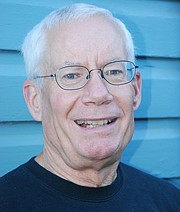 "Shocked. I didn't see that coming," Toda said. Asked about the budget crisis and campus closure issues, he said, "I've been here for 14 years and we have had had challenges with board members not being happy with what's going on but we've always worked through it."
"Not a surprise," is how board member Keller summed up his response. "Stu's been bringing up things for a long time and to my satisfaction all of them have been answered satisfactorily."
The college recently laid off five employees and has said more jobs will be cut this fall to make up for an approximate $1.4 million deficit. Toda was subject of a faculty no-confidence vote in October 2013, though the board never took action on it. The faculty accused Toda of "ignoring the cooperative decision-making processes that are the hallmark of collegiality more and more frequently for the past several years, particularly in personnel decisions for middle- and high-level administrative positions in both hiring and firing."
The no-confidence resolution, which was crafted by department chairs, also states that "processes (Toda) has used are far less rigorous than the college's standard processes for hiring faculty or classified staff, standards which should be the minimum for the hiring of the people that supervise those employees.
In November 2014 Toda announced plans to close the Hood River campus, a move he quickly rescinded after community protest and criticisms from the board that they had not been consulted on the idea before Toda announced, initially via social media.
Watson said Tuesday, "I feel pretty confident saying that I sense the staff and faculty have lost confidence, clearly, based on the no-confidence vote. The situation hasn't gotten better, communication is horrible, and even the consideration of closing the Hood River campus showed a lack of respect for the board's role in making strategic decisions and I just don't have a lot of faith in the direction the college is going. There have been a lot of good things accomplished but we need more than buildings. He's been pretty good at getting money to get buildings built, but programmatically, we haven't had the links and the conversations with the community that I think are vital.
"We need to have a much stronger and consistent conversation to understand what sort of programs to develop and I just don't see that happening," Watson said.
Asked how he garnered the sense that there is widespread dissatisfaction with Toda, Watson said, "dozens of conversations either at my initiation or communications that have come totally unbidden, with faculty members and staff members in the past few years.
"I think the board, myself included have needed, and need to pay, closer attention to the financial picture," Watson sid. That's my commitment, if voters choose to re-elect me, but I think we need a more visionary leader at the top."
Toda said, "A leader learns from decisions you have made that have not gone the direction you want. But frankly I am surprised the level of frustration people have. It's done. We have a budget crisis in front of is, we're fighting for survival, but we're spending energy on something that was done a long time ago. Let's move forward. We need to move forward as an institution."
In other action Tuesday, the board appointed Norris as chief budget officer for the 2015-16 budget, though Norris described it as essentially ceremonial. "I will be working directly with Dr. Toda, and the budget message will be his," he said.
Norris also briefed the board on student tuition, now at $89 per credit hour, unchanged since 2012-13. The board took no action,
"The budget is still in process and I am making no recommendation at this time," Norris said.
Norris said CGCC's tuition is lower than 11 other Oregon community colleges and higher than four, though all the colleges are considering tuition increases this year. An increase at CGCC to $91 for in-district students and $94 for out-of-district students, along with variable increases in fees, would generate approximately $135,000 in new revenue each year, according to Norris.
Fenwick asked, "even though the state has failed to come u0 with funding we have the philosophy that we don't want to put the budget on the shoulders of our students."
Norris said, "we're looking at all options," and that all the department heads have been contacted about making cuts.
In other budget-related action, the board scheduled three budget hearings instead of the original two, in light of the deficit.
Meetings will be held at The Dalles campus on April 28 and May 5 and May 7.
n
The CGCC board will hold a special meeting on March 24, 6:30 p.m. at The Dalles campus; after the meeting is convened, it will recess to executive session, which is closed to the public, on a personnel matter that is a subsequent session to the second one held Tuesday. After executive session, the board will return to public session at about 7:15 p.m.