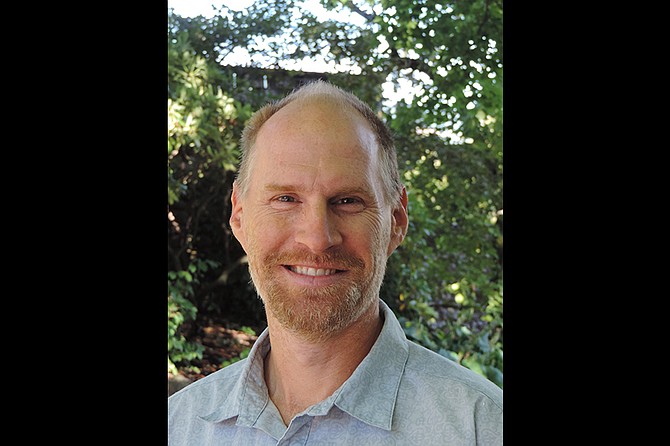 Paul Blackburn jokes that he is "seven for seven" in elections — the most recent being Mayor of Hood River in November 2014. He was elected to city council in 2004.
Among the first actions taken by Blackburn, who speaks Spanish, was to create a Latino Advisory Council. Serving as "mayor for all of us" is Blackburn's overriding principle, and he puts heavy stock on including opinions of the community and council members.
(This is the first of two parts; the second will appear in the March 25 edition.)
Blackburn sat down with editor Kirby Neumann-Rea for an early-term check on how it feels to be mayor, and how he sees his role in city government.
Blackburn, who succeeded Arthur Babitz (six years in office) has now led five city council meetings since taking the oath on Jan. 5. The council meets at 6 p.m. Monday at City Hall.
"I had my first meeting with just four of us — and there was still a lot going on up there," Blackburn laughed. "I'm glad I'm not any less experienced than I was," he said of the Jan. 5 council meeting, in which he was sworn in with councilors Susan Johnson, Becky Brun and Peter Cornelison; incumbent Kate McBride was also in attendance.
"Just trying to manage it is the most important part of my job in my opinion, and being able to do that requires some tending."
Q — What do you mean by 'just trying to manage it'?
"You want to make sure you're moving forward expeditiously, and making sure everyone has given the input they want. Sometimes you have to draw people out a little bit. I want to hear their opinion; you don't want to just hear the first, briefest opinion and move on.
"The (former council) visioning was held in the fall, and out of it came top goals. Running the city is the top goal, but while the regular day in, day out stuff is happening, what sort of additional things do we want to guide staff forward? (Blackburn, along with the newly-elected council members, participated in the November visioning, though they were not yet in office.)
"Number one (goal was) housing, and not just affordable, but also the extent that short-term rentals play a role in that, in terms of equity, in terms of skewing the economics. If someone has the choice between short term in the summer and 12-month long term, I think the city has a legitimate interest in steering people toward long term, and we can have a bit of impact on it if we require a little bit more compliance for the short-term stuff.
"That's number one, and many of us (on council) have a pretty strong ecological inclination, and we want to see what we can do without helping our city be, if not a leader, at least not too much of a follower on greening. There are some capital facilities issues that can address that. We put out a statement about coal and oil — not sure it has any impact but we've at least raise our hand to be counted on that."
Q — You've made a good argument that even if you don't have a direct impact, it's important to raise your voice because others might, too.
"The only lever we have on those oil and coal trains is to make noise to the state so that state can make noise to the feds. We just have to stand up and be counted."
Q — You don't have an office per se, but you have a presence at city hall.
"Yes, I've been spending a lot of time with (city manager) Steve Wheeler. I was impressed with him before and now that I'm in office I'm even more impressed, He and I talk a lot, I bounce stuff off him, 'have you heard this', 'what do you think?' I think it's a useful interchange. He lets me know about stuff he knows, I let him know about stuff I know, and so far, what a great colleague."
Q — What are you finding of your experience as a city councilor that has been helpful as mayor?
"Similar to sitting at the council table, I've been there, seen it, I kind of know what it's about. It's not my first rodeo. Similarly, I'm well aware that he's (Wheeler) running the city and it's not for me to drop in every day and say 'get on this as a first priority'. No, he's doing his job, I provide input and we talk about long term so that he's constantly shifting between short term and long term and many conversations with me are about vision and policy, not details of the every day. I guess another part of that is I am sometimes telling him stuff. I saw a billboard where the police chief's face had been defaced; you can't have that. So it's that 'man about town' part of it. I was able to tell him about that and he was able to contact staff and take care of that. Or, I heard from a constituent this crosswalk that was going to be in, and 'can you give me the status on this?' so I can report back. It's not telling him what to do but what I know, and he can add that to the mix."
Q — Do your observations count for more?
"Right, do I get three votes and everyone else gets one? I tell him something and he jumps, right? No, but being a fact finder for him has been useful: 'Here's what I've been hearing, let's bring that to the table,' rather than 'do this.' I think it's an important distinction."
Q — You arrived here 15 years ago. At the time did you foresee yourself being mayor?
"Great question. One of those things I realized when I filed for office is that there's a word for what I've been doing: campaigning. Because I've kind of wandered around being cheerful and enthusiastic, which I think is a great element of the community, which can probably be annoying, especially for my wife. But I know a lot of people and I try to be thoughtful about what I do and how I spend my time and I think that's a great personality trait. It's not the only one, but ... by and large ..."
Q – (Asked about his extensive community involvement) Is all that the campaigning that what you refer to?
"I'm trying to put my time where my mouth is, and I had the time. As a full-time Dad and spending a lot of time with my daughters, I needed time to play with grownups, to find my own ballast. I was doing what I needed to do to get through, but also making choices in keeping with my values, which I think we all try to do."
Q — So how does all this translate to serving as mayor?
"I think I have a broad and deep engagement to my town. This has been my community where I've worked, and my wife's business is, this is our home, and we raised our kids here, and I think that's a great preparation for being the leader of the community, because I think I've seen a lot of sides of the community and it's great for the mayor to be familiar with all of them."
Q — You spoke in the campaign about your goals (affordable housing, parking, and waterfront issues). Any change in that now that you've been in office?
"There have been a lot of interesting phases to this project. I thought a lot about it and consulted with people whose opinions I value. All summer I was running unopposed, and then I had an opponent (Greg Colt) who raised a lot of money and we had an active campaign in the fall, and being mayor-elect is a really interesting phase, it's 'I'm not in yet, but I'm talking to people, touching base, checking in, thanking. It was a really interesting and engaging phase.
"Another interesting thing is that three huge community issues got resolved weeks before I took office. Walmart got done, and it may come back, but right now it's done, then Naito hotel got sorted out, and the Waterfront Refinement Plan, all done in December. I spent all fall wondering, 'am I or not going to be deeply engaged with these issues?' and they in fact went away — which felt right, because they were issues that Arthur had been super involved in and to get some closure would have been disappointing for him and the process to have those linger. He was totally involved in it and that previous council got those done.
"That sort of opened it up and those are currently not on my plate. One of the things I'm, very excited about is openness and community engagement, that city government is transparent and folks can see what's happening and credible and representing people and particularly, I would say, representing all of us in the town. There are a lot folks in town and not everyone lives in a stunning view home. I want to make sure I'm the mayor for all of us, including being bilingual. I'm proud of being able to offer that."
Coming in the March 25 edition: Part two: Parking, Heights urban development, and more. Blackburn: "Parking meters' job is to create parking."