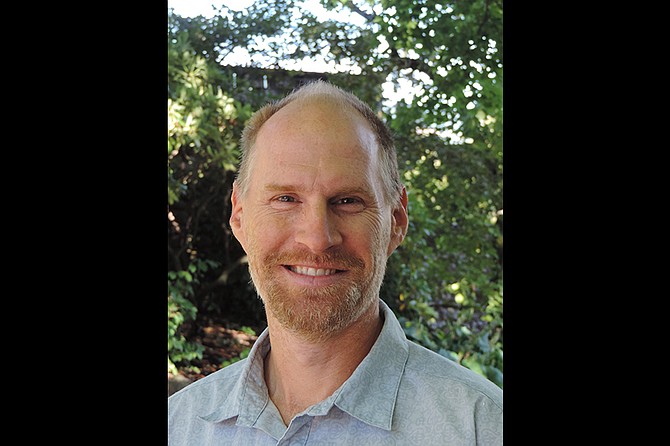 Paul Blackburn jokes that he is "seven for seven" in elections — the most recent being Mayor of Hood River in November 2014. He was elected to city council in 2004.
(This is the second of two part interview; the first appeared in the March 21 edition.)
Blackburn sat down with editor Kirby Neumann-Rea for an early-term check on how it feels to be mayor, and how he sees his role in city government. Blackburn, who succeeded Arthur Babitz served on City Council from 2004-08 and has lived in Hood River for 15 years.
Blackburn said in part one that "One of the things I'm, very excited about is openness and community engagement, that city government is transparent and folks can see what's happening and credible and representing people and particularly, I would say, representing all of us in the town. There are a lot folks in town and not everyone lives in a stunning view home. I want to make sure I'm the mayor for all of us, including being bilingual. I'm proud of being able to offer that.
"There are seven of us leading the city, implementing the visions of each of us, I'm excited about being part of that. Incorporating those folks' wishes and facilitating getting all those items on the agenda and to have their opportunity. The process is really important. In the campaign, thoughtful inclusive leadership is what I promised. That's the approach I am committed to," Blackburn said.
n
You had mentioned parking and waterfront development as two major priorities, when you ran for office.
PB: "Things have changed a lot since summer when we had dust on State Street, and it's great to see that finally done. On the waterfront — I don't think any of us know where that's heading. Last summer was a really high rate of change. Our kid worked at pFriem so we spent a lot of time down there. And what a summer. I think some of us are still digesting exactly what the changes were and what this summer is going to look like. For example: how long before we have parking meters down there? I don't think any of us know, but, what a change from three years ago."
It seems unfair there are not, just as there are no meters on the Heights.
PB: "On that note, which I think is really interesting: parking meters' job are to create parking. They encourage each of us to move along. If the parking metered spaces were sitting empty all the time obviously we wouldn't be meeting that need. If the metered spaces weren't occupied, we'd be missing the point. I don't think it's unfair there are no meters down at the waterfront, because if everyone were parking there, it's a little like Yogi Berra's line — 'nobody goes there, it's too crowded.' If, it was, 'oh, let's go to the waterfront because there's no meters,' pretty soon there'll be no parking and we might have to take it to the next level. If there was no parking and people aren't going, that customer is being missed. So somehow if the businesses support the meters, the meters are to provide turnover, but if it becomes a case of someone comes and parks all day and the other customers couldn't go, then we'd hear about that. We want to encourage turnover."
You mention the situations downtown, the dust and so forth, and lack of meters on Heights: there's going to be an urban renewal project there.
PB: "I think sooner than next year. Now that State is wrapped up and we have this bike hub and public restroom plaza at Third and State there is nothing, short of administratively, standing in our way of moving on the Heights. The question is, 'there are lots of things Urban Renewal can be used for, and what do we want to do?' We have begun enlisting help, Jack Trumbull on Urban Renewal (Advisory Board)l has begun enlisting the right voices so people from the 12th and 13th corridor can begin helping determine what will be happening in their neighborhood."
So can you forecast when dirt will move?
PB: "The district has been formed and money is being collected. I don't think we'll move dirt this summer but I think design will start happening. Will we underground the utilities, will we replace the pavement, probably no, are we going to work on the sidewalks? Probably. Are we going to have a loan pool for either business owners or building owners to kind of buff up the facades? I think that could be a real interesting move, not something we did downtown. A cheap money loan pool for those older buildings to spruce it up a bit would be a big change on the Heights. Also, parking, looking long-term, someday, though it's hard to imagine, if some of those buildings built out more, some of those buildings have informal parking areas behind them — they could be built out as a larger building and that would put a strain on parking and we might want to invest in some longer-term parking up there."
Overall, what do you see as the biggest need on the Heights as we look at an Urban Renewal Project up there?
PB: "My clear answer on that is just don't know, but we are beginning to recruit the right folks for that. We are beginning to ask, which I think is the right step. Kristin and I are shareholders in Columbia Gorge Family Medicine, we have a two-acre campus up there that is a big investment for us, so we are quite interested in that."
What are the big tasks before you and council for 2015?
PB: "One of the things Steve (Wheeler, city manager) and I do is we meet every week whether there is a meeting or not. We finalize the agenda, and we also have the longer-term questions, which we are just starting to really look at."
And you're also working on budget preparation.
PB: "That will beginning April and this is the first year we have had Steve in place so that process has already been different than past years. I'm very pleased about the road map he's laid out for us.
What do you foresee as the big issues or challenges with approving a budget this year?
PB: "We need to figure out how to keep ourselves from being loved to death. Hood River is very prosperous. We have the lowest unemployment in the state, and a lot of people want to come here and visit us, which we love, and we want to be sure we've got adequate planning in place so we don't grow towards vanilla.
The more I say it the more I like it. We're booming and I'm sure there are people who feel it is not going exactly the way they want but we are statistically booming and let's retain the magic thing about Hood River and not boom into just about everybody else."
Is there a thing you can point to avoid that?
PB: "Planning capacity. Having enough staff downtown so we can be looking short term as the applications come and looking farther ahead There is going to be substantial development during my term, out on West Cascade by the snowmobile store (Mid Columbia Marine). A couple of key decisions on road connectivity and so forth will allow new projects to come and I want us to be thoughtful about how those new projects look.
The Mt. Adams and May Street connections — there are a couple of different choices of how that could go. Think about it, if you could choose coming down, from say Fox Hollow, that would change an enormous amount of traffic flow.
That's going to be something you and I have never seen. I'm pretty mindful of, 'wow that's some change, and it's exciting, but a change.' That's the last big piece in the UGA and improving it in the right way is really important. What we do there will make a big difference."
BLACKBURN BIO
Paul Blackburn and his wife, Dr. Kristen Dillon are parents to two daughters — "two freshmen," as he puts it: Althea attends Occidental College and Rosalie attends HRVHS. He spent most of the 15 years he has lived in Hood River as a stay-at-home Dad while Dillon developed the business they co-own, Columbia Gorge Medical Practice.
Blackburn's involvements ranged from district budget committee and helping found Teacup Nordic Club (he's the 10-year president) and hosting house concerts in their spacious Montello Street home.
He was elected to city council, to two Local Committees (May Street and Hood River Middle School) and twice to the Library District foundation — first when the tax district vote failed and the board as a result never took office, and again a year later when the revised District tax proposal was approved. He is also a long-time United Way board member, served on the Hood River Education Foundation, and is active with the Unitarian Universalist Fellowship in Hood River.