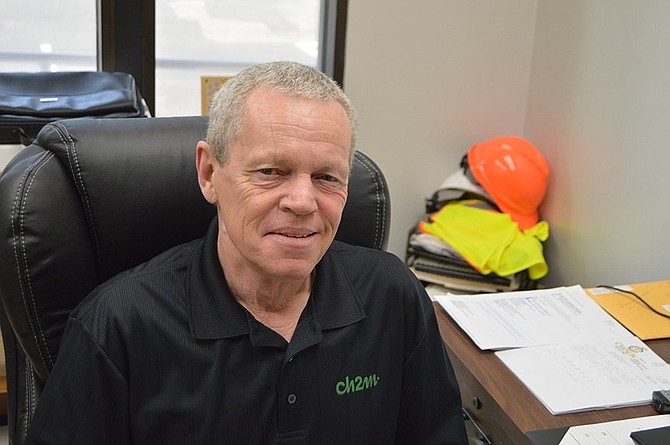 Doug Nichols, Project Manager for Hood River Public Works, has a job that not many people understand: Wastewater treatment.
"Wastewater treatment in general is a very misunderstood public utility," Nichols said. "It involves a variety of physical, chemical and biological processes and applied sciences. A lot of people have no idea what transpires at a treatment plant, or perhaps aren't even aware of where the water goes when they shower or flush their toilet."
It's a fairly complex process, but basically, what happens is this: Wastewater gets funneled through the city's sewer system, where it eventually ends up at the treatment plant. From there, it's prescreened, de-gritted (the pipes tend to have a lot of gravel in them), and put through a series of clarification and aeration systems where microbes do their work before the water is pumped back into the Columbia River.
It's a process that mimics what happens in nature — in a very concentrated time period. The plant treats an average of 1.2 million gallons per day.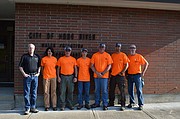 But explaining this to people?
"You want to kill a conversation? When people ask what I do for a living, and I tell them, I either get a deer in the headlights look, or they say, 'that's interesting,' and that's the end of it," he laughed.
Nichols' mornings begin with a staff meeting, where workers discuss "any process or control equipment problems, provide scheduled training, and always include a safety topic — safety is always the number one priority," he said (the plant safety record is currently at over 4,700 days without a lost time accident). The rest of his day is spent managing four Gorge-area wastewater treatment plants —Hood River, Parkdale, Cascade Locks and Stevenson — which includes everything from "managing budgets to regulatory reporting, lab and plant data analysis, client reports, etc.
"In this position, you wear many hats," he said.
And it's a position he enjoys. "Wastewater treatment is a highly regulated and demanding profession," he said. "However, there is a great deal of satisfaction in knowing that we make a difference each and every day for the environment, and that we're protecting the waterways of Oregon and public health. Water is a precious commodity.
"We like to think of ourselves as the original environmentalists," he said. "Wastewater has been around a long time."
He also enjoys "educating the public about wastewater treatment and how a plant operates," Nichols said. "We provide a lot of plant tours to school groups of all ages, from preschool to college level students."
There are eight associates at the Hood River WWTP, five of whom are State of Oregon certified wastewater operators: Louie Hooks, Gary Duree, Brent Tillett, Sean Desmond and Nichols. The other three: Bobby Green, mechanic; Kelby Johnson, biosolids coordinator and equipment operator; and Sara Horne, operator in training.
"These guys are the nuts and bolts of the operation," Nichols said. "… All of our associates are highly trained professionals dedicated to maintaining plant operations that consistently produces a quality effluent (discharge) that meets established discharge permit limits set by the Oregon Department of Environmental Quality," he added. "The State of Oregon has the most stringent water quality standards in the nation."
The Parkdale, Cascade Locks and Stevenson facilities are considered satellite projects and are not staffed all day, Nichols said — instead, Desmond and Duree travel back and forth between the sites for a few hours at a time.
Nichols was born and raised in Baker City. He graduated in 1978 with a two-year associate degree in Water and Wastewater Technology at Linn Benton Community College, and began his career as a wastewater operator at the Gresham WWTP in 1979. He moved to Roseburg in 1984, holding the same position.
In 1985, he began working for CH2M in contract operations, "which has included 10 years at the Gresham WWTP, in maintenance while training to be a project manager, three years as project manager at a WWTP at Keahou, Kona, on the Big Island of Hawaii, and the last 18 years as project manager at the WWTP here in Hood River." Nichols and his wife of 44 years, Marilyn, live in Hood River.
CH2M is a contract services provider, and has "enjoyed a great partnership with the City of Hood River since 1983," said Nichols. Hood River WWTP is the company's second-oldest tenured client.
Those services include "operating and maintaining the wastewater plant and six lift stations, application of biosolids on DEQ-approved land application sites, grease trap inspections, and management of a local pretreatment program that involves regulating the discharge of local significant industrial users."
Many small towns contract their WWTP services with companies like CH2M because "they either don't want to be bothered with it, or they're having problems operating their plant and they call us to help out." Many times, "helping out" turns into a long-term partnership.
"It's been a good career — and you talk about job security," he said. "I feel like I've been very blessed — it's been a good profession."