The title of the play is itself full of irony: "good people," the phrase used in South Boston and elsewhere to loosely describe firm acquaintances for whom you know, both the good and not-so-good.
Through the gossip, half-truths, and self-fibs of modern life, a group of Boston residents work with and against each other in making sense of their lives.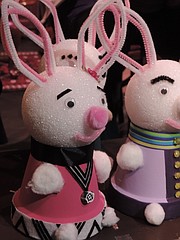 A central question to David Lindsey-Abaire's 2012 play is: does character or circumstance determine our fate?
Bingo serves as plot driver and metaphor for the attempts these hardscrabble people make to find some form of luck in their lives.
This is a small cast, and a concise show, with a total of four scenes in two acts. The first scene after intermission lasts nearly 45 minutes, but it has that hold-your-breath quality: what will happen next.
An expensive vase and a handmade gew-gaw both play a critical function in the story; the values placed on these spectrum-opposite keepsakes brings real emotion to the forefront.
No spoilers here, but suffice it to say that the mundane domestic setting that this scenes starts out to be turns into a far more intense drama as desperation and defense lock horns and a marriage faces a severe test.
The play, directed by Judie Hanel, is funny, sometimes caustically, and viewers should note that there is some profanity.
Kathleen Morrow plays Margie, a down-on-her-luck single mother raising a disabled adult daughter. Margie may be looking for more than a job when she drops into the life of an old flame, Mike (Garoutte), now an endocrinologist, and his wife, Kate, a college professor (Desiree Amyx-Mackintosh). Jean is played by Kim Robichaud, and two CAST newcomers — Rona Klein as Dottie and Angel Reyes as Stevie — round out the cast. They are a reminder of the truism that in theater there are no small parts.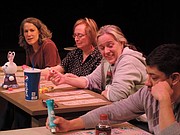 Through it all, the characters discuss the role luck has, or does not have, in success, a process that encourages the audience to rethink our relationships, assumptions, and our words, Hanel notes.
"Good People" will be the final full production directed by Hanel, who helped found CAST in 1977 and has directed, and performed in, dozens of shows since then. Hanel will stay involved on the CAST board and in directing staged readings of plays, including "Other Desert Cities," this fall.
Hanel, Frank Levin and Jan Axford are the only charter CAST committee members who have remained involved in recent years.
"I want to do other things, and it's a lot of work, and I'm tired. I've been doing this since I was eight years old," said Hanel, whose actor parents got her involved in summer stock theater in her hometown, Denver, and she gained two degrees in theater and worked for years as theater director in Calgary. Alberta, Canada. She came to Hood River in 1977 and helped start CAST shortly after.
TICKETS AND TIMES
Good People, by David Lindsay-Abaire; directed by Judie Hanel. Shows are May 8, 9, 15, 16, 22, and 23 at 7:30 p.m. and May 10 and 17 at 2 p.m.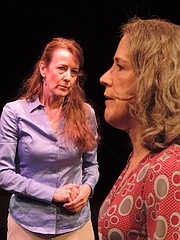 Tickets are available online, at Waucoma Bookstore, and in the gallery at Columbia Center for the Arts, 215 Cascade Ave in downtown Hood River. Prices are $18 for adults, $15 for seniors 62 and over, and $12 for groups of 10 or more. Due to subject matter, the play is suitable for ages 13 and up.
On stage this summer …
CAST Theater musical — CAST Theatre and Columbia Center for the Arts present the summer musical "Next To Normal" in July 2015. "Next To Normal," with book and lyrics by Brian Yorkey and music by Tom Kitt, explores how one suburban household copes with crisis and mental illness. Winner of three 2009 Tony Awards including Best Musical Score and the 2010 Pulitzer Prize, "Next To Normal" was also chosen as "one of the year's ten best shows" by critics around the country, including The Los Angeles Times, The Washington Post, Rolling Stone and The New York Times.
Dad's an architect; Mom rushes to pack lunches and pour cereal; their daughter and son are bright, wise-cracking teens, appearing to be a typical American family. And yet their lives are anything but normal, because the mother has been battling bipolar disorder for 16 years. Next To Normal takes audiences into the minds and hearts of each character, presenting their family's story with love, sympathy and heart.
Shows are July 10-11, 17-19, and 24-25 at 7:30 p.m.
Rebekah Meyer productions — Rebekah Meyer productions presents two shows in July and August featuring youth grades 4-11: "Mulan" and "New Kids." Costs and schedules vary, see Hood River Community Education catalog (hrcommunity.org) for details. Packets with scripts and CDs to be picked up in late June; rehearsals are at Hood River Middle School.
CCA — All the Arts! Workshop, grades 4-6, Aug. 10-13, taught by Sullivan Mackintosh. Participants will explore visual art, dance, theater, and music; register at columbiaarts.org.