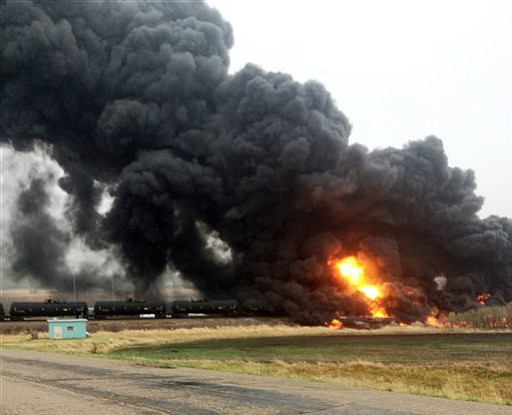 A train that derailed and caught fire last Wednesday in rural North Dakota was hauling crude oil from the state's oil patch, raising questions nationwide and in the Columbia River Gorge regarding the efficiency of new federal safety standards for oil trains.
No injuries were reported in the derailment of the 109-car railway train May 6 at around 7:30 a.m., the Associated Press reported. The accident prompted the evacuation of the nearby 20-person town of Heimdal. It was the fifth fiery crude-by-rail derailment in North America since February.
The derailment came in the wake of a United States Department of Transportation decision on May 1 to tighten railway safety measures nationwide.
Among the USDOT's new oil-by-rail regulations are a new tank car standard and a risk-based retrofitting schedule for older tank cars carrying crude oil and ethanol.
The announced rule also requires a new braking standard for certain trains, updates operational protocols for trains transporting large volumes of flammable liquids and provides new sampling and testing requirements to improve classification of energy products placed into transport.
Friends of the Columbia Gorge, a local conservation group, argued in a May 6 written release that the latest accident reinforces the danger of oil trains and the "inadequacy of new federal rules."
"New oil train rules announced by the USDOT last Friday would do nothing to prevent most of these accidents or improve communities' right-to-know," the Friends wrote. "This is why proposals for oil by rail terminals along the Columbia River and throughout the Pacific Northwest should be denied."
Hood River adopted a resolution banning coal and oil trains rolling through town in December. The document states, "because the rail alignment runs through our downtown area, the impact of existing and proposed oil trains is potentially catastrophic in terms of loss of life and devastation of the City of Hood River community, environment and economy."
In January, The Dalles passed a resolution urging state officials to pursue tougher federal regulations of crude oil shipments.