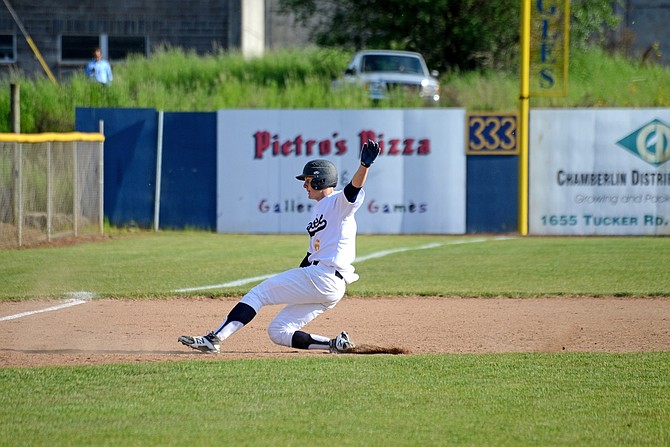 With the CRC title firmly in HRV's hands, the Eagles were only playing for pride in Friday's game against The Dalles, who unlike HRV, had a lot to lose — namely the final play-in spot in the Columbia River Conference.
The Riverhawks (4-8 CRC, 10-15 overall), lost both the game and the chance to edge Hermiston for the final play-in spot, falling to HRV (9-3 CRC, 17-8 overall), 5-3, despite rallying in the final innings of the game.
As they've done so often this season, the Eagles grabbed control of the game before their opponents had a chance to put up any runs. After a scoreless first inning, Chase Lariza provided HRV with its first run, scoring on a single from Ryan Ward, who hit a ground ball down the third-base line in the bottom of the second. Skyler Hunter scored as well that inning, making it 2-0, HRV.
Both teams were quiet scoring-wise for the next two-and-a-half innings until the bottom of the fifth, when Kellan Duffy and Patrick Harvey scored off a single from Riley Van Hoose (line drive to center field) to extend HRV's lead to four. Van Hoose would then score the final run for HRV a couple plays later, thanks to a ground ball hit by Dallas Buckley, who was able to reach first base on an error by The Dalles' third baseman.
The Dalles pushed back in the final two innings, scoring two runs in the top of the sixth and another run in the top of the seventh to make things a bit interesting, but relief pitcher Kam Walker stayed composed on the mound, giving up two hits and a run (none earned) while striking at one batter in two innings. Walker followed up an excellent pitching performance from starter Ryan Ward, who struck out 14 batters over five innings, walked four and gave up just two hits and two runs (one earned).
Ward had a good day during his three at-bats as well, responsible for two of HRV's five total hits (both singles) as well as an RBI. Other hits came from Van Hoose (who had a team-high two RBI), Hunter, and Duffy — all singles, with the exception of Duffy, who had HRV's lone double.
With league games completed this season, HRV will have one final regular season game against non-league opponent Central Catholic Wednesday at 5 p.m. in Hood River. Central Catholic finished with a third-place ranking in Class 6A and should provide good competition for HRV, ranked No. 7 in 5A. Playoff information hadn't officially been announced as of press time, but it seems likely that No. 7 HRV will host No. 10 Dallas on Wednesday May 27. Check the News for updates.