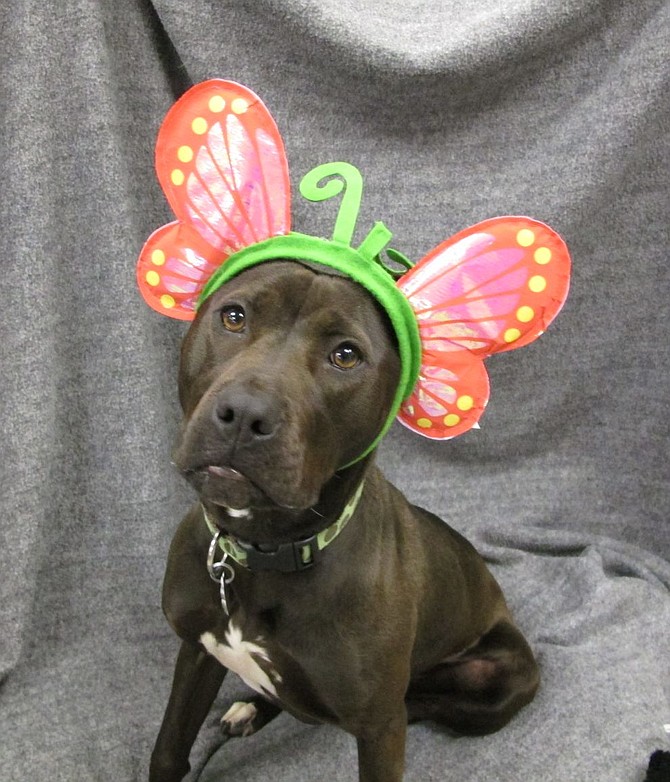 This week volunteers at Adopt A Dog have selected Lindy as the program's adoptable pet of the week:
Lindy is a sweet, adorable 9 month old Pittie mix girl weighing in at 45 pounds. She was actually adopted from us seven months ago, but the family just doesn't have the time this pup needs and so she spent a lot of her days in a crate, or outside on her own, searching for trouble to get into. She is very playful with other dogs, adores kids, and still very much in that puppy stage, so chew toys are whatever she can find!

She just seems to have fun no matter where she goes, or what she's doing, but rope toys and squishy things are her favorite, so keep them nearby! Lindy hasn't had much training, but boy, is she learning fast! She's got some good doggie manners under her belt and is more than happy to learn as many tricks as she can, because TREATS RULE!
Lindy has become a wonderful walker with the leash, comes when you call her name and she thinks cuddle time is awesome. Lindy needs a home where she can get daily walks and exercise, plenty of snuggles, and a devoted family to call her own. She is current on shots, microchipped and spayed. The adoption fee for Lindy is $205. The fee to adopt is charged to recoup standard veterinary expenses. Since many of our dogs are in foster, please call ahead to meet Lindy in Odell at the Hukari Animal Shelter 3910 Heron Drive, or call for more information at 541-354-1083. Adoption hours are Wednesday, 5-7 p.m. and Saturday, 9-11 a.m. You can fill out an application online at our website, www.hoodriveradoptadog.org, or download and scan and email to us at adoptadog@gorge.net, or fax it in to 1-877-833-7166. We offer 24PetWatch microchips, which include free registration into the 24PetWatch pet recovery service.
For more information visit www.24petwatch.com or call 1-866-597-2424.