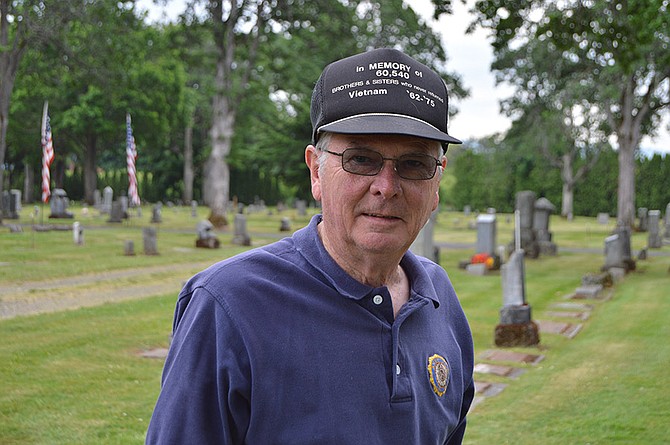 Denny Leonard will have been involved with the Hood River American Legion Post 22 for 37 years in June, and all because of a bet.
He had been laid off for the winter from the forest industry and was sitting in a Belmont tavern (where Monogans Pancake House is now) drinking coffee one morning, when Bill Wheeler, a World War II vet and log truck driver, came in and asked why he wasn't a part of the American Legion.
"He said, 'You're a vet, aren't ya? Why don't you join the American Legion?' and I said, 'I don't join anything,'" Leonard said. Wheeler had been playing with a half-dollar piece on the counter and made him a deal: He would flip the coin and if Leonard won, he'd never talk about it again, but if he won, Leonard would join.
And that's how Leonard came to be a part of the post.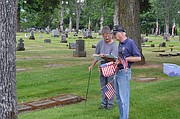 "Then I got to meet a lot of really nice people — Harvey and Leila Crapper, Don Hilton … just a whole bunch of real nice people who picked me up by the shoestrings and taught me the ropes, got me geared up to be an officer in the post and in the district, and I've done work on the committee scale with the Department of Oregon."
He's served as the post's commander "nine or 10 times," as vice commander "seven, eight or nine times," on the board of directors, as the chaplain — both post and district — and was even the district vice commander "a couple of times," with a service area that goes from Cascade Locks to La Pine.
Not a bad record for 36 years.
"They was pushing me hard, trust me," he said.
Leonard has helped plan the annual Idlewilde Cemetery Memorial Day service for nearly as many years as he's been with the American Legion.
"One goes into the other after a while," he said.
There used to be more than one veteran's organization in the valley, and all would help with the service.
"Now we're just down to us, basically. We just inherited this stuff over a period of time," he said.
On Thursday morning under threatening skies, Leonard and Idlewilde Sexton Bob Huskey were part of a small crew placing flags on the graves of veterans and getting the grounds ready for the weekend's expected heavy traffic. By Sunday evening, Leonard said, the grounds will be completely ready for Monday's 11 a.m. ceremony start.
This year's theme is "Honoring Those Who Have Served," and as such, a new, 6-foot illuminated floral wreath will be dedicated to all veterans buried in Hood River County. Other highlights will include twenty-two veterans' names added to the Walk of Honor, a flyover by WAAAM pilots, music by the Hood River Valley High School band, a musical tribute sung by Andy Streich, and a three cannon salute after "Taps."
It's the support of the community, year after year, that makes the ceremony happen, Leonard said, whether they're working behind the scenes to get the cemetery ready for visitors, or in the ceremony itself. And that includes his daughters, Shelley Leonard and Tammy Long.
Leonard served in the Vietnam War from June 1967 to June 1968 in the Ninth Infantry Division, Task Force 117, Mobile Riverine Force. His Army unit was the only one since the Civil War that has held continuous operations with the US Navy, a fact he's proud of.
"We were in a lot of combat," he said. "Our unit was about three years in the Delta before things starting going the other way. We had 2,644 KIA (kill in action) and 18,831 wounded. We were there during the Tet Offensive, and they came through the south and went back down through the south."
He was one of the wounded. He understands why some vets don't like to talk about their war experiences.
"It's not a pleasant subject," he said. "A lot of people don't understand the concept. It's not like the movies, it's organized chaos. Once the first bullet comes whizzing through the air, everything goes south."
For more detailed information about this year's Memorial Day ceremony, turn to pages A10-A11.