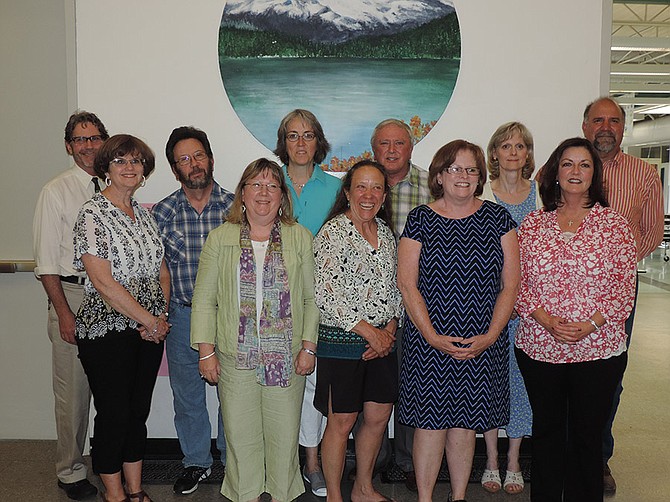 Twenty-two educators are leaving full-time service of Hood River County School District this spring. Superintendent Dan Goldman thanked them in Monday's gathering at the Hood River Valley High School cafeteria.
"I think of educators as heroes. We think of heroes as people who run around in tights or wage war, and I look around at what educators do every day and I truly believe in my heart that it is heroic.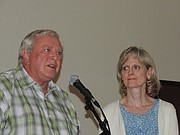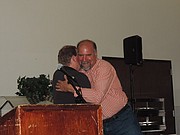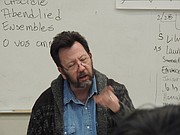 "Every one of you are educators," he said to the teachers and classified staff. "You dedicated your life to kids, and you're an educator. You made our community a much better place to live."
Principals or supervisors introduced the educators and spoke about their work. The man with the longest overall service, Mid Valley principal Dennis McCauley, stood with Linda Thornton, one of two teachers leaving after 36 years in education.
Mark Steighner, music director at HRVHS also retires after 36 years. McCauley, with 44 years in education, was honored for his 11 years with the school district, all as principal of Mid-Valley Elementary.
Keith Bassham, HRVHS athletic director, will retire with 35 years; music teacher Kathy Hannen-Smith departs with 29 years, Nate Frye of District Technology with 28; Mid Valley's Caroline Dethman and Wy'east's Christy Hillen with 27 each; and Mid-Valley's Sandy Abramson and Karen Dais of District Technology with 24 each.
Also retiring:
Kim Vogel, Cascade Locks, 21 years; Kathy Hannifan, Pine Grove, 17; Chris McKenzie, Technology, 7; Debra Boquist, HRMS, 17; Susan Young, HRMS, 10; Esperanza Culbertson, Wy'east, 10 years; John Vann, Technology, 16; Pam Starling, May Street, 18; Anne Burton, HRVHS, 17; Robert Bissonnette, HRVHS, 9; Mark Reynolds, HRVHS, 12; Peggy Kelter, Mid Valley, 12.
Goldman opened by threatening a roast but was much easier on his outgoing teachers and administrators.
Goldman quoted tennis great Arthur Ashe in saying, "True heroism is remarkably sober and very undramatic. It's not the urge to surpass all others at whatever cost, but to serve others at whatever cost.
"When we look at education we are talking about people who have served a very long time and have done it under very amazing changing conditions in the past 30 years. I just want to thank everyone in the room for being a hero, and when you leave the schools you never really leave, you're on everyone's list for subs, you're on speed dial and at 5:30 a.m., you get the jingle. But when you leave the schools as full time teachers, you can hold your head high. You have done a remarkable thing with your lives."