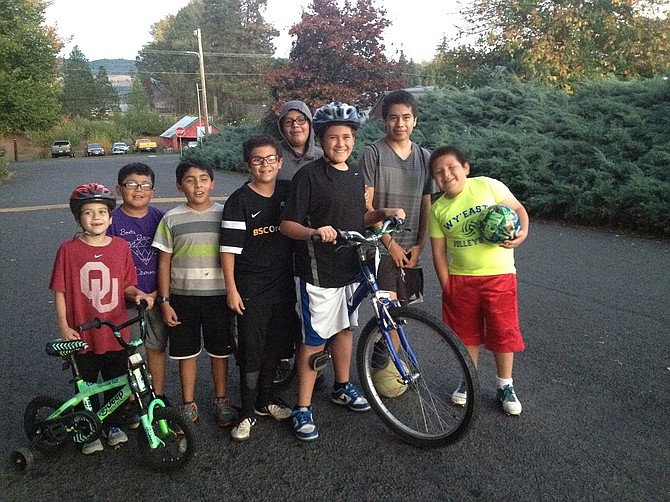 Do you remember the feeling of cruising the neighborhood on your first bike, having the freedom to ride from soccer practice to the local creek and making it home just before nightfall?
What about your first time leaving home for an overnight summer camp to be encouraged outside your comfort zone and engage in activities such as backpacking, whitewater rafting, climbing mountains, and making new friends?
Cascade Mountain School (CMS) believes these experiences, among many, are essential to the summer days of childhood. That's why this past summer, CMS paired up with Anson's Bike Buddies, a local nonprofit, to provide each participant with their own bike for transportation during CMS summer camps. CMS offers residential environmental science and adventure programs for elementary, middle and high school students.
In 2015, CMS served 150 Pacific Northwest students, some hailing as far away as Alaska and Los Angeles. Many local students received scholarships to attend.
Many students depart from CMS camps and arrive back at home without a bike. Once they're home, they want to continue the fun and healthy activity of biking. CMS started a new tradition this fall: a post-season bike donation to one student from the summer.

The donation is an appreciation of a student's hard work, leadership, stewardship, and integrity.

As the busy and successful summer season wound down, CMS chose one student from 150 participants from its 2015 summer season to win a bicycle. Josue Martinez, of Odell, a participant of the Middle School Farm to Table Bike Camp, was this year's winner.

The Farm to Table Bike Camp introduced Josue and the other 10 participants to topics of sustainable agriculture and personal food choices. Throughout the camp, Josue embodied an authentic leadership style of compassion, integrity and hard work. He also expressed unending gratitude to many community members throughout the camp. In his community, Josue plays an incredibly active role, often volunteering his time to help others.
On Oct. 20, Josue was presented the bike donation of a blue Motiv bike Anson's Bike Buddies had fixed up as a donation. The bike was one that Josue took a particular liking to during the Farm To Table Bike Camp.
Josue later said, "I just really liked this bike. It was smooth and fun to ride from farm to farm." As the bike was brought to the Martinez residence, some of Josue's brothers and friends came out to check out "the bike" that was being donated. Many locals knew about the upcoming bike delivery, but Josue was still unaware of the surprise. Passing soccer balls came to a halt and neighborhood kids came over to check out the bike and watch Josue as he walked out of his home to the familiar, blue Motiv bike. Sharing a grin from ear to ear as he grabbed the handlebars, and said, "I'm so honored you chose me … I'm just so happy." He smiled even more upon discovery that the bike was truly his to own. A few words were shared before he mounted his new bicycle and zipped figure eights with that familiar excitement of riding a new bike. CMS couldn't have chosen a better fit for this year's bike donation.
Many local students, such as Josue, were able to attend CMS this summer because of individual donations made to CMS in support of student scholarships. CMS partnered with St. Francis House, a non-profit organization based out of Odell, and Anson's Bike Buddies, to make this donation to Josue possible. Anson's Bike Buddies is a local non-profit working to "donate a bike, change a life," to provide as many local youth with bikes as possible.
If you would like to donate to the Cascade Mountain School to support student scholarships, such as Josue received, please donate online at www.cascademountainschool.org or email info@cascademountainschool.org.
On Halloween, CMS hoarws an adult and family-friendly Lichen Hike with local botantst Andrea Rutchy, in Trout Lake, Wash. Visit CMS online to check out our summer programming for 2016.
CMS is an outdoor science school providing experiential day camps for 6-12 year olds and residential camps and academic courses for middle and high school students. CMS is a program of the Mt. Adams Institute, a nonprofit organization strengthening the connection between people and the natural world.
— Heidi Schmidgall, CMS