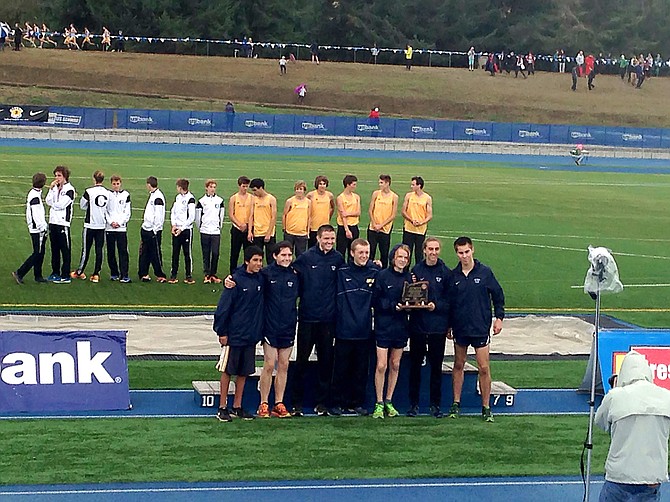 The Hood River boys cross country team grabbed its first state trophy in recent years at the 5A state championship meet last weekend at Lane Community College in Eugene, where the boys once again edged Hermiston to take fourth-place overall.
Much like the team's previous meet — the Columbia River Conference championships, held in Pendleton the week before — a challenging course, coupled with adverse weather conditions didn't produce season-best records from hardly any runner on the 5,000-meter course. However, HRV coach Brandon Bertram noted that "times do not mean a thing" when it comes to a state meet, or really any running event — all that matters is where you finish.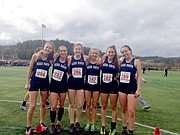 "They ran a solid race and came away with a trophy, which was a goal at the beginning of the season," he continued. "We haven't brought home a trophy in the past four or five years. That's a positive, we're on the up-and-up."
Times may have been substantially slower than last year, but they boys placed higher than 2014's eighth-place finish. As expected, the boys were unable to contend with powerhouses like Summit and Crater, but were hoping to compete with Marist, who ended up beating HRV by 47 points. Bertram noted that with Marist's skill "they would have had to have an off-day and we would have had to have a great day to overlap" and take third in the race.
Bertram said the boys did everything he asked them to do, with runners finishing in line with their ability. To beat Hermiston, Bertram said he knew he needed four guys in the top 30. They did just that, with Justin Crosswhite finishing in 17th with a time of 16 minutes, 45 seconds, followed by Quinn Fetkenhour (21st, 16:50), Connor Truax (27th, 16:59), and Jesse Wiley (28th, 17:01). HRV beat Hermiston by 16 points and Bertram added that HRV was also able to put "four guys in front of the district best."
RESULTS
BOYS:
(First overall: Walter Vail, Summit, 15:39) Justin Crosswhite (17th, 16:45), Quinn Fetkenhour (21st, 16:50), Connor Truax (27th, 16:59), Jesse Wiley (28th, 17:01), Jacob Bromham (46th, 17:27), Elkin Parker (60th, 18:04), Finn Peterson (79th, 18:43).
GIRLS:
(First overall: Olivia Brooks, Summit, 17:46) Daisy Dolan (16th, 20:01), Josie Petersen (38th, 21:03), Sophia Marble (75th, 22:28), Denali Emmons (79th, 22:38), Katie Perkins (83rd, 22:57), Chloe Clark (90th, 23:42).
The girls did not fare as well, placing 11th out of 12 teams after placing eighth last year, and faced a huge amount of adversity after Lauren Robinson, who has been the team's top runner with Daisy Dolan this season, contracted pneumonia, and was unable to participate in Saturday's race.
"When you take your top runner and senior leader out of the equation, not only point-scoring-wise, but your leader throughout all this year… for that to take place, they took a hit, but they ran a great race," Bertram said.
Dolan stepped into the lead runner role, placing 16th overall with a time of 20:01, and improving on last year's time by 20 seconds. Bertram said Josie Petersen "ran a fantastic race," with her time of 21:03 representing the second-fastest race of the season for the freshman runner and was good for 38th. Bertram also mentioned that frosh Katie Perkins, who took the spot vacated by Robinson, had a good race, placing 83rd with a time of 22:57.
"She stepped up in the situation when she needed to and scored some points," he said.
With the season essentially over — the team will be heading to Idaho for the non-OSAA NXR Northwest meet Nov. 14, which features some of the best cross country teams from around the Northwest — Bertram is already looking forward to 2016. HRV will be losing seniors Crosswhite and Fetkenhour on the boys' side, and Robinson, Denali Emmons, and Sophia Marble on the girls' side, but Bertram is very confident that his younger athletes will continue to run well next year. Bertram noted that "a lot of teams are losing seniors" around the 5A classification and expects HRV will be in contention once again late in the season next year.
"We're not regrouping; we're reloading," he said.