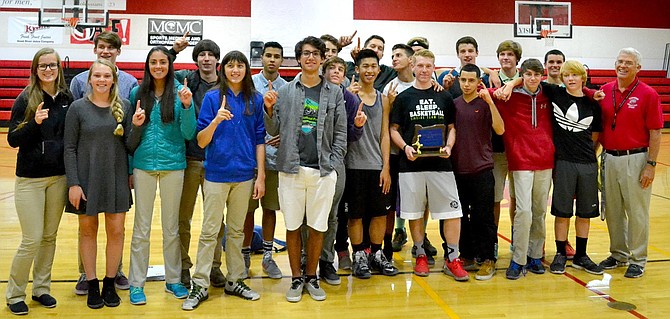 Last-second heroics by the Horizon's front line lifted the Hawks' co-ed soccer team over C.S. Lewis Academy last Friday in the 1A championship game held in Salem and gave the Hawks their first-ever 1A title.
Tied 1-1 with just two seconds left in the second 10-minute overtime period, Horizon coach Oscar Stenberg said he and his son, Andrew, who serves as assistant coach, were discussing penalty kick lineups, when striker Makoa Whitaker received a long pass down the sideline from team captain Salvador Ramirez. Whitaker dribbled past a C.S. Lewis defender and all the way to the goal line, then crossed to senior Cody Lingel, who capped his high school career with a game-winning overtime goal to give Horizon the title.
"It was a breathtaking, phenomenal experience," said Stenberg. "It was cool — it was great just to be there."
Horizon had a difficult task set before itself ahead of Friday's game. Though Horizon finished first place in the conference this season with an 8-1 league record, the team's only league loss came from none other than the C.S. Lewis Academy Watchmen, who shut out the Hawks, 1-0, Oct. 5, in Newberg.
However, the torrential rain evened the playing field, with neither team able to score in the first half despite "excellent movement of the ball up and down the pitch," and multiple scoring chances, according to Stenberg. Lingel, the sole scorer for Horizon Friday night, struck first, scoring on a cross with 32 minutes remaining in the second half.
Horizon appeared close to getting to win, but with less than six minutes remaining the Watchmen tied it up when Zack Walker came out of the box to defend and "our sweeper didn't sweep," and the Watchmen player chipped one over the head of Walker, whom Stenberg said "played excellent soccer in the weather conditions," to tie it up.
"They were a very very disciplined, good team," he said.
But the Hawks were better, taking a play they had worked on many times in practice and parlaying it into a game-winning, title-winning, overtime goal.
"The drill that we drilled them on over and over again was done impeccably correct," Stenberg noted.
Horizon will graduate seven seniors and lose some key players, including Ramirez and Lingel, but have nearly as many juniors and plenty of up-and-coming freshman and sophomores as Horizon aims for a similar result next season.