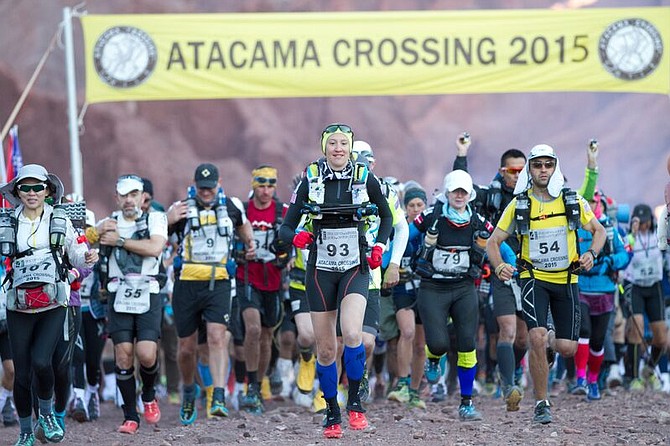 When one thinks of going on a vacation, or in this case, a third attempt for entrepreneurs at a honeymoon, you would think it would mean they are seeking out beaches, lounging, and the typical "vacation." Not for Lance and Jax Koudele (who wrote this account for Travelogues).
In this case, they ventured to central and northern Chile to adventure and explore, and Jax just happened to additionally toe the line at an international ultra-running event known as the Atacama Crossing, and take second female overall.
For starters, the Atacama Desert is a plateau in South America, covering a 600 mile strip of land (40,541 square miles) on the Pacific coast, west of the Andes Mountains. It is the driest non-polar desert in the world. The average rainfall is at about 15 mm (0.6 in) per year. The Atacama Desert may be the oldest desert on earth, and has experienced extreme hyper-aridity for at least three million years, making it the oldest continuously arid region on earth.
The Atacama Crossing is a part of the world-renown 4 Deserts Race Series set in the brutal Atacama Desert. It is a 250km (155 mile) race across the driest desert in the world over six stages (22.7 miles, 27.6, 24.2, 27.3, 47.6 and 6.0). The race has been recognized by Time magazine as the "Ultimate test of human endurance." The Atacama Crossing has unique landscape of salt lakes, volcanoes, lava flows, sand dunes, crusty mud, and salt flats (looks like natural coral reefs for miles and miles). The appearance is often compared to Mars. The Atacama crossing is especially grueling because of the harsh terrain, high altitude (8-11,000), and climate (as low as 32 degrees at night at 115 degrees during the day, and five times drier than Death Valley in the States). The race begins at 11,200 feet in the Arcoiris Valley. If all of that didn't seem hard enough, then you add on carrying a pack with everything you need to survive, and we mean everything! In Jax's case, it started off at 26 pounds. Ouch!
In a nutshell,
"The Atacama Crossing tested every part of our physical and mental beings. We had to dig deeper into our levels of strength, tenacity, determination, and mental grit than I ever knew was possible. We were tested on having stamina in distances day after day that I never imagined was physically possible, all while carrying everything that we needed to survive," Jax wrote. "As a 4 Deserts and stage race ultra-first timer and elite runner, and signing up seven weeks before the race started, I have to admit on the plane I was frightened. I literally was holding on to my husband for dear life, worried if I could survive, if I could go the distance, and stay injury free. I wanted to prove to myself I could do what I didn't think was possible. I wanted to represent my country, friends, fans and sponsors and continue my life mission to inspire those to get outside and move as a means to prevent disease. I had highs and lows each day strengthening my core as a human. I quite often would sit at night and have a moment of fear for the next day's challenges and quickly tell myself it will all be okay and to just stick to my routine and stay within myself and whatever happens happens. Gaining strength every day, it all came together with more success than I ever imagined."
While Jax was running, Lance was in central Chile taking on his own adventures, skiing in Valle Nevado, searching for waves and wind on the coast to kite or surf, and visiting his Chilean friend Antonio, who is a World Class Dune Buggy racer. That of course led to a ride with him.
n
When Lance and Jax met back up at the finish line, the adventure continued. They searched in the high altitude areas (14-16,000 feet), passing volcanoes and skirting the borders of Argentina and Bolivia for secret running spots. They visited hot springs, ate llama, and took in cultural moments. Jax also shared some segments of the course with Lance via sightseeing or going for a run together, including running down a super steep sand dune, to capture all that Atacama had to offer.
Eventually they drove on to the coastal town of Iquique that is known for their perfect conditions for paragliding … so they went!
The adventure was capped off in Santiago for a quick visit and an 18-mile, self-guided walking tour of town.
Now back home, the adventure continues as Jax prepares to run her final race of the season at the Javalina Jundred 100 miler on Halloween in Arizona.
The real question is … will they take a real "vacation" after that? "I bet not," wrote Jax.