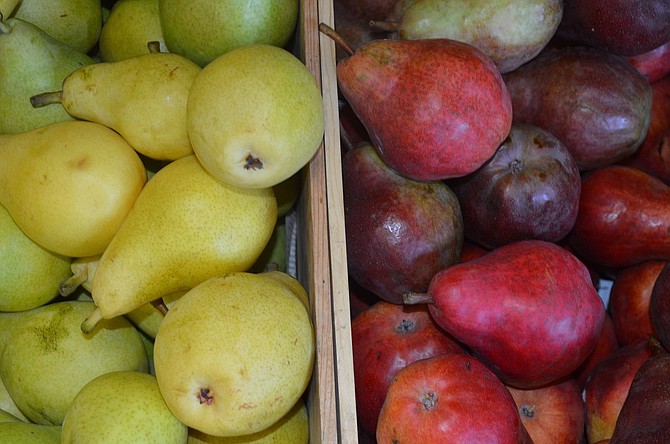 Hood River County's water sources hit the hurdles of virtually zero snowpack on Mount Hood and record high temperatures this summer, but irrigation district managers feel the impact on users was a "close call" averted.
At last Tuesday's Watershed Group meeting at the OSU Extension Meeting Room, Hood River Water and Soil Conservation District members and irrigation leaders reflected on the tenuous state of drought conditions over the year, which they said were eased by increased teamwork and water conservation.
Pears survive the drought despite high cull numbers
Hood River County's fruit industry made it through the drought relatively unscathed.
Pear harvest, which swept in two weeks early in August, forced orchardists to water and harvest ahead of schedule. Growers cut back to 85 percent of their usual water use.
Fruit packers and orchardists reported few difficulties with the crop they saw initially, except minor crop shrinkage in some areas of the valley.
At the watershed meeting on Oct. 27, however, Craig Mallon of Duckwall Fruit and OSU horticulturalist Steve Castagnoli said Anjou pears suffered a high rate of culling due mostly to a heat and moisture related physiological disorder, cork spot.
"It causes a localized calcium deficiency in the fruit that can lead to decay problems and problems in storage," Castagnoli explained.
Mallon said the amount of Anjou pears that needed to be culled from the mix was the highest local growers had ever seen. Size, however, didn't continue as a prescient issue.
"There were certainly a lot of growers that had a lot of dry grass between the rows for a portion of the summer … and it seemed like they just barely made it through," Mallon said.
In fact, concerns verging on panic at the beginning of May — sparked by low stream flow levels, non-existent snowpack and hot temperatures — tailed off somewhat by the end of September.
"The river was dropping really fast at the time," said East Fork Irrigation Manager John Buckley. "It looked like we were losing practically 10-15 cfs (cubic feet per second) a week in May and it kept going down."
Water temperatures measured near the East and West Fork confluence exceeded the average, roughly 61 degrees Fahrenheit, for 80-90 consecutive days from June to August, according to a preliminary report by the HRWSCD.
In May, irrigation district managers sent out letters requesting all users reduce their rates by 25 percent, and the Hood River County Board of Commissioners in June sent a drought emergency declaration to Oregon Gov. Kate Brown, which she approved.
The designation strove for more flexible water rights transfers and management, said Bob Wood of Oregon Water Resources Department.
Following the drought alarm, growers cut back to 85 percent, and Farmers Irrigation District even carried out a rotation schedule for middle and upper elevation users. Laurance Lake was seven feet below average, forcing Middle Fork Irrigation District to temporarily buy back 300 acres of hay fields from growers to ease off on overall use.
Municipal water users, who were "in good shape," according to Buckley, also made an effort to conserve water use with brown lawn signs.
Luckily, by September, irrigators and growers were also "doing pretty well" with water levels coming up despite the "extremely warm conditions." Fortuitously low silt levels in water from the mountain's glaciers also help remedied the situation.
Irrigation districts wrapped up their spray line season last Wednesday, officially ending the fruit growing season.
Recapping the year's conditions, Niklas Christensen, water resource engineer for Watershed Professionals Network, said snow levels were the lowest ever measured, but the water level conditions were still better than the worst years in recent memory — 1992 and 2005 — due to nearly average precipitation levels over 2015.
"I was just surprised that stream flow did not go as low as I would have thought this summer. It wasn't just snowpack … it's because we had a close to normal water year of precipitation," Christensen said.
Until October, the mountain felt no significant snow. The first true flurry that stuck to the ground was Monday, according to a weather radar report on Portlandweather.com. Timberline Lodge picked up three inches of snow over the last three days, and Mt. Hood Meadows ski resort reported four inches on the upper mountain.

Doug Hart, Dee Irrigation District Manager, said the panic at the beginning of summer caused a bit of overuse and wasted water.
"Our problem was we started so early and people kind of went into panic mode and used water at such a heavy rate and plus… we (had) overflows that heated up daily, monthly… never being used," Hart said.
Next year, Hart's district might take FID's cue and implement a mandatory irrigation schedule.
All irrigation districts intend to boost their infrastructure in some capacity within the next couple of years.
East Fork plans to keep piping its water system instead of using hydropower, and will seek funding for larger canals. Middle Fork is considering a new pipeline from their Coe Creek diversion to a satellite pond.
FID has been ramping up their hydropower initiatives; last month they installed a new three-megawatt turbine and resumed operations at their main plant on the Hood River near Copper Dam Road.