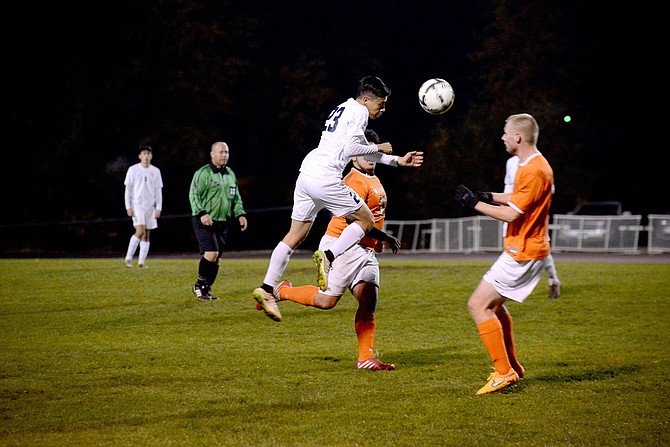 For the third consecutive season, the HRV boys soccer team has advanced to the quarterfinals of the OSAA 5A state tournament, defeating the Silverton Foxes, 1-0, in Hood River Tuesday night.
And, perhaps showing how much is expected of team that has found so much success in recent years, HRV coach Jaime Rivera was not satisfied at the result.
"I thought that we were pretty fortunate to get out of there with the win," he said Wednesday morning.
For a team that has scored more goals than almost any other squad in 5A (with the exception of Wilsonville, with 59, and Bend, tied with HRV at 52 goals), Tuesday's game was a departure of form for the No. 2 Eagles, who struggled against No. 15 Silverton's surprisingly stalwart defense. Silverton entered Tuesday's contest with a 7-5-2 record, and was about middle of the road defensively with 22 goals allowed in the regular season. It was HRV's second lowest-scoring game of the season, with the exception of 0-0 draw against La Salle Sept. 24.
"I was looking at (Silverton's) scores, and they were sort of in the middle of their league… if you would have asked if they were a defensive-minded team, I wouldn't have guessed it by looking at their results," Rivera said.
The first half of Tuesday's game was a sloppy affair for both clubs, as condensation formed on the grass in the chill November air, causing players to slip on the pitch and cough up the ball. Both teams had scoring chances, although HRV had the advantage, but neither team could gain traction. The Eagles had a particularly difficult time breaking through Silverton's back line, with Rivera noting that "a lot of our shots deflected off of them… they were in the right place."
With 100 seconds remaining in the first half, the Eagles finally broke through after HRV captain Noe Magana was able to finish a cross delivered by Eduardo Barragan from the left side of the field, putting it in "a perfect situation for someone to finish," Rivera said, giving HRV the 1-0 lead.
"We thought that was going to open up the game for us and get the monkey off our back," he said. "I feel like we were creating chances and getting opportunities, but we were making the wrong decisions."
But not much changed in the second half. The ball spent a good amount of time bottled up in the midfield, both teams had scoring chances, a couple of good balls on set pieces tested both HRV's and Silverton's defense, but no goals materialized.
Silverton kicked up their offense a couple notches in the final minutes of the second half, putting pressure on HRV's midfield and back line, forcing Eagle keeper Marco Cuevas to come off his line multiple times and in one instance, parrying a shot to prevent the game from heading into overtime. A last-chance dash by Silverton in the final seconds of the game came precariously close to giving the Foxes their first goal of the evening, but HRV defenders, along with Cuevas, closed off the Silverton attacker as time expired.
Rivera had confidence in his team that they would have come out on top had Silverton forced extra minutes, but acknowledged that the Eagles shouldn't have allowed themselves to get into that position.
"I felt pretty calm in that if they would have tied it, we would had what it takes to pull it off in overtime… I think that we gave them too many chances of tying it up and should have done a better job of closing things up," Rivera said.
He added that the game management at the end of the second half could have been better, but noted, "that's on me."
Rivera couldn't find fault in Cuevas' play though, who had his 10th clean sheet of the season, playing all 80 minutes and making five saves. HRV has the distinction of allowing the fewest goals in all of OSAA soccer this season (six, tied with Sisters, a 4A team, and McMinnville, a 6A team), largely because of Cuevas.
"He had a great game," Rivera said. "I'll say it again: I think he's the best goalkeeper in the state."
Regardless of how the game unfolded, a win is a win, and that win pits HRV against the No. 7 Bend Lava Bears (9-2-3, 5-1-2 Intermountain Conference) in a quarterfinal game that will be played this Saturday at 5 p.m. at Henderson Community Stadium. The two teams have not played each other this season, but share Summit as an opponent they faced in the regular season. HRV beat Summit on the road, 2-1, Sept. 18, while Bend beat Summit 4-0 on Oct. 1, then 4-2 on Oct. 20.
In other CRC soccer news, Hermiston, which entered the 5A tourney as a four-seed, won its game against No. 13 Crescent Valley, 3-1, Tuesday evening. The Bulldogs play No. 5 Woodburn Saturday at 2:30 p.m.