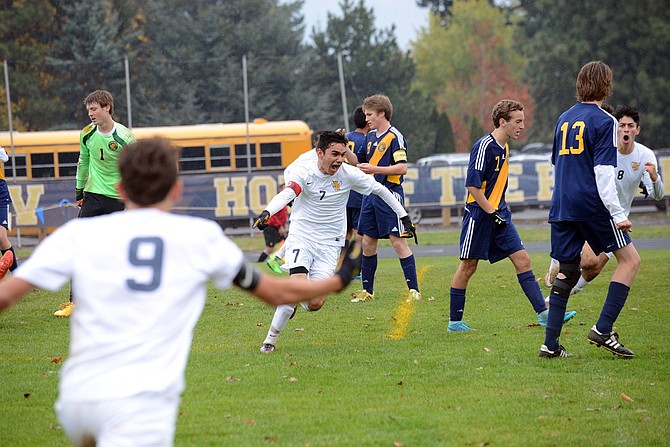 After a rocky game against Silverton last Tuesday, the HRV boys soccer team returned to form Saturday with a decisive victory over Bend, besting the visiting Lava Bears, 2-0, and earning a trip to the 5A semifinals once again.
The Eagles played their own game from beginning to end, controlling the tempo, dominating shots, creating greater scoring chances, putting up a defensive wall, and generally outperforming Bend in every way. HRV coach Jaime Rivera, usually able to find something to critique his squad about, was effusive in his praise of the team.
"I thought the guys responded really well to training. I think we did a darn good job of following the game plan, and for us that was, on defense, denying space, not giving them any space," he said immediately following Saturday afternoon's rainy game. "I thought we did well. I think the shutout proves that. Offensively, we were looking to create more scoring opportunities than we did last game and for guys to utilize space. I think those two goals are proof."
The two HRV goals came off set pieces and both were scored by HRV captain Mario Sandoval. The senior midfielder scored the first-half goal off a corner kick from Jorge Campos, which Sandoval headed into the goal to give HRV the 1-0 lead in the 27th minute. Sandoval added his second goal in the ninth minute of the last half, when Bend's keeper was unable to secure an Eagles' corner and came too far out of the box. That move gave Sandoval an open lane as he tapped the ball across Bend's goal line for the final score of the afternoon.
HRV's set pieces have been one of the few areas the Eagles have had trouble with this season, but that was far from the case Saturday as HRV received numerous opportunities to connect on its corners.
"We were sitting here reflecting on how both goals came off corner kicks," Rivera said, referring to the team's postgame huddle. "I'm really proud of the guys getting goals off set pieces, because that's something we've been sort of struggling on all year long is taking advantage of these set pieces. Again, I think we did well on that."
Bend was unable to come up with an answer to HRV's game and when the Lava Bears were able to gain control of the ball, they spent the majority of the time desperately trying to cling to possession while trapped midfield. For a team that, going into Saturday's game, had scored just as many goals in 2015 as HRV did, Rivera was expecting more of a competitive match.
"I think Bend maybe came in here a little too confident. On paper, I thought we were going to get a better game than that… I thought we controlled the whole game," he said. "Even their coach after gave us kudos for us controlling the whole game. He was like, 'We never really got into it.' Of course, they come from a different pitch that's not crowned like ours, the moisture on the field — that really messed with them. It's a lot dryer down in Bend and they're not used to these conditions."
Rivera also highlighted the play of Robby Running — the younger brother of varsity goalie Travis Running — who was pulled up from the freshman team to play at forward in Saturday's game. Running was involved throughout the game and Rivera said his ability to play at a high level in an important match "goes to show the deepness of our program."
But the star of the game — besides Sandoval, of course — was starting keeper Marco Cuevas, who notched his 11th shutout of the season, making five saves in his 80 minutes on the pitch, as well as disrupting Bend's set pieces with his willingness to come off his line. Rivera noted, however, that a lot of Cuevas' contributions to the team go beyond his play in net.
"That guy's not just the goalkeeper: he's a leader, he's the captain — I mean, he took over the halftime talk. I'm so proud of him, man," an emotional Rivera said. "A lot of times, I just step back and let him talk. He's the goalkeeper of the year, that's for sure."
Rivera added that although Cuevas' deflections of opposing corners aren't recorded as saves, "controlling and getting the first touch on those set pieces is huge."
With the quarterfinals in the books, No. 2 HRV (13-0-3, 5-0-1 league) was scheduled to play No. 3 Hillsboro (12-1-3, 6-1-1 Northwest Oregon Conference) at 6 p.m. Tuesday at Henderson Community Stadium in the 5A semifinal game (results not available at press time). The two teams played each other in HRV's regular season home-opener Sept. 8 — a hard-fought game that resulted in a 1-1 draw, marking the first time HRV had tied a team since 2013 and the first time HRV had been scored on since 2014's 5A quarterfinal game.
Speaking Monday afternoon, Rivera expected Tuesday's game with the Spartans would likely be another competitive contest.
"I think it's going to be two different teams. I'm sure they have progressed a bit, as we have as well. I expect a more confident group," he said. "It's just like any other playoff game, I guess — it's kind of an unknown until the first whistle."
In other Columbia River Conference action, No. 4 Hermiston got knocked out of the playoffs in a close game with No. 5 Woodburn, losing 2-1 in a game that was decided by a shootout, which Woodburn won, 4-3. Woodburn was scheduled to face No. 5 Wilsonville in a semifinal game Tuesday.