Oregon Gov. Kate Brown has intervened on the cross water rights transfer that would make possible Nestlé's proposed water bottling plant in Cascade Locks.
Brown sent letters to the directors of Oregon Department of Fish and Wildlife and Oregon Water Resources Department Friday, Nov. 6, requesting the agencies withdraw ODFW's joint water rights transfer application with the City of Cascade Locks and instead switch back to a direct water exchange (the former approach taken between the city and ODFW) which would require a more extensive public interest review.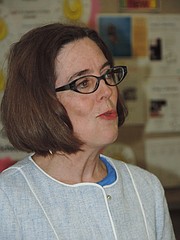 Citing drought conditions as well as concerns regarding the lack of a public interest review, Brown urged ODFW director Curt Melcher to cancel the application and reopen the original gallon-per-gallon water exchange, which would not touch the city's and ODFW's respective water rights.
"In light of the growing scarcity of water illustrated by the historic drought Oregon faced this year, I believe the proposals to dispose of a state-held water right should move forward via the process that offers the greatest opportunity for public involvement," Brown wrote.
She said a direct water exchange included a "broader" review, which took into account public interest and input.
Brown declared a drought in Hood River County in June, but her letters to ODFW and OWRD mark her first action taken against the cross water rights transfer.
In response to Brown's letters, Cascade Locks City Council and Port Commission cancelled a scheduled joint meeting Monday night in order to leave officials more time to meet with staff attorneys and discuss "ramifications on the efforts by the City and Port to bring business to our community," said City Administrator Gordon Zimmerman.
"We're just pausing together," said Zimmerman. "We're not exactly sure how the roadmap has changed."
Zimmerman said ODFW has indicated they will carry out Brown's request and withdraw the cross water rights transfer application.
Dave Palais, Natural Resource Manager for Nestlé Waters North America, said the company was "disappointed" by Brown's direction to ODFW.
"This will likely further delay much needed economic development in Cascade Locks that our project would bring," Palais said in a statement. "We expect to work closely with the City and the Port on the impacts this decision may have."
Since 2008, Nestlé has attempted to site a 250,000-square-foot water bottling facility in Cascade Locks, hinging upon access to nearby Oxbows Spring as its source of spring water.
Supporters of the deal have argued Nestlé would bring jobs and tax revenue to the economically struggling town, and that a municipal ground water source would provide salmon at ODFW's hatchery with a more consistent supply of water than Oxbow Springs.
Oregon tribes spoke out against the cross water rights transfer — both the Confederated Tribes of Umatilla and Warm Springs asked Brown to withdraw the applications.
Chuck Sams, communications director for the Confederated Tribes of the Umatilla Indian Reservation, told the Hood River News that the tribal representatives met last Wednesday with Brown's staff to discuss the issue, just days before she issued a determination.
The Umatilla representatives argued the state's research regarding impacts on salmon hasn't been made public, and the deal has bypassed a public interest review.
Conservation groups have argued a transfer of ODFW's water to the city by any means — and then sold to a corporation — would be tantamount to privatization of a growingly scarce public resource, and that the plant would increase truck traffic and plastic bottle waste in the region.
Local Water Alliance, a citizen group based in Cascade Locks and Hood River, filed a proposed voter ballot measure in September that would block water bottling operations within the county. The group is gathering signatures for the petition stage of the measure, which is slated to go before county voters next spring.
"A state public interest review is good, but come election day Hood River County voters are looking forward to giving Nestlé a public interest test of our own," said Aurora del Val, Local Water Alliance campaign director.
Cascade Lock City Councilor Deanna Busdieker, thus far the only councilor to consistently oppose the Nestlé deal, applauded Brown's actions.
"Between this and the Water Protection Measure, it feels like democracy is finally starting to work the way it was designed ... of, by, and for the people," said Busdieker in a statement. "The community is inherently entitled to a voice in a project that involves publicly-held resources."