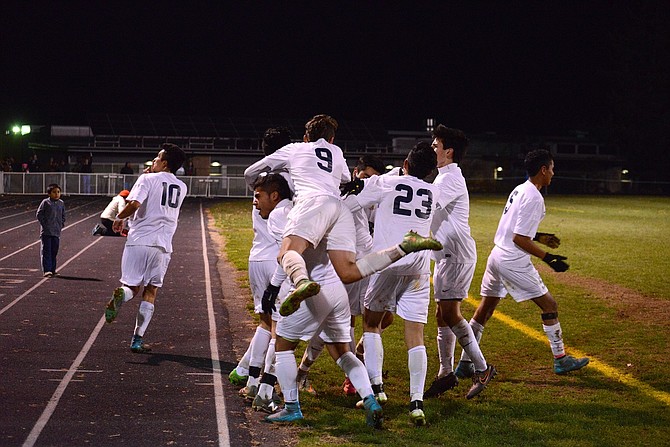 "MVP! MVP! MVP! MVP!"
An ecstatic throng of Eagles fans and players chanted this over and over Tuesday night on the pitch at Henderson Community Stadium, hoisting senior striker Andres Baeza into the air, and celebrating HRV's 4-3 win over Hillsboro in the 5A semifinals as HRV coaching staff stood by and watched, temporarily abandoning their attempts to corral players into a postgame huddle.
Such a scene would have seemed impossible just a little more than 30 minutes earlier in the beginning of the second half. HRV looked frustrated and out of sync. They looked dejected. Their game looked uncharacteristically slow-paced. And most importantly, they looked at a scoreboard showing a two-goal deficit in the Spartans' favor, courtesy of a Hillsboro team that looked even better than they did earlier this season, when they forced HRV into a 1-1 tie in a Sept. 8 game in Hood River. It was HRV's first draw since the 2013 season. And up in the stands, the previously raucous HRV fans had grown quiet, time ticking away as the Spartans' contingent jeered them with chants of, "We Can't Hear You!"
That all changed eight minutes into the second half, as HRV seemed to suddenly have had enough of Hillsboro's game, and kicked over the Monopoly board to start anew. Baeza scored HRV's first goal off a free kick, but Hillsboro quickly answered. Then Baeza scored another. Then another. Then another. In a span of 17 minutes, what looked like a game that had all but fallen from HRV's grasp was now theirs to lose.
But they didn't lose. HRV's defense and standout goalkeeper Marco Cuevas took over, protecting HRV's net from a final assault from Hillsboro's attackers. As time expired, the shell-shocked Spartans were left standing on the field wondering how HRV pulled the rug out from under them and stole their trip to the 5A finals — the third trip for the Eagles in as many years.
For HRV coach Jaime Rivera, there was only one word to describe Tuesday night:
"Unbelievable," he said, as his players and HRV fans continued to celebrate behind him. "I didn't have a good feeling, honestly, after the second goal (Hillsboro) scored early in the second half, but these guys responded. They kept their cool... I thought it was going to be a lot harder after that second goal (Hillsboro) scored — I don't know how to explain it, but I've never seen anything like that."
No stranger to scoring goals for HRV, Baeza was equally excited, but modest about his four-goal contribution to the game.
"First, I'm excited; I'm happy for the team," he said. "There are so many emotions going through my head, I can't really explain it right now. I'm happy that I scored, but it's also because of the team, because we all worked hard, especially the goalkeeper, Marco — he's done really well."
HRV entered the semifinal matchup with Hillsboro the slight favorite in ranking (a No. 2 vs. a No. 3) and the clear favorite in goal differential (54 scored and six allowed vs. 43 scored and 18 allowed). But Hillsboro paid no notice, dictating their game from the beginning, controlling the ball and the game's tempo throughout the majority of the first half, while HRV's attack had trouble piecing together legitimate scoring chances.
Midway through the first half, the Spartans did something that no other team has been able to this year: they scored on Cuevas — a throw-in that found its way to Hillsboro's Miguel Tena-Palomares to make it 1-0 with 16 to go in the half and stunning the home crowd.
"It was just unexpected, it was a head's-up play on their part — a long throw-in, direct, I mean, that's going to cause havoc," Rivera explained.
Hillsboro nearly stretched it to 2-0 with less than five minutes to go in the half, as Cuevas stopped a long shot from Hillsboro with a leaping parry, and then stopped a second-chance opportunity with the help of HRV's back line.
In the halftime huddle, the team discussed how to get back on track, finding themselves in the unfamiliar position of the underdog.
"We all came together," Baeza said. "We said that we needed to score, but first, we needed to settle down, open the field and then try to score… we just relaxed and talked about what we were doing wrong and what we could do better."
Rivera said the team had to take the first half and "flush it down the toilet" and forget about it. The change in HRV's game in the second half was noticeable almost immediately.
"We started playing quicker passing soccer, one- and two-touch soccer," he explained. "I think that we were dribbling too much in that first half, stalling too much, and giving (Hillsboro) time to sit back and get in the defensive position."
It took several minutes before the adjustment paid dividends and at first, it looked as if the change wouldn't make a difference at all. Less than three minutes into the half, Tena-Palomores was unmarked on a free kick and headed the ball past Cuevas to extend Hillsboro's lead to two.
"It didn't feel good, especially at our house, it's never a good feeling," Baeza said of the second goal. "State playoffs, you only have 80 minutes — you have to do it there, or you go home — but it didn't feel very good."
After Cuevas narrowly prevented another Tena-Palomores goal a few minutes later, the Eagles finally got on the board in the 49th minute as a free kick from Noe Magana found its way to Baeza, who tapped it in high on the near left post to breathe life back into the Eagles' attack.
In the 54th minute, players got tangled up in a mad scramble in HRV's box, producing a penalty kick for HRV. Cuevas stopped the initial shot by Hillsboro captain Daniel Tapia Silva, and then dove to the right to block the rebound. Out of position, Cuevas couldn't get back in time to save the third attempt, which was put in by Edwin Rivas to restore the Spartans' two-goal lead.
However, Baeza didn't feel like Hillsboro's goal was a momentum-killer for HRV.
"Even though they scored the third goal and it was 3-1, we still had the adrenaline going (from the first goal), we were still pressing," he said.
And press they did. Just over a minute later, HRV rallied as Baeza was forwarded the ball, shook a Hillsboro defender at the end line, and sent a prefect ball from the right side to the far post well beyond the grasp of Hillsboro keeper Jose Rodriguez to pull within one. As HRV pressured Hillsboro, the Spartans responded with more physical play and subsequently drew three yellow cards (and one for HRV as well) in the span of a few minutes. At one point, officials paused the game as tempers began to flare on both sides of the ball.
With under 18 minutes to go, Joel Garcia, who returned to action after ineligibility issue forced him out of the past few games, won a 50/50 ball with "pure effort," according to Rivera, then sent a cross to a waiting Baeza, who shot from the left side and put one to the far right post to make it 3-3. A jubilant Baeza tore across the field with his arms outspread, pointing to the number 18 on his jersey as his teammates dogpiled in front of the HRV stands.
Less than three minutes later, another Hillsboro yellow card gave HRV a free kick opportunity. The ball, this time kicked by Angel Sonato, once again found Baeza, who headed it just over Gonzalez' head as the keeper came off his line for a desperation save.
With less than fifteen minutes to go, it was now up to Cuevas and the HRV defense. The Eagles' back line and midfield pushed back Hillsboro's attack, defending a pair of dangerous plays, none more than a free kick in the final few minutes that found its way into HRV's box, but was well-defended by Sonato and Gil Evangelista. An attack that had looked so productive earlier in the game had finally run out of answers and run out of time as the Henderson Community Stadium bleachers emptied and Baeza was lifted into the chill night air.
"It was unreal," he said of the fans' support.
Rivera was happy with win, but the narrow margin of victory over Hillsboro showed him that the team needed to make adjustments in the days leading up to the team's 5A state finals match with Wilsonville (see info box) on Saturday.
"We get out of here with a win, so I'm happy how we dealt with the game overall, but there's certainly some organization and focus pieces that we're going to have to tighten up here the next few days," he said.