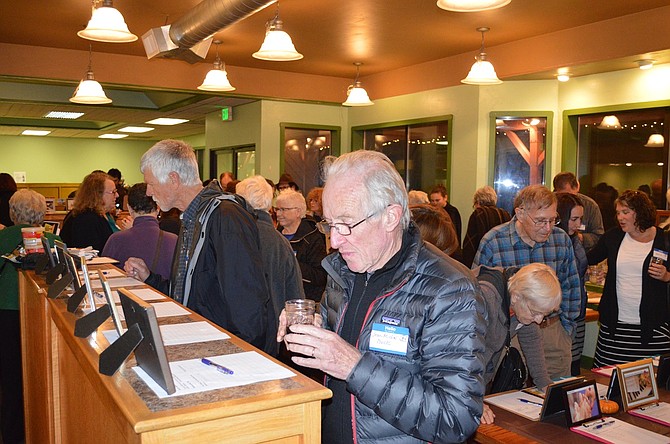 Hood River Warming Shelter held its first "Warm the Night" fundraiser Nov. 7 and raised nearly $6,000 for the shelter program, now in its sixth year.
This was the first year the program held a pre-shelter season open house event, and it served as a preview of the new shelter location for the 2015-16 season, the former Fruit Tree store, on Westcliff Drive.
The shelter opens to guests at 6 p.m. Nov. 15.
About 100 people attended "Warm the Night" and bid on numerous "service" gifts: a massage, a photography lesson, shelf-building, and lawn care, to name a few.
Shelter committee chair Rev. Anna Carmichael said, "I'm grateful for the support and guidance offered by Marc Betts (owner of the building) and the County Planner's Office. This season wouldn't be possible otherwise."
Organizing the festive evening were Fran and Buck Finney, who settled in Hood River less than two years ago, and Mid-Columbia Unitarian Universalist Fellowship served as hosts.
Ahi's Ohana Catering provided desserts and poured beer and wine.Volunteer coordinator Andy Wade joked that "this is the first and last time wine will be allowed in the shelter," given the program's strict policy forbidding alcohol, drugs, weapons, or sexual activity.
The shelter opens Sunday at 6 p.m. and runs until 7 a.m., nightly through mid-March. The shelter is for anyone who needs a place to sleep for the night, and serves men, women and families.
Meals and other services are also provided, including laundry. To learn about getting involved as a volunteer, contact Andy Wade at hrws@hoodrivercares.org. One way to volunteer is a daytime shift as laundry assistant, meeting the clients at Eco-Laundry and assisting them with using the machines.