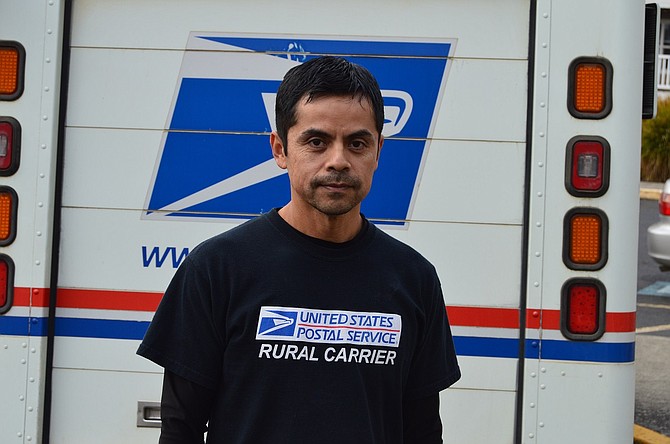 When Victor Magaña began working as a mail carrier for the United States Postal Service (USPS) nine years ago, the bulk of his deliveries were letters.
"At the time I started, it was nothing compared to what it is right now," Magaña said. "Mail-wise, it was more letters, more catalogs and magazines, more of that than anything else. Now it's more packages."
He expects that in the future, USPS will primarily deliver packages.
"Eventually down the road, we're going to be more like UPS — every year, it seems like we get more packages, especially at Christmas," he said.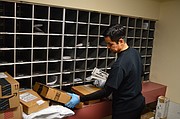 Part of the reason for this is that USPS has a distribution contract with UPS, a commercial carrier. The UPS Store in the Hood River Shopping Center is one of Magaña's daily stops — for pickup, instead of delivery.
"A lot of people don't know we deliver a lot of UPS packages," he said.
His route has also expanded — he delivers to 667 residents and 58 businesses.
"This is one of the biggest routes, volume-wise," Magaña said.
Magaña had been working at Diamond as a fruit packer for 18 years when, looking for a change, he decided to apply for a mail carrier position. The hiring process for USPS is twofold. First, you have to take exams that test memory and to show you can drive a right-handed vehicle.
"You've got to get a minimum of at least 70 percent (on the exam) to be put on the waiting list," he said. "The higher percentage you get, the better chance you have of getting the job."
Secondly, USPS arranges a job shadow so hires can see the ins and outs firsthand.
"You look at how the job is, go out with a carrier and see what they do," he explained.
His day starts at the Hood River Shopping Center, delivering mail to businesses. He then makes stops across the street, at Columbia Gorge Family Medicine, and at Providence Down Manor on Brookside Drive. He covers Eliot Drive and Tucker Road, and ends his day where he began — the shopping center, this time picking up packages from UPS.
What he enjoys most about his route is being "out there by myself," he said. "I'm my own boss once I'm out delivering. The only time I don't like it is in the winter, when there's snow."
He and other carriers can run into difficulties while delivering the mail in snowy weather, mainly when mailboxes and driveways aren't shoveled clear. If he can't get close enough to a mailbox (mail), or feel confident he can get out of a driveway (packages), he's not able to deliver that day.
"We're always having trouble delivering people's mail because sometimes there's a lot of snow right where their box is and we can't get close enough … The vehicles we drive, they're really not made for snow," he explained. "They get stuck really easy, even if we have chains or studs on."
Right now, he's seeing a lot of catalogs for the upcoming holiday season, "but once Thanksgiving is over, it really starts to slow down," Magaña said. "Basically, once December starts, more than anything, we're delivering letters and bills. And that's when packages really start picking up — really, tons of packages. Every year we're getting more packages."
And yes, he sees a lot of junk mail.
"If it wasn't for junk mail, I wouldn't have a job," he said. "Seriously."
At the boxes, be it residential or business, he sorts each piece to make sure the address is current and going to the proper place. If it's addressed incorrectly or if the box is no longer is service, he puts it in a pile to take back to the post office.
"We call it 'casing,'" he said. "We sort out mostly the magazines and catalogs, all the letters … A lot of the rural carriers, which is us, we deliver outside the city limits, most of them do their casing in the office, but I don't. I learned to take everything out to the street and sort out the mail there. That's the way I was taught to do it when I was a sub.
"It's a lot better for me … I want to get (on my route) as soon as I can. I'd rather be out than at the facility," he said.
On Thursday, he was delivering twice his usual volume because of Wednesday's Veterans Day holiday. But, he said, he had help with package delivery from another carrier, meaning he wouldn't have to be out after dark, as can sometimes happen on high volume days.
"We're not supposed to be out at dark," he said. "It's safety more than anything."
Magaña was born in Mexico City and lived in Penjamo, Guanajuato, Mexico, with his family until 1970, when they moved to White Salmon. In seventh grade, he moved to Hood River and has been here ever since. He graduated from Hood River Valley High in 1990, and family is what has kept him in the valley. He and wife, Lola, who works at Mid Valley Elementary, have three children: Lily, a junior, Daisy, an eighth grader, and Damien, age three.
"I just didn't want to get away from my family because everybody is here," he explained. "It would be hard for me to leave my parents and my grandparents."