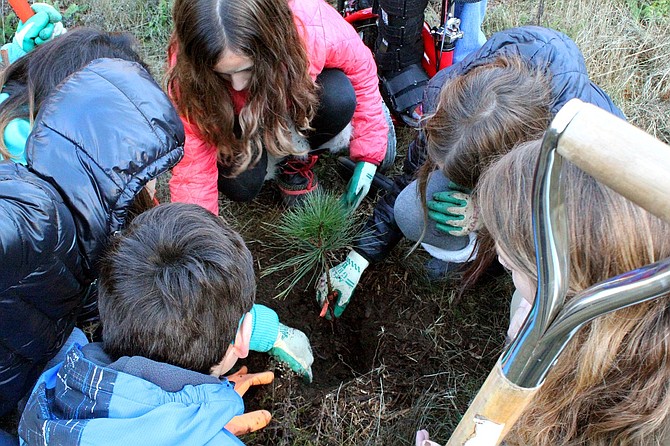 Fifth grade students at Wallace and Priscilla Stevenson Intermediate School in White Salmon got a chance to experience outdoor education and stewardship firsthand thanks to a Columbia Gorge Ecology Institute program funded by Hood River's annual Festival of the Fly.
In October, the Friends of the White Salmon River awarded the Columbia Gorge Ecology Institute $2,800 from the Glen Haack Memorial Fund for the institute to deliver their Secrets of Our Forest Home program to the fifth grade class in White Salmon. Students learned about their local ecosystem through a place-based and experiential approach. The kids also participated in restoration work along the White Salmon River while deepening their connections to the natural systems in hopes of inspiring stewardship in the future generation.
The Glen Haack Memorial Fund, which is administered by the Friends of the White Salmon River, is provided through funds raised each year during the annual Festival of the Fly at Andrew's Pizza and Skylight Theater in Hood River.
Glen Haack, a Hood River businessman and mentor to other anglers, set himself apart from other fly fisherman by his willingness to share the river. He is honored with a memorial that helps maintain the beauty and respect for our rivers that he showed through his life
The Festival of the Fly is now in its seventh year and continues to draw a crowd. Created to benefit restoration projects along the Hood River and White Salmon River, the festival occurs each winter at Skylight Theater. Festival coordinator Chris Ellison said, "(Festival of the Fly) is about getting people to appreciate rivers, just getting out and enjoying the river."
The Columbia Gorge Ecology Institute, a non-profit organization based in Hood River, has been serving the Gorge communities with place-based and experiential education programs since 1996.