"Every American citizen has the right to walk up and down the streets as a free man." – Minoru Yasui
Hood River native son Minoru Yasui, who forged a life as a champion of civil rights first by breaking the law for walking down a Portland street, will be posthumously honored with the Congressional Medal of Freedom, the nation's highest civilian honor.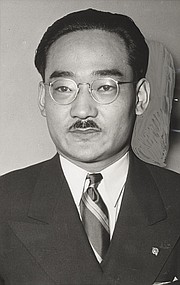 Born in Hood River in 1916, Yasui was the first Japanese-American graduate of the University of Oregon School of Law. In March 1942, Yasui was the first to intentionally defy a military curfew imposed upon Japanese-Americans. He was sent to prison (including nine months in solitary confinement in Multnomah County Jail) and courageously fought his case all the way to the U.S. Supreme Court, which upheld his conviction. Yasui spent the rest of his life appealing his wartime conviction, until his death in 1986 at the age of 70.
Nisqually tribal member Billy Frank, Jr., who was arrested more than 50 times in the 1960s and 1970s fighting for tribal fishing rights, will also be honored posthumously, along with the late Sen. Shirley Chisholm and baseball great Yogi Berra.
Other honorees include baseball great Willie Mays, film director Steven Spielberg, composer Stephen Sondheim, singers Barbara Streisand, James Taylor and Gloria Estefan, former EPA director William Ruckelshaus, diplomat Lee Hamilton and Sen. Barbara Mikulski.
Hood River Middle School students advocated in early 2015 for Minoru Yasui to receive the honor. Their teacher, Sarah Segal, said Monday, "They were originally amazed that one of the greatest civil rights leaders in U.S. history once walked the halls of Hood River Middle School."
Yasui's daughter, Laurel, of Colorado, will formally accept the award in the White House ceremony, and Min's brother, Homer, and sister, Yuka, along with his daughter Holly, will also be present. Portland attorney Peggy Nagae of the Minoru Yasui Legacy Project will also attend.
Nagae said, "I'm very, very excited. This is a journey that started in the late 1970s when I first met him in Denver at a Day of Remembrance event."
"Min Yasui's life, not just his World War II or 1980s case work, reflect the characteristics of someone who deserves the medal," said Nagae, chief counsel on the project, which worked on his behalf.
The Medal of Freedom had the urging of Rep. Greg Walden (R-Hood River), who said Monday, "For decades, Minoru Yasui fought tirelessly to defend and expand basic rights for all Americans. Though he faced discrimination and hatred during World War II, his belief in America never wavered. His long fight to expand justice and opportunity should make all Oregonians proud. That's why I was proud to support his nomination for a Presidential Medal of Freedom, and applaud the President for recognizing his life and work. I only wish that he could have lived to see this day."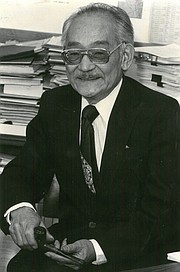 In his letter of support for Yasui, Walden wrote, "His life and work continue to inspire my own public service. Hood River has a proud tradition of being home to Japanese-Americans who have courageously served our nation. And yet, over 70 years ago, Hood River — along with too many other communities around the nation — was ripped apart by hatred during a brutal world war. As some of our Japanese-American neighbors fought and died around the globe to protect our freedoms, their families were discriminated against here at home. It was a national disgrace. And yet, a few of our fellow citizens stood up and said, 'This isn't right.' One of those was Minoru Yasui.
"After World War II, Mr. Yasui worked hard for four decades to expand justice and opportunity in his community and our nation. Many years later, when asked why his belief in America never wavered, Mr. Yasui said, "This is my country. I come from the Hood River Valley, and it's a beautiful place. I was nurtured by the soil. I know what the summer sun is, the summer rains, and this is my home. And certainly having that kind of a feeling, I want to make this, our country, the best in the world."
In "Stubborn Twig" (OSU Press, 2005), Lauren Kessler's seminal work on the Yasui family and the mid-century tribulations of the Japanese-Americans of Hood River, Kessler writes that Minoru Yasui always looked to the words of his father, Masao Yasui: "All through his childhood he had heard his father say, 'We are born into this world to make a difference.'"
Nagae said, "He was a civil and human rights leader from the age of 15 when he founded the JACL chapter in Hood River, to the work he did in Denver helping found the Urban League of Denver in 1946, and he founded Latino and Native American organizations as well, and worked for redress of Japanese-Americans who were incarcerated. He spent his life in service and working for those who at some times on the margins an unseen, or people who were pushed to the margins."
Nagae sad, "As a lawyer I have asked audiences, 'Would you be willing put your career and personal freedom on the line?' And very few people have raised their hands. But Minoru did just that."
Kessler related Minoru's words to his fellow attorneys in 1942 after the signing of Executive Order 9066 authorizing denial of civil rights to Japanese-Americans, including forced removal from their homes and placement in internment camps: "It is my belief that no military authority has the right to subject any United States citizen to any requirement that does not equally apply to all other U.S. citizens." His fellow attorneys countered with the argument that a government has certain rights during wartime. But Min persisted: "If the government curtails the rights of any person," he said, "the damage is done not only to that individual but to the whole social structure."
Minoru Yasui Tribute Project statement
On March 28, 1942, at 8 p.m., Minoru Yasui took a three-hour walk in downtown Portland that ended with his arrest — for breaking a curfew imposed on all persons of Japanese ancestry. Never mind that Mr. Yasui was an Oregon born U.S. citizen, a graduate of the University of Oregon, the first Japanese American graduate of the University of Oregon School of Law, and a proud American.
To the U.S. government, through Executive Order 9066, he was simply a criminal — for breaking an ethnically based curfew. Indeed, Mr. Yasui was convicted for this act of defiance, and his conviction was ultimately upheld by the Supreme Court of the United States.
The Minoru Yasui Tribute Project is composed of a dedicated group of attorneys, activists and other community leaders. Its mission is to honor and carry on the legacy of its namesake, a man who courageously stood up for 120,000 Americans of Japanese ancestry, and for many, many others — a man who embraced justice and equality for all Americans, most dramatically demonstrated by courageously standing up for 120,000 Americans of Japanese ancestry, but also embracing equality far beyond the Japanese-American community by fighting for the rights of Latinos, African Americans, youth, people with disabilities and many other groups. He dedicated his life to protecting and advancing civil liberties for all Americans, particularly disadvantaged communities of color from many walks of life.
Minoru Yasui (Min) was born in Hood River in 1916, and became the first Japanese-American member of the Oregon State Bar. He was also the first to violate the discriminatory military orders — the curfew being the first such order, proclaimed on March 24, 1942.
As a young attorney, his firm belief was to bring a test case to vindicate his rights and those of all American citizens.
The Federal District Court of Oregon, however, ruled otherwise, and Yasui spent nine months in solitary confinement awaiting his appeal to the U.S. Supreme Court. On June 21, 1943, the High Court ruled in Yasui v. United States that the U.S. government did have the right to restrict the lives of American citizens — based on race — in the name of "military necessity."
Yasui's fervor for justice was undeterred. He dedicated his entire life to building communities and furthering human and civil rights.
His legacy of public service lives on with the Minoru Yasui Community Volunteer Award (Denver) in recognition of his tireless spirit of volunteerism, in the Minoru Yasui Inn of Court (American Inns of Court are designed to improve the skills, professionalism and ethics of the bench and bar, bringing together judges, lawyers, and in some cases, law professors and students), and at the University of Oregon School of Law "Minoru Yasui Endowment for Human and Civil Rights Law, " among other activities.
Today he remains a role model for activism to promote equity for all communities across this country. While multi-racial/ethnic and cross-cultural collaborations as those Minoru Yasui undertook may seem common place today, Yasui was decades ahead of his time and a true leader in laying the foundation for how we think about and go about that work."
His early work includes:
Founding member of the Mid-Columbia (1931, Hood River) chapter of the Japanese -American Citizens League (JACL); founding member and officer of the Mile High (Denver) chapter and Mountain-Plains District; member of the National Council.
Scoutmaster of multi-racial Boy Scout Troops in Chicago and Denver; serving in various offices on the local and district level from 1945-1986.
In 1946, he helped found the Urban League of Denver (addressing African American concerns) and serving on its board until 1954.
In 1963, helping to found the Latin American Research and Service Agency (Colorado Latino leadership, advocacy and research organization).
In 1968, he helped to organize Denver Native American United (now called Denver Indian
Center) and served as their consultant until his death in 1986.