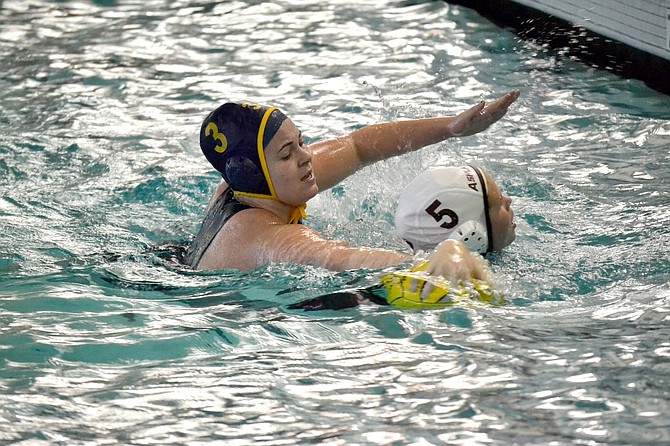 The HRV girls water polo breakout season ended with an impressive third place in the 5A state tournament in Corvallis last weekend.
It would have been near impossible to predict such a dramatic turnaround this year given the girls' winless season in 2014, their inaugural year, but much can happen in a year as displayed by the Eagle girls' dominating trip through the conference ranks.
"This doesn't surprise me as much as it does others as I know this town and the amazing athletes it develops across traditional sports and Gorge pursuits" said assistant coach Dave Robinson. "An additional year of familiarity with the sport, working fundamentals and strength through the summer, and a freshman with some national playing experience made the difference."
At the tourney, players, parents and coaches alike from other schools voiced their surprise as the HRV girls dominated Bend in the quarterfinals 12-3, lost to eventual state champions, Summit, 11-6, in a hard-fought battle in the semis, and then charged back to crush Ashland, 11-2, for third place.
HRV didn't get the chance to play Mt. View, who came from a separate bracket and lost to Summit in the finals to take second.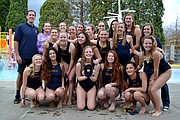 Adding to the monumental team turnaround, All-State team honors were bestowed on Lauren Orr, Jamie Robinson, Jocelyn Pedrotti, Rose Finstad and Kat McElderrey, while Emily Burns received Honorable Mention for her credentials as the first and only female polo player her freshman year, playing with the boys, and the first female Eagle four-year player.
"This is an incredibly special group of girls. Their innate athleticism, ability to learn, and the way they work together has set them apart," said head coach Kellie Dunn. "They are the most resilient group I have ever seen and play with so much heart. I feel like we've really made our mark on Oregon water polo this year and feel like the sky is the limit with this team."
In the semifinals, Robinson said Summit played a brand of "physical, mauling water polo" that didn't mesh well with HRV "who layers finesse over the underwater warfare." The Eagles had to adjust after falling behind 6-1 in the first half. The girls had good looks and took good shots, according to Robinson, but the overly-physical play and good goalie work held the Eagles to one goal.
After adjustments at halftime, the girls came out strong and fought back using a combination of aggressive swarming team defense and quickness. Freshman attacker/defender Jamie Robinson came on strong with four second-half goals, senior hole set Erin Mayer scored on a "sizzling" backhand sweep, senior utility Marelie Vorster shut down her side of the pool, sophomore hole defender Lauren Orr got physical inside and goalie Kat McElderrey had some impressive saves.
As HRV pulled closer, though, momentum shifted back to Summit as they scored three consecutive goals on counterattacks, getting behind the Eagles' defense in transition and rode that to the end of the match.
"Tournament games were refereed much differently than we've experienced this year with the referees allowing the game to be played much rougher than our team has ever seen. True to their typical form, the girls fought right up to the end and never gave up," said Dunn.
The girls' semifinal leaders were Robinson with four goals, one assist and five steals. Mayer had one goal and one assist and Jocelyn Pedrotti had one goal, one assist and two steals. McElderrey added 16 saves and one steal against 11 goals scored.
In the third-place game against Ashland, Robinson said, "you could feel the determination with the girls the moment they entered the Osborn Aquatic Center," wanting to get one back after the loss to Summit.
"These girls had an incredibly focused week of practice, but this was a new dimension I hadn't seen. To a player, there was a feeling of barely containable energy, predators that couldn't wait to be released to hunt," said Robinson.
Playing immediately following the boys' loss to Ashland just added fuel to the fire as the loud Ashland crowd continued cheering into the girls warm up. That crowd was quieted from the starting whistle as Jamie Robinson scored the first three goals of the game on counterattack sprints.
"The girls entered the game against Ashland more pumped up than I've ever seen them. Ashland didn't know what hit them," said Dunn.
By the time Ashland called a timeout partway through the first quarter, HRV was up 4-0. The Eagles continued to play fiercely, effectively shutting down Ashland's offense and plowing through their defense. Finstad, unknowingly having broken her left hand during the Summit game, had two goals from hole set, as did Orr. Orr's second goal was all hustle and fight as she scored a left-handed put-back off a hard rebound with her defender hanging all over her right side, Robinson said.
"We've been telling the girls all season that their pressure defense is the best around and with Kat McElderrey backing that up in goal, Ashland was unable to even get a point on the board until the fourth quarter," said Dunn. The entire team came together and finished the tournament with such a strong showing that the Eagles emptied the bench and were able to get the entire team into the game for the action.
Leaders for the girls were Robinson with six goals, two assists, and four steals; Finstad with two goals, one assist and one steal; and Orr with two goals, one assist and three steals. Vorster added one goal. McElderrey added to her impressive stats with 13 saves and three steals against two goals scored.
Overall state tournament leaders were Robinson with 12 goals, four assists and 15 steals; Finstad with seven goals, two assists, and two steals; Pedrotti with three goals, three assists and seven steals; and Orr with two goals, one assist and seven steals. McElderrey ended with 37 saves against 16 goals scored.