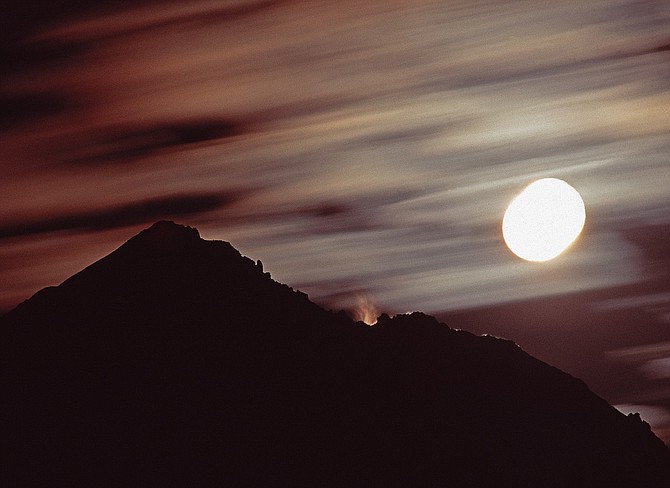 If I have learned anything in all my years of wandering in wilderness, it's that there is the plan for the day and then there is what actually happens. And while I have come to expect the unexpected, the gift that came from putting fear aside on a hot August night in 2004 still resonates deep in the marrow of my memory.
In late August 2004, I was in the final days of creating the images for my first large scale coffee table book, "Mount Hood — The Heart of Oregon." Since the Mount Hood National Forest was a partner in this project, I felt it important to include an image of employees in action doing trail work. I was told I might find a crew out doing some temporary bridge crossing repair on the Sandy River. So the plan was to park at Ramona Falls trailhead, find this crew, then continue way up into the wilds of Yocum Ridge, a nice little 18-mile day hike.
Within minutes of starting out, I came across a vase along the side of the trail brimming with wildflowers. It struck me as odd, but being in mission mode, I kept moving without giving it much thought.
After getting the image needed of the Forest Service crew, I pressed on up past the splendor of Ramona Falls to the relentlessly uphill Yocum Ridge trail that ends abruptly with a spectacular view of the west face of Mount Hood. It was mid-afternoon and the light was ordinary so I chose to wait until the magic hour, knowing full well this would mean a long, nine mile trek out in the dark. I had heard news of recent sightings of a cougar in this area, so as I descended by headlamp, every sound of a branch snapping or a rustle in the underbrush fired the imagination and quickened my pace.
After hours of stumbling downhill and boulder hopping my way across the Sandy River by headlamp, I was bone tired but happy at my effort and close to the trail's end. As I approached the parking lot, the flowers in the vase I saw earlier were back lit by a car with headlights on, motor running, and low murmur of voices. Anywhere else I wouldn't have a care in the world, but the Ramona Falls parking lot is notorious for vandalism and stolen cars, and is not a safe place after dark.
So this idling car, directly blocking the trailhead exit, gave me pause to consider how to proceed. My hefty tripod could certainly be wielded as a weapon of self-defense, but I left it buried in my pack. I had the option to back track a bit and swing wide through the forest to reach my truck. For what seemed like an eternity, I stood still listening to voices, and leaning in to my inner voice that said, "You have nothing to fear here." As I approached their car, the engine stopped and a woman's voice called out, "Excuse me. Do you know much about this mountain?"
Filled with an immediate sense of relief and inner peace, I stepped to the driver side door and bent down to see the silhouettes of four young women. I dropped my pack and dropped down to eye level with the driver. "I know a few things about this place — how can I help you?" Her response was soft but swift. "Our friend drowned here a few days ago while crossing the Sandy. Was it her fault?"
With the weight of their stares locked on to me and the sudden realization of an expectancy of wisdom, I slowly began talking about the mountain and the inherent nature of risk and reward in spending time alone in the wild.
For the next hour I listened to so many questions and tried my best to answer what I could not possibly answer with certainty — why did this happen, should she have waited, what would I have done — and so many more. I reassured them that hiking alone is not irresponsible and that we all need places like Mount Hood to get away to and heal and think. In that moment, looking into their tearstained eyes, all I could do was talk about the joy of wandering around the mountain and that over time the pain will soften.
I left feeling overwhelmed, blessed, and grateful for the choice of fighting through my fears of being harmed. I would normally drive home on Highway 26, but that pesky inner voice hinted that Lolo Pass would be better tonight. As I drove, I looked up at the mountain and the nearly full moon was coming in and out of a fast moving cloud bank. I noticed a tiny flicker of light high up near the summit and thought perhaps someone was camping high, but it intrigued me enough to stop and try to capture some magic. But it wasn't until after I had received my roll film back from the lab that I realized that I had witnessed an incredibly rare view of the active sulfur vent near the summit being perfectly lit up by the angle of the rising moon.
Timing is everything in life and I am grateful to have seized the moment and let my heart guide me. This parting gift is a reminder that love and compassion will always trump fear.
Photographer Peter Marbach writes about images that inspire him and define the life he cherishes in the Gorge.