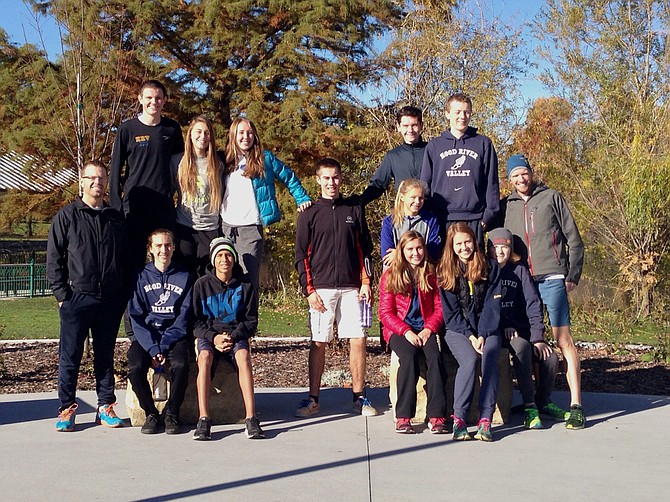 The HRV cross country team's season technically ended more than three weeks ago, but athletes recently had an encore to their illustrious season, racing against some of the best runners in the northwest.
On Nov. 14, HRV harriers traveled to Boise, Idaho for the Nike Cross Northwest meet, which features runners from some of the best teams in Montana, Wyoming, Idaho, Washington, Oregon, Alaska, and Hawaii, who race against each other in a national-caliber event.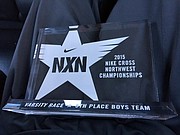 Despite the high-level of competition, HRV XC coach Brandon Bertram described the event, which featured well over 1,500 athletes, as having a "light atmosphere, because it's the end of the season and everybody's had their state meet."
As they've done all season, the HRV athletes performed well, not only against Oregon teams, but teams from other Northwest states as well. The HRV girls placed 17th out of 30 teams in the Varsity 1 race and the boys placed fifth out of 45 teams in the Varsity 2 race, which was good enough to earn a trophy. Bertram said there was no distinction in abilities between the teams in the Varsity 1 and Varsity 2 races.
The times themselves weren't the best of the season for HRV, as Bertram said the course was "national-caliber" and went through a variety of terrain, including sand.
"It was a true cross country course," he said. "It wasn't groomed by any means."
Despite the challenging course, Daisy Dolan had one of her best races of the season for HRV, placing 10th in her race and 15th overall, beating out around 500 runners with her time of 19 minutes, 57.6 seconds, Bertram said. For the boys, Justin Crosswhite placed 26th out of the 224 runners in his race with a time of 17:01.8 and Quinn Fetkenhour was one second and one place behind Crosswhite.
If there was one slight disappointment out of the team's trip to Idaho, it was that HRV was not invited to the upper-echelon "Championship" race. Bertram said he was not necessarily surprised since HRV was more of an up-and-coming team, noting that "it takes a body of work over several years" to get into the Championship race.
Still, the race was more about getting experience at a national-level meet than it was about getting hardware. Bertram added that the team was already looking forward to next season, and training for it as well.
"They're still out there running," he said. "They're already talking about next year; they're excited. They got a taste of success this year and they like it."
Race results:
Boys:
Overall winner: Zak Kindl, South Central Square, 16 minutes, 1.1 seconds.
Justin Crosswhite (26th, 17:01.8), Quinn Fetkenhour (27th, 17:02.8), Jesse Wiley (47th, 17:17.9), Connor Truax (57th, 17:21.3), Jake Bromham (73rd, 17:37.9), Finn Peterson (145th, 18:25.4), Elkin Parker (159th, 18:41.3).
Girls:
Overall winner: Erica Simison, Yakima Harriers, 18:59.5.
Daisy Dolan (10th, 19:57.6), Lauren Robinson (74th, 21:53.7), Josie Petersen (79th, 21:56.4), Denali Emmons (80th, 21:58.0), Chloe Clark (137th, 23:44.1).