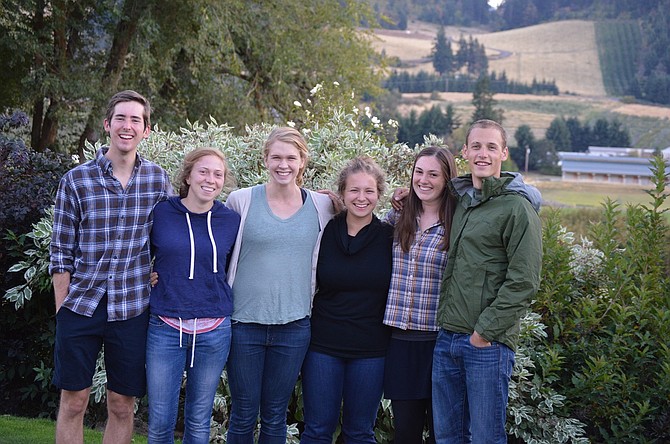 In what has become an annual changing of the guard, six new Jesuit Volunteer Corps Northwest (JVC) members moved to Odell this August for a year of intensive community service.
JP Ideker, Anna Kottkamp, Leslie Stegeman, Ethan Haugh, Bridget Hinton and Allison Vanderberg-Daves work 40 hours a week with different local agencies, but all share a desire to help those traditionally underserved and live out JVC values of simple living, spirituality, community and social justice.
While it's a Catholic program, JVC isn't about evangelization, but about joining a community and helping its members where they're at. Volunteers — all recent college graduates — come from many religious backgrounds.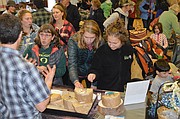 "I wanted to do a year of service and was looking at different AmeriCorps service positions that were related to food justice, and JVC Northwest kept popping up," said Vanderberg-Daves, who works at Gorge Grown. "When I looked into it and read about the values of community, simple living, social-ecological justice and spirituality, it sounded like exactly what I wanted to focus on in the year after college."
"I always knew I wanted to do a year of service after college — an experience to ground my attitudes, values and perspectives at the outset of my adult life," said Kottkamp. "I chose JVC Northwest because the four values resonate with me and how I want to live my life. I also wanted to take time to slow down and think about my place in the world."
Becky Rawson, who helped bring JVC to Hood River — introduced to the program when her son, Sean, became a volunteer after graduating from Seattle University — said the work they do was inspired by the Ford Family Foundation LEAP study held in 2006-2007 that identified needs within the Odell community, such as a bilingual preschool and youth after school program.
But identifying the needs and bringing JVC volunteers to Odell were two different things.
"The community has to apply," Rawson explained, "so there were four or five of us that pursued that. In order to be a viable community, we had to come up with four jobs. It was an amazing deal — an agency that hosts JVC has to come up with $10,000 for the whole year, for 40 hours (of work) a week. But it was a new concept to Hood River and Odell, and it was tricky to sell it."
It wasn't until Providence signed on — the Providence mission statement is similar to that of JVC, Rawson said — that the ball started rolling. But even with agencies signed on to "host" a corps member, the Odell site was rejected the first year in favor of an Alaskan community, Rawson said.
But the second year, the application was accepted, and Odell became one of several JVC sites in the nation.
Since its 2012 local debut, the program has grown from five positions to six, with volunteers at OSU Extension Service, Columbia Gorge Ecology Institute, St. Francis House, Mid Valley Elementary, Volunteers in Action, and Gorge Grown Food Network. The volunteers pick the position they're interested in and apply accordingly.
"I chose this position because I am interested in Hospice social work and thought it would be a good experience," said Hinton, who works with Volunteers in Action at Providence. "I also strongly believe in preserving the dignity of elders and wanted to explore this population more."
At the end of the year, JVC members receive an education award from AmeriCorps — of which JVC is a partner — to pay down student loan debt.
Volunteer profiles
JP Ideker, OSU Extension Service, program and outreach assistant
Ideker is from Dallas, Texas, and attended Saint Louis University, where he received his degree in Health Management.
As program and outreach assistant with OSU Extension, he works on a variety of family and community health projects, including SNAP education, the ASPIRE program in Hood River and The Dalles, and college and career readiness programs for The Dalles and Hood River County school districts.
"I wanted to combine my passions for health, education and Latin American culture to work for a nonprofit that was making a tangible difference in its community," he said.
Anna Kottkamp, Columbia Gorge Ecology Institute
Kottkamp — a Wenatchee, Wash., native — attended the University of Notre Dame and graduated with a degree in Environmental Sciences and International Development Studies.
She works as a conservation educator, co-facilitating the SECRETS program for fifth graders, the Gorge Explorers program in the summer for underperforming third graders and high schoolers, and the Science In Action program for middle schoolers.
"I am extremely passionate about environmental justice," she said. "Increasing education and access is one of the first steps in creating an ecologically aware community. I wanted to learn how to be a steward of the environment through the eyes of the people here."
Leslie Stegeman, St. Francis House
Stegeman grew up in Cincinnati, Ohio, and graduated from Indiana University Bloomington with a degree in informatics. She runs the youth center, where kids gather after school.
"I had a high school teacher that did JVC and in class one day she told us about her experience and it resonated with me then," she said. "My older sister also did a year of service through JVC Northwest in Bethel, Alaska. Her stories and experiences during her year reaffirmed for me that I would enjoy a similar experience. I also wanted to challenge myself in ways that I have never been challenged before. The values of JVC Northwest were values that stuck with me and ones that I knew would be challenging to fulfill. I also just wanted the opportunity to serve and work with children."
Ethan Haugh, Mid Valley Elementary
Another Ohio native — this time from Toledo — Haugh attended Boston College and graduated with a degree in international relations. At Mid Valley, he helps with recesses, teaches a second grade Spanish class, and works at the Excel and Excel Plus after school program.
"I chose Mid Valley because I have some teaching experience and it presented a great opportunity to use my Spanish," he said. "It's also just a great way to become familiar with the people and community of Odell.
"I did not really know what to expect, but I have been very pleased because I get the impression that the community is very close-knit. Also, everyone has been so welcoming so we feel very lucky to be here!"
Bridget Hinton, Volunteers in Action
Hinton is from Davis, Calif., and studied Spanish and sociology at Willamette University.
Volunteers in action pairs volunteers with homebound patients supporting elders to live independently. Volunteers often help with transportation, friendly visiting, light housekeeping, light yardwork and reassurance phone calls.
This is Hinton's second JVC year; her first was in Aberdeen, Wash. "I chose to do a second year of service through JVC because I wanted to continue living out the four core values of social justice, community, spirituality and simple living," she said. "I want to commit to a life surrounded by these values in some shape or form so I thought living them out for a second year would challenge me and force me to think about the world in new ways. The structure of JVC NW creates an intentional way of life that I have learned to love."
Allison Vanderberg-Daves, Gorge Grown Food Network
Vanderberg-Daves is from La Crosse, Wis., and graduated from Macalester College with a major in history. At Gorge Grown, she works as the food access and outreach assistant manager at Mercado del Valle in Odell and with the school gardens at Mid Valley and Wy'east.
"I'm interested in working on food access issues and youth gardening/cooking programs as a career, and was especially drawn to this area and position because I wanted to work with a Spanish-speaking population," she said. "So far, this experience has been amazing and the community in Odell and Hood River have overwhelmed us with welcoming and support."