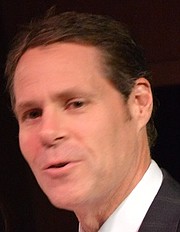 The efforts of local children, and Matt Rankin, have benefitted the Columbia Gorge Children's Advocacy Center (CGCAC).
Gorge Kids in Action is the brainchild of Rankin. His vision is to engage children in the act of giving back to their communities and help families and children in need. The CGCAC has been a recent recipient of their efforts. Local children Campbell, Abby, Tate, Meika, Elizabeth, Taryn, Makenna, Lea and Emma Ouzounian went door to door asking for donations of items. Debi Baskins, executive director of CGCAC, writes, "With our Wish List in hand, they collected children's books, movies, games, stuffed animals, juice boxes, granola bars, cookies and crackers for the kids who come to the CGCAC. For our day-to-day operations, they collected paper towels, toilet paper, dish detergent, file folders and computer paper.
"We wish to thank the children, Matt, and all the community members who responded to that knock on the door and donated items to our organization," Baskins said.
The CGCAC is a small nonprofit serving children in Hood River, Gilliam and Wheeler counties by providing child abuse assessments when law enforcement or child welfare suspect that a child has been abused. Open since 2009, the CGCAC has helped more than 250 children in the Columbia Gorge. A child abuse assessment includes a full medical exam and a forensic interview conducted in a child and family-friendly facility.

If you know children who would like to get involved, or you want more information about Gorge Kids in Action, please contact Rankin at rankmatt@gmail.com.