A senior at Hood River Valley High School, Olivia Newcomb is in the last stretch of a two-year effort to bring Full Circle Learning (FCL) to Your Sisters, an orphanage for girls and the Dinka School in Tanzania, Africa. Before boarding a plane for Arusha, Tanzania, on Dec. 8, she plans to sing her way to the final funds needed in a benefit concert on Dec. 3 from 7-9 p.m., at the Griffin House, 4168 Westcliff Drive, Hood River.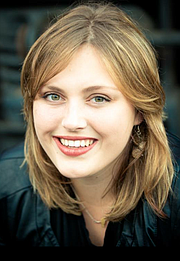 The evening's entertainment will feature Borealis, the elite high school acapella choir, of which Newcomb is the single female voice. The founders of Your Sisters will also be on hand to answer questions about the program. Please RSVP by emailing livi.newcomb @gmail.com.
Full Circle Learning was founded after the 1992 L.A. riots and is a program that empowers young people to embrace their role as the change agents and humanitarians of their generation. Its educational programs integrate and expand students' character strengths, academic excellence, artistic capacities and peacemaking skills in service to the global community. Through Habits of the Heart such as unity, perseverance, advocacy, and kindness, children learn how to contribute as global citizens, and learn that the ultimate goal of education is to serve the human family.
Today, there are FCL programs in seven countries in Africa. Full Circle Learning has positively impacted thousands of children in China, India, Africa, Brazil, and the United States.
When Newcomb first met the founders of Your Sisters, Libby Bailey and Frank Mollel, she was inspired by their dream for the girls and the community. Your Sisters is a three-part organization: community co-op, women's support, and a non-adopt out orphanage for girls located in Arusha. The orphanage is a sanctuary for young girls who have been orphaned or abandoned. The training will be conducted at the Dinka School, a non-profit boarding school run by a Swedish couple that the girls currently attend.
Newcomb is accepting tax-deductible donations at her Charity of Choice website, www.mycharityofchoice.com/campaign/profile/1302#.VlJrecu5fzL. To date, she has raised nearly $3,500 of the $6,000 needed. The funds will cover the airfare for Olivia, the founders, and the trainer, the trainer fee and materials, and accommodations for two in Africa.