At its 38th annual meeting the Hood River Valley Residents' Committee (HRVRC), welcomed keynote speaker Gil Kelley, director of citywide planning for San Francisco and former planning director of Portland. Kelley, also a part-time resident of Mount Hood, opened his talk with a quote: "In livable cities is the preservation of the wild." Kelley addressed a crowd of 65 at the home of Kate Mills. He was invited to speak to the increasing number of urban issues HRVRC has taken on in the past year to encourage smart growth in the City of Hood River. Kelley noted, "Really making cities work so that people want to be there and not spread out across the landscape is the new and emerging paradigm in land-use planning around the country."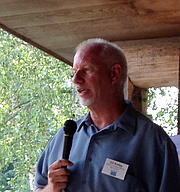 Cindy Walbridge, Hood River city planning director, and Steve Wheeler, city manager, furthered the discussion of urban issues on the local level by updating folks on the city's recent Buildable Lands Inventory and Housing Needs Analysis. HRVRC has been active in these issues, including serving on the city's Technical Advisory Committee, because planning our urban areas to be compact, walkable and vibrant is essential to preserving resource lands in the valley.
Kelley encouraged Hood River as a whole to "be very intentional, as a community, including your political institutions and businesses" and "to think deeply about what you want as your collective future." Although a planner in a big city, Kelley's comments ring true for any well-loved, dynamic community — large or small — as it grapples with climate change, a growing population, increased housing needs and preserving natural resources.
Indeed, intentional partnerships with the county, city, port and other organizations have led to some of HRVRC's key accomplishments the past year. Working with Western Rivers Conservancy and Hood River County on the public process for Punch Bowl Falls resulted in the county taking ownership of that iconic waterfall and 100 surrounding acres as a park for the people, forever. A much-needed cell tower ordinance in the county is near completion with the support of many community members. HRVRC made a presentation to the city on smart growth that can be viewed at www.hrvrc.org. In the advocacy category, HRVRC filed a lawsuit against the US Forest Service in order to break the logjam of their five-year delay and obstruction in completing the Congressionally-mandated land trade with Mt. Hood Meadows. Hood River and Clackamas Counties have since joined the suit as co-plaintiffs. These successes and deep engagement are due largely to the fine leadership of Executive Director Heather Staten and the work of a dedicated board of directors. HRVRC Directors elected for 2015-16 are: Ron Cohen, Lee Christie, Margo Earley, Scott Franke, Judie Hanel, Jeff Hunter, Larry Martin, Mike McCarthy, and Polly Wood, with Kristyn Fix serving as administrative assistant. HRVRC is one of Oregon's oldest local citizen land use groups with a mission to protect Hood River's farms, forests, special wild places and the livability of its cities and rural communities.
To further support their work, the Hood River Valley Residents Committee will hold a benefit auction and harvest celebration, H is for Harvest, at Springhouse Cellars on Saturday, Oct. 17. For more information: www.hrvrc.org.