Horizon Christian School's co-ed soccer program continues to turn its season around, beating Southwest Christian 3-0 Wednesday afternoon in Hood River and extending its win streak to four after starting the season 0-3.
The Hawks were in control of the game from the first to the 80th minute, giving few opportunities for the Wildcats to gain any momentum.
Horizon's co-captain Kameron Brown got the Hawks started early, scoring the lone goal of the first half in the ninth minute. Co-captain Salvador Ramirez scored early in the second half, with a pretty chip over Southwest's keeper in the 45th minute. Junior midfielder Quinn Roetcisoender rounded out the scoring for Horizon with a goal in the 49th minute.
Senior Zack Walker was in net for Horizon and got the clean sheet with six saves. Horizon had an impressive 22 shots in the game.
Horizon coach Oscar Stenberg isn't surprised about how the team has come along this season.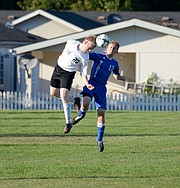 "Like I said, the potential of this team is great," he said. "They still have a long way to go to work as a team, but they are learning well together. Certain combinations have been doing well together. It has taken time to see it come together."
In addition to Horizon's captains, Stenberg said the plenty of people on the roster have been helping turn Horizon's season into a successful one, vaulting the Hawks to the top of the Special District 6 standings with a 4-0 league record (4-3 overall) and a No. 15 3A/2A/1A ranking out of 45 schools.
"The girls on the squad and the subs have been playing a huge role in the change and the makeup of the teams," he noted. "When called upon, they have come in and done a great job. Our defense has really held its own — Luke (Holste), DJ (Derek Johnston), Jared (Bryan), Alex (Tran), and Cody (Lingel) have really stepped up."
Horizon next hits the road Monday for a game against C.S. Lewis Academy in Newberg at 4:15 p.m. Stenberg said the team will have to bring its "A-game" for that contest, as the Watchmen are currently ranked No. 19 and have a 4-1-1 record.