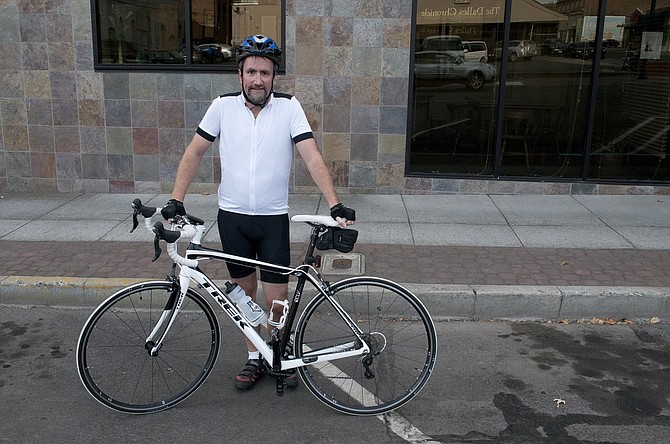 Dave Karlson is doing his bit to drive less, but he's not carpooling, he's hopping on his bike about once a week for an invigorating 22-mile ride to work.
Karlson, operations manager at Google in The Dalles, started his bike commuting last May, when he realized that, unlike his wife, who plays competitive tennis, he wasn't quite doing enough for his health.
Walk or ride: motorists challenged to use alternative methods
In the third annual Oregon Drive Less Challenge, drivers are encouraged to pedal, walk, carpool or take public transport for a two-week period, from Oct. 5-18.
The goal is to collectively reach one million miles logged by Oregonians through alternative methods to the standard one-car, one-driver commute to work and elsewhere.
Locally, the Drive Less Challenge is spearheaded by the Mid-Columbia Economic Development District and the Oregon Department of Transportation.
It is open to anyone 18 and older and it's free to sign up at DriveLessConnect.com.
"Those who participate and log their trips each day are entered into daily prize drawings and may also be eligible for the grand prize drawings," said Michele Spatz of MCEDD.
"As a culture, we Americans are so focused on driving our cars everywhere we forget we have other options to get to work or play, with personal and environmentally positive benefits," Spatz said.
"You don't have to be an athlete to take this challenge — it's not an all-or-nothing event. Sign up for the challenge and participate at least once during the 14-day period," she said. "I'd love to see someone from the Gorge win a prize. And who knows, you might just find that another transportation option to work or to meet friends makes you feel good."
Those who sign up at DriveLessConnect.com can log trips using an alternative method to their vehicle, which also includes taking a train or telecommuting. Daily prizes include Keen shoes, Nutcase Helmets, REI gift cards and Kindle Fires. Grand prizes include a $2,600 credit toward a custom folding bike from Oregon-based Bike Friday, or a $500 cash card. Local prizes include two one-day unrestricted adult lift tickets from Mt. Hood Meadows for the 2015-16 ski season. Individuals can join at any point during the challenge.
For more information, contact Spatz at 541-296-2266 or Michele.
— Neita Cecil
So he's already ahead of the game for the third annual Oregon Drive Less Challenge, which runs Oct. 5-18 and encourages Oregonians to connect with green, healthful travel options. (See related story, left.)
"I've always been a biker but I've never had enough time between everything and this is a perfect thing that fits in in the early part of my day that allows me to see my kid's Little League game," Karlson said.
"Also early in the day is a really pleasant time to be riding because there's no traffic."
He drives his Nissan Leaf, an electric car, from his home in White Salmon to Hood River, where he parks and rides to The Dalles along the Historic Columbia River Highway.
There are about four regular bike commuters on that route who bike at least once a week, and another three or four who do it less often, he said.
"It's beautiful, biking the old highway through Mosier and over Rowena and down the west side of The Dalles into work."
He's not only improving his health — he's lost six pounds — but he's doing his bit to reduce traffic and pollution.
"One less car on the road and all that, even from Hood River," he said.
But it doesn't stop with physical or environmental benefits either. "Part of it is even mental health," he said. "The days that I ride, I'm just in a better place than when I don't.
"The best part of the morning are the sounds of the birds," he said, and "the views of everything from wild turkeys to snakes and the general lack of traffic at that hour."
Snake sightings are bracing. "By the time you notice it's there, you're already biking by and it's within a foot of your ankle."
And then there was the squirrel incident.
"I was riding through the Mosier Twin Tunnels going close to 30 mph and a squirrel ran out in front of me and I ran over it with both wheels because the only alternative was to go directly into the concrete pillars," Karlson said.
"I nearly crashed and then I went back to see if I could assist the squirrel in any way, but it had already passed on by the time I turned around."
He had a heart rate monitor, and when he checked the data later, "it showed my bike accelerated very rapidly as I tried to get control of it and my heart rate jumping at the same time.
"I have since slowed down my speed through that one particular stretch because I don't want the squirrels to win," he said.
It takes planning to pull off his morning bike commute.
If he knows he'll be riding his bike to work the next day, he'll leave himself a change of clothes at work.
He also leaves his laptop at the office so he doesn't have to haul it back to work the next day on his bike.
If his day at work starts with an 8 a.m. meeting, he's up by five to be on the road by six so he can get to work and shower to be ready for the meeting.
He never bailed a single morning that he set an early alarm. He did skip biking to work the week it was smoky because of wildfires.
Another Google perk is a free shuttle that takes employees from Portland and Hood River to work in The Dalles.
On his bike riding days, Karlson just throws his bike on the shuttle for the evening commute to Hood River.
And, being that he does work at Google, he said, "We're all data-driven people so we use various apps; one that a lot of us are using these days is called Strava, which is less to compete with each other but more to compete with ourselves.
"I can get from the China Gorge Restaurant to the bridge with the big fish on it in an hour and 20 minutes." The total elevation gain is 1,300 feet. But he's not paying a lot of attention to it while he's riding. "The whole reason I ride my bike is to be disconnected and not thinking about data and tracking everything I do and just to enjoy the ride and enjoying nature.
"You just have a different pace on the bike so you can just enjoy the views of things in a different way," he said.
He's seen the orchards "start to perk up, folks are starting activities for the day, the weather's always slightly different."
He's switched his bike commute to after work since it's dark until 7 a.m. And the weather, of course, is changing. He hasn't decided if he'll continue his routine in the winter, but he did say, "I'm currently shopping for inclement weather biking clothes. Whether that means I'll bike once a week, that's another matter."