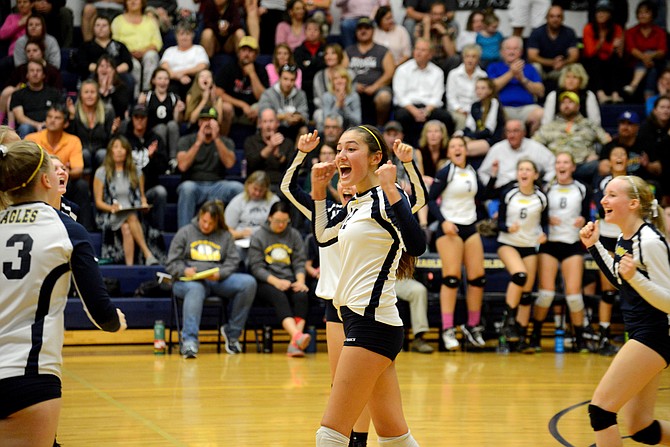 The HRV volleyball team continued on its merry way through its breakout season this week and made the Columbia River Conference very interesting in the process.
HRV (7-4 overall) upset its powerhouse CRC rival The Dalles on Tuesday in Hood River, taking down the No. 5 team in an exciting, five-set match. The win boosted HRV to a No. 8 ranking and puts the Eagles even with the Riverhawks in the CRC with identical 5-1 league records, although The Dalles is ranked above HRV in the conference since they've won more sets against HRV.
GAME LEADERS
KILLS: Shae Duffy (17), Katie Kennedy (10)
ACES: Duffy (9), Kennedy (3), Lorena Johnson (3)
BLOCKS: Kennedy (5.5), Duffy (1.5), Bianca Badillo (1.5)
ASSISTS: Emily Curtis (25), Johnson (12)
DIGS: Rebecca Johnston (38)
The win also had postseason implications, as the win allowed the Eagles to clinch, at the very least, a play-in game, since both Hermiston and Pendleton currently have 1-5 CRC records and are now mathematically unable to catch HRV.
And while on the subject of math — statistically, it was highly unlikely HRV was going to beat The Dalles Tuesday night. Going into the game, HRV had just won a single set out of the nine played against the Riverhawks this season. The Dalles also boasted a 17-1 overall record and had a set win-loss record of 45-3.
"For us, it was a fantastic win against a great team and a big step in the right direction," said HRV coach Scott Walker, adding that he was "so proud of all my girls and the fight they showed (Tuesday) night."
The difference in this match, Walker said, was improved serving and blocking. The first match against The Dalles — a road match for HRV — the Eagles had just four aces and nine service errors. On Tuesday, HRV had 20 aces and seven service errors. The teams had 13 blocks, with frosh Katie Kennedy responsible for 5.5 of those.
The Eagles also did a good job of starting out strong, taking an early lead in all five sets, and making a big opening statement by taking the first set 25-16. The Riverhawks responded with a heavy counterattack, taking the next two sets, 25-17, 25-19.
"They are so good at what they do that when we made mistakes, they would make us pay," Walker said of The Dalles. "Extending rallies and taking really smart swings made it difficult for us to build momentum in the second and third games."
Down 2-1, HRV again jumped out to an early lead, this time 6-2, until The Dalles narrowed it to 6-5 with three consecutive kills. The two teams battled until HRV was up 10-8, then took off, outscoring The Dalles 17-5 to take the fourth set, 25-15, and even up the game at 2-all.
Walker said the fifth set was "really tight" with the two teams knotting up at 8, 9, 11, 12, and 13.
"With The Dalles up, 12-11, Shae (Duffy) pounded two kills to put us up 13-12. The Dalles tied it up with a smash down the line past our setter," Walker said. "We went ahead on the next play 14-13, with another Duffy kill, and finished it after a timeout with a Katie Kennedy block. So our last six points were five kills by Duffy and a Kennedy block."
With the win, HRV has its highest ranking in about four years and gets a shot at making the round of 16. The Eagles lost their play-in game to Corvallis in 2012 and last made the round of 16 in 2011, when they got swept as a 15-seed by No. 2 Marshfield.
But now, there is more work to do.
"To continue on the path that we want to walk will take renewed focus and energy in practice and complete team focus in games. I tell the girls that we are a good team right now, but good is the enemy of great and we can't settle if we want to be great," Walker noted. "That being said, I am extremely happy with where we are at right now and excited about the next few weeks and beyond."
HRV played a nonleague game against Ridgeview Thursday, where they lost in three sets. Next week, HRV hosts Pendleton on Tuesday (6:30 p.m.), Hermiston on Thursday (same time), and will wrap up its league schedule on the road with what could prove to be a very interesting CRC showdown with The Dalles on Tuesday, Oct. 20 at 6:30 p.m.